As the 2021 SSE Airtricity League Premier Division comes to its conclusion, it's looking increasingly likely that the title will be heading back to Shamrock Rovers, for the second consecutive year.
This would be title number 19 for the Dublin outfit, as a 2-1 victory over Derry City on Friday night pushed them nine points clear,
Stephen Bradley's men have one hand on the prestigious top tier trophy. But in such an ever-changing sport, the preparation, and speculation has already begun for the 2022 campaign of Irish domestic football.
2022 SSE Airtricity League Premier Division
While anyone would be idiotic to bet against the infrastructure of the reigning champions. Early signs suggest we're in for a multiple horse race, in next years edition of the Premier Division.
Both Dublin rivals Bohemians, and St. Patrick's Athletic look poised to remain in the upper echelon of the league standings.
If Bohs can keep hold of the nucleus of their current squad, manager Keith Long will have a serious fighting chance of winning his first league title as a manager.
Speculation of Pats owner Garrett Kelleher digging deep once again, should be music to the ears of the Inchicore faithful. As they look to continue this upward trajectory under the regime of Stephen O'Donnell.
While outside of the capital, all signs surrounding the club suggest that Derry City are going to be the ones to watch.
The Candystripes have been a regular fixture in the top-flight since returning in 2011.
During that timeframe, they've qualified for Europe on three separate occasions. And even won the FAI Cup in 2012, along with the league cup twice.
Despite that, they never mounted a meaningful title challenge. With their highest league finishes coming in 2011 and 2016, when they finished in third position.
While European experience and cup success is no mean feat, Derry always had an element of the sleeping giant about them.
A one club town, with an unbelievably loyal fanbase, backed by a generous chairman. He even kept the club afloat during difficult financial periods.
The revamped Ryan McBride Brandywell Stadium, which was completed ahead of the 2018 season, seemed to be the final piece of the puzzle for a successful club to rise again. At least from the outside, looking in, that is.
Board Backing
Reversing back to the club's chairman, Phillip O'Doherty, he's been in the headlines as of late.
The local businessman recently completed the sale of his Donegal based engineering firm, E&I Engineering, in a deal worth $2b.
O'Doherty was already an extremely wealthy man. But this deal with Vertiv Holdings, based out of Ohio, in the good old US of A, elevated the 60-year-olds worth to new heights.
As Chairman, it's clear to see O'Doherty had ambitious plans for Derry City going forward. This is evident by long-term deals getting handed out to players, and of course, manager Ruaidhri Higgins when he was appointed back in April, as he was handed a three-year deal.
O'Doherty even publicly stated on BBC Radio Foyle, that he was intending on increasing the budget once again for next season.
This was due to happen even before the major business deal took place. As O'Doherty, along with the Derry City board want to win the league title over "the next couple of years."
Add in the news that former Chairman, Paul Diamond has been named the clubs new President. Which also turned out to be a popular move amongst Derry supporters. As Diamond is another notably long-term backer of the club, and was even Chairman when the club won their last league title, in 1997.
The financial backing will greatly benefit the club instantly, in terms of building a squad. But a short-term spending spree isn't on the cards. Rather, he'll support Higgins in enticing players he wants at the club.
Raid On Dundalk
Both Patrick McEleney and Michael Duffy have agreed pre-contract deals from Dundalk. With both highly regarded talents returning to their old stomping ground.
McEleney started his senior career with his hometown club back in 2010, when he was signed by current Ireland boss, Stephen Kenny.
He spent five years at home, making 175 league appearances. Dundalk came calling ahead of the 2016 Premier Division season. But McEleney left Derry with a First Division and FAI Cup winners medal to his credit.
Fellow Derry man Michael Duffy also started his acclaimed career at the Brandywell, in 2012. After three seasons, he earned a mammoth move to Scottish giants, Celtic. After two years, a couple of loan spells, and zero outings in the senior squad, he returned to Ireland, signing for Dundalk in early 2017.
Away from the silverware, Duffy is touted as the most technically gifted player in the League of Ireland by many. His peers certainly agree, as he picked up the PFAI Players' Player of the Year award in 2018.
Even now, as his current employers remain in a relegation dogfight, he's stepped up in recent weeks, with some spectacular performances that were badly missed by the Lilywhites earlier on in the campaign.
Derry's shopping trip to Dundalk doesn't seem to end with McEleney and Duffy either.
It's been speculated that Ruaidhrí Higgins wants to re-sign the 22-year-old winger Will Patching. As he impressed during his brief loan spell with Derry at the start of the current season.
The good fortunes have continued on a personal note for Patching upon his return to Oriel Park. He netted in his sides Europa Conference League tie against Levadia Tallin. Plus, has become a regular name on Vinny Perth's team sheet.
It's just another key player set to exit Dundalk in a mass exodus in the off-season.
Another Return On The Cards?
It's not only Dundalk players being pouched up North. As Bohemians main man Georgie Kelly is another reported name that could make a move.
Kelly has come into his own under Keith Long this season.
Even since leaving UCD for Dundalk in 2018, the Donegal native has struggled when it comes to form and consistent gametime. That wasn't helped by an average stint on loan with St. Patricks Athletic, throughout the 2020 shortened season.
However, despite a somewhat rocky start, Kelly has settled into the most complete striker in the league. He's the top scorer in this seasons Premier Division, with 18 goals at the time of writing.
With his contract at Bohs set to run out in November, it's heavily rumoured that Derry will come in with a strong wage offer.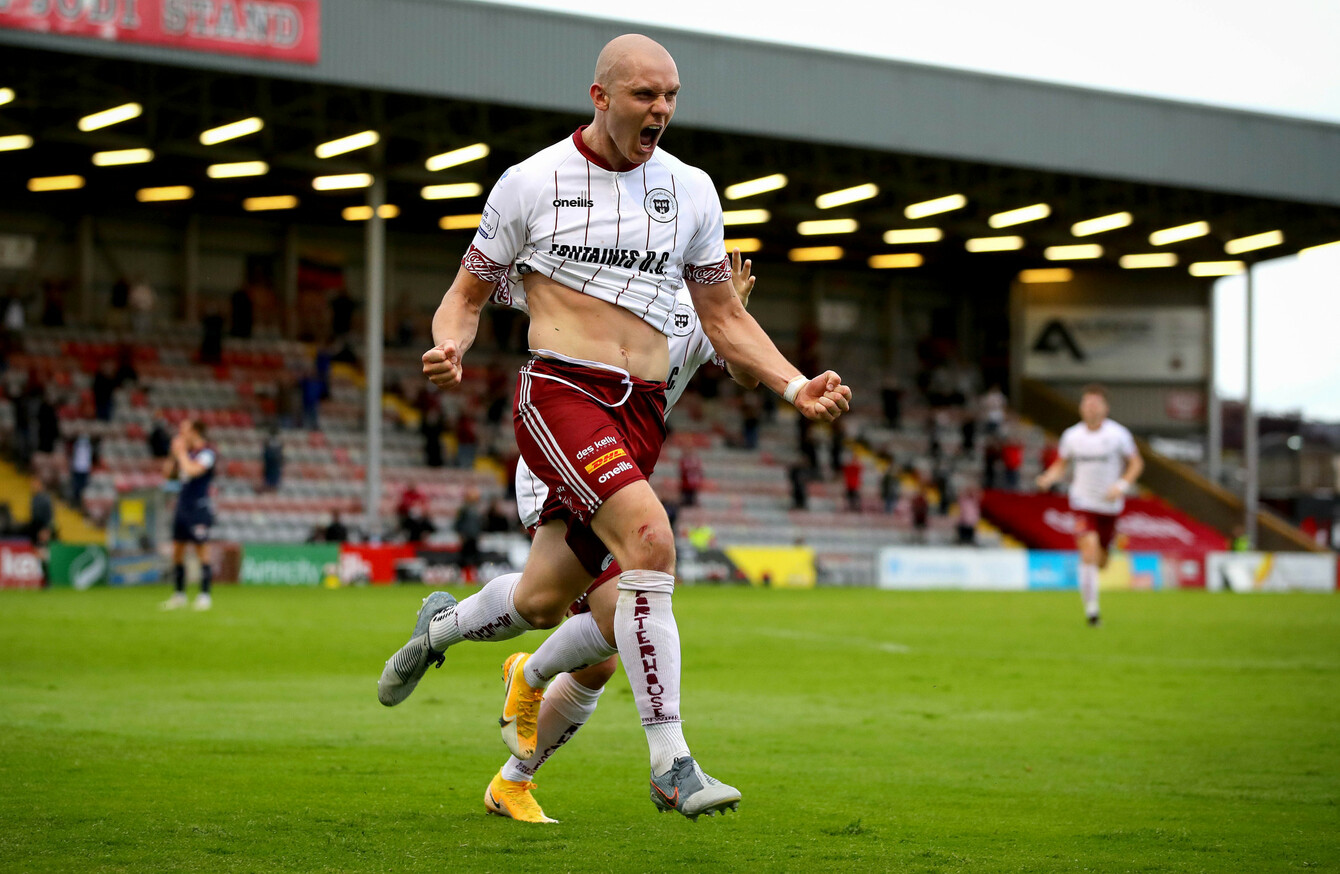 A Sustainable Model
The emphasis on a thriving academy system has always been a vital component at Derry throughout the years.
Today they have underage teams in the Under-14, Under-15, Under-17, and Under-19 leagues. Along with having a reserve squad registered in the Ulster Senior League.  
As heavy investment looks set to continue for Derry's renowned academy. It gives the likes of Academy Director, Paddy McCourt real confidence that the club will keep developing exciting prospects.
Even this season, both Ronan Boyce, and Evan McLaughlin have emerged as some of the most promising young talents in the league.
That's without mentioning Patrick Ferry, Brendan Barr, Orrin McLaughlin, Michael Harris, Caoimhin Porter or Caolan McLaughlin, who've all been around the first team this season.
This trust shows the kids in the underage system, that a natural pathway to the senior squad exists.
With all four youth teams qualifying for the elite sections of their leagues. The future of football in Derry certainly looks bright in its current state.
That measure of success can even be felt on the international stage.
With goalkeeper Fintan Doherty, and Trent Kone Doherty receiving call-ups to the Ireland Under-17 squad, ahead of their European Championship Qualification games against Andorra, North Macedonia, and Poland.
While Ronan Boyce and Evan McLaughlin have been included in Jim Crawford's extended squad, for Ireland's Under-21 European Championship Qualification game against Montenegro, on Tuesday, the 12th of October.
While the Derry City Ladies are affiliated with the Irish Football Association and contest their games in Northern Ireland.
It rounds out an option for both the underage sides to continue to thrive, and the women's team to make themselves a constant presence in the Women's Premiership.
New High Performance Centre
To round off the thrilling future for the next generation of Derry City, are the plans for a state-of-the-art Academy base. Which will house the entire underage system, and the first team.
The club has identified a site belonging to the Ulster University as an ideal location. While the learning institute has publicly stated the land isn't for sale, it's believed positive talks between both parties have taken place. With the University keen to strike up a relationship with Derry City.
Chairman Phillip O'Doherty has stated it's "the only show in town" and was even willing to buy the site outright.
It's another step in ensuring the long-term survival of the club. As the university are checking on the potential of the sale. And could set Derry City up with another footprint in the community.
While the current first team sit in fourth position, four points off a guaranteed European slot for next season. The clubs loyal fanbase will be licking their lips at the potential golden era that could be heading their way.
It may take several years for everything to fall into place, and immediate success is never a sure thing. But one of the sleeping giants in the league may be about to wake, as Derry City look to become the most enticing club in Irish football.