It's all systems go, as all 20 teams face a dramatic run-in to the SSE Airtricity League Premier and First Division, respectively, in what's set to be a significant weekend for all involved.
The Premier Division sides are due to start their final quarter of fixtures. While the First Division clubs make their last sprints to glory, as the remaining five games edge ever closer.
As always, the Big Kick Off has you covered.
It's time to check out what fans of the greatest league in the world can look forward to this weekend.
Friday, 24th of September 2021
Premier Division
St. Patrick's Athletic vs Shamrock Rovers
Venue – Richmond Park
Kick Off – 7.45 pm
Odds – Home 9/5 Draw 2/1 Away 29/20
* All odds were accurate at the time of writing and were provided by popular Irish bookmaker.
Watch On – RTE 2
It's fantastic to see St. Patrick's battling for silverware in the latter part of the season.
The Saints are in the pot for the FAI Cup semi-finals, and could keep their title hopes alive with a statement victory against their Dublin rivals.
They currently sit six points behind the league leaders, and come in off the back of a comfortable 3-0 victory, against Wexford in their previous outing, in cup action.
In terms of league form, the Inchicore side lost to Sligo Rovers, but they do find themselves on an eight-game unbeaten run at home. And with a sold-out crowd expected on Friday night, they'll be relying on a rocking Richmond to act as the extra man.
Meanwhile, a win for the visitors would surely put one hand on the title, for Stephen Bradley's men.
Besides the six-point margin, Rovers also have a game in hand over their closest contenders for their crown.
The Hoops done something that their opponents failed to do during their last game, and beat Sligo Rovers 1-0, in the Showgrounds.
Barry Cotter has slotted into the backline seamlessly and picked up where the injured Sean Hoare left off. That defence will need to be on song, as they try to keep out the highest scoring side in the division.
Prediction – Tense scored draw.
Dundalk vs Sligo Rovers
Venue – Oriel Park
Kick Off – 7.45 pm
Odds – Home 13/10 Draw 21/10 Away 19/10
Watch On – LOITV
Before the start of the season, you'd expect Dundalk to be eyeing up another league title. But shockingly, they find themselves in a relegation dogfight.
The 2019 champions, sit in that precarious relegation play-off position, with a massive weekend of double duty action ahead, which may go a long way to deciding the club's long-term future.
Uncertainty continues to ravage the club behind the scenes. Along with key players like Patrick McEleney, and Michael Duffy looking set to leave the club for Derry City. That's without mentioning the injury and Covid concerns that are plaguing Vinny Perth's squad.
On the field, the Lilywhites are without a win in their last six league games. But supporters will be desperately hoping their FAI Cup success can galvanise the players to pull themselves out of this sticky situation.
In that six-game skid, Dundalk suffered an away defeat to their opponents, Sligo Rovers.
The West of Ireland team are apart of that razor close contest for European football.
However, they desperately need to regain the consistency that served them so well at the beginning of the campaign. Liam Buckley's lads have only won twice in their last 11 games, in all competitions.
They find themselves in third place, with the likes of Derry City, Bohemians, and even Drogheda breathing down their necks.
The Bit O Red haven't won in their last three away games, but have got the best of Dundalk in their last two meetings.
Prediction – Honours even.
Bohemians vs Finn Harps
Venue – Dalymount Park
Kick Off – 7.45 pm
Odds – Home 8/15 Draw 27/10 Away 9/2
Watch On – LOITV
It's set to be a busy three days for Bohs, as they have two games in quick succession.
A pair of wins against relegation candidates in Finn Harps, and Dundalk on Monday night, could see the Gypsies springboard the competition in the race for Europe.
The lads from the Bick Kick Off's League of Ireland section have been vocal about their admiration, for Keith Long's squad of players.
They're fresh off a thrilling 3-3 draw with Derry City. As the league top scorer, Georgie Kelly hammered home his 16th goal of the season in the dying seconds, to rescue a vital point for his side.
Harps know all about Kelly, as he netted a penalty past goalkeeper Ger Doherty in their last league match, which happened to be against the Dubliners.
Ollie Horgan finds himself in familiar territory, as his side look to fight for Premier Division survival once again, for next season.
In a nice turn of events, they look poised to remain in the top tier. Besides that defeat to Bohs, Harps found themselves on a five-game hot streak in the domestic competition.
Of course, they'll be bitterly disappointed to crash out of the FAI Cup on Tuesday in the manner that they did, but the Harps we've all come to admire won't go down without a serious fight.
Prediction – Home win.
Derry City vs Longford Town
Venue – Ryan McBride Brandywell Stadium
Kick Off – 7.45 pm
Odds – Home 4/9 Draw 14/5 Away 11/2
Watch On – LOITV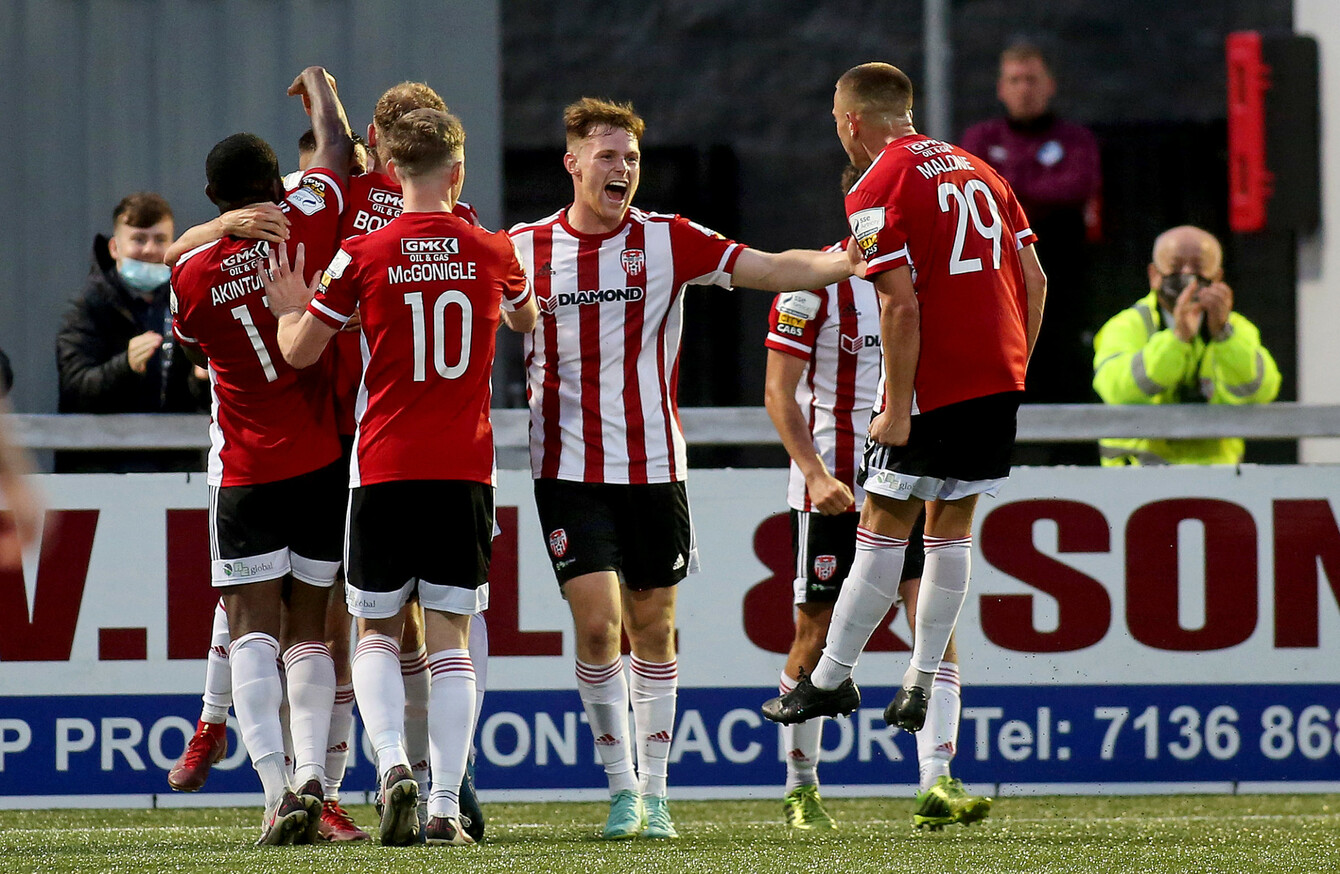 Many are already tipping Derry to be real league winning candidates for next season, due to the reported financial backing coming their way.
The Candystripes will have real ambitions to round off this campaign, which started off disastrously, with European football under their belts.
Ruaidhrí Higgins has done a stunning job since taking over in April, and his players responded in kind, and haven't tasted defeat in their last six league outings.
They'll be gutted they couldn't leave Dalymount with all three points in their last game. But the mid-season signings of Junior and Jamie McGonigle have fitted in with an already talent rich, young squad.
The long-term, and short-term future for Derry City looks as bright as ever.
Poor Longford, they're just playing for pride at this point.
They're destined for First Division football next season, and have been for a long time, sitting rock bottom on 14 points, with just two wins to their name all season.
In fairness to Daire Doyle's team, they picked up a rare victory in their last game, at home to, Dundalk. A goal from this season's standout player, Aaron O'Driscoll was enough to snatch all the points.
It's difficult to see them keeping that winning run going, as they haven't won on the road in all competitions this season. But they did beat Derry City on the opening weekend of this current campaign.
Could we see lightning strike twice?
Prediction – Home win.
Waterford vs Drogheda United
Venue – The RSC
Kick Off – 7.45 pm
Odds – Home 13/8 Draw 11/5 Away 6/4
Watch On – LOITV
As we know, Waterford, like Derry, are another club that has had a change of fortune since appointing the managerial services of, Marc Bircham. With the added arrival of new Chairman Richard Forrest, the club has re-developed their identity.
Their most recent win was dramatic, as a late goal by Prince Mutswunguma sealed their place in the FAI Cup final four.
Despite a recent hiccup against Shamrock Rovers, their league form has been extremely steady. Which has seen them rise from the depths of the table, giving this club a fighting chance to stay in the top-flight.
Speaking of steady, that's a word you may use to describe Drogheda's first season back in the big time.
They're hovering in mid-table and look to fully remove themselves from the relegation scrap in the coming weeks.
Inconsistency has hindered any major hopes of fighting for European football. In fairness to the Louth club, they're three games without a defeat, and picked up a statement win over Bohs in their last outing.
Mark Doyle sits in second place on the goalscoring ranking, with 11 to his name. With a balanced squad, and some seriously exciting prospects like Killian Phillips on their midst, they'll have enough to see out the remainder of the season.
Prediction – Big Waterford win.
First Division
Galway United vs UCD
Venue – Eamonn Deacy Park
Kick Off – 7.45 pm
Odds – Home 19/20 Draw 23/10 Away 23/10
Watch On – LOITV
Massive game, with some serious play-off implications on the line.
Besides a five-game winning run during the summer, Galway haven't gone on a comprehensive spell of impressive results.
Saying that, big wins against the likes of Shelbourne, and Cabinteely in recent weeks have them sitting in third, level on points with UCD in second place. With their excellent defensive record having a lot to say for that.
Another mammoth result here may not bring the title to Galway, but it could all but secure second position, with games against Cobh, Wexford, and Cork City, rounding out a favourable run-in for John Caulfield's men.
UCD, the most in-form team in the division make the trip out West.
The Students are on a six-game winning streak in the league. With the exciting side bagging 18 goals throughout that stretch.
Both Colm Whelan, and Liam Kerrigan are proving to be hot property, with the pair now on double figures for goals this season. Whelan leads the way as the division's top marks man, with a tally of, 16.
UCD will be crushed with their heart-breaking elimination in the FAI Cup, against Waterford. On the bright side, it frees up the schedule to make a serious run at the Premier Division via the play-offs.
Prediction – Tough call. UCD full of momentum.
Cabinteely vs Shelbourne
Venue – Stradbrook
Kick Off – 7.45 pm
Odds – Home 5/1 Draw 7/2 Away 4/11
Watch On – LOITV
While Cabinteely could pull off an upset and make the final stretch of games that little bit nervy for Shelbourne. They're a side that's just playing out the rest of the season, with a sneaky play-off run looking out of the question.
They've only picked up a single win in the past 11 league fixtures and are winless in their previous two.
Even Stradbrook has failed to be the fortress the Cabinteely faithful are wishing for. Pat Devlin's side have only earned one point, from their six most recent home ties.
On the flip side, Shels have only lost once all season, with the First Division trophy looking set to return to North Dublin.
Since that defeat to Galway last month, the league leaders have picked up firm victories, against strugglers, Cork City and Wexford, along with holding out for a 1-1 draw against, Bray Wanderers.
Prediction – Shels to edge closer to the title with a win.
Treaty United vs Cork City
Venue – Markets Field
Kick Off – 7.45 pm
Odds – Home 7/5 Draw 11/5 Away 17/10
Watch On – LOITV
Somewhat surprisingly, Treaty United find themselves in a lucrative play-off spot with five games to go. They're in fourth place, with a four-point gap over their closest competitors, Bray Wanderers.
Kudos to what manager Tommy Barrett, and all behind the scenes personnel for what they've achieved in such a short space of time.
Another side with a fabulous defensive record. Even away from that, the Limerick natives are the third highest producers of goals in this division.
They held out against Galway United in their last game, for an important draw away from home. However, it's the home record that we must mention, as Treaty have only lost twice at Markets Field in their inaugural season.
Cork City would bite your hand off to be in a similar position.
It's evident they won't be returning to the Premier Division at the first time of asking.
While their most recent loss to Shelbourne put a halt to an impressive seven game unbeaten run in the league, the Munster side are eight points off that final play-off spot.
They do have games against Bray, UCD and Galway throughout this final patch of fixtures. Some satisfactory results in those encounters could change their fortunes, but as of now, there's always next year.
Prediction – Stalemate in the Munster derby.
Athlone Town vs Wexford
Venue – Athlone Town Stadium
Kick Off – 7.45 pm
Odds – Home 4/7 Draw 3/1 Away 15/4
Watch On – LOITV
Athlone Town are only three games deep into the Paul Doolin era. With the Midlands side picking up two wins, from three under the guidance of the new gaffer.
Most importantly, those two triumphs came against Galway, and most recently, Bray, two teams that Athlone are looking to leapfrog in the league standings.
Athlone are lying just outside of the play-offs, five points behind the side they narrowly beat, last week.
That game also turned around a torrid home record, as Athlone didn't win in their previous six as the hosts.
When talking about Wexford, we could easily copy and paste what we said about Longford, and clock off that bit earlier.
Ian Ryan's team are propping up the table, on 12 points.
While they're seven points off Cob Ramblers in ninth place, if results rapidly go their way it could be something to aim towards, but even that's at a push.
Prediction – Hard to see anything but an Athlone win.
Saturday, 25th of September 2021
First Division
Cobh Ramblers vs Bray Wanderers
Venue – St. Colman's Park
Kick Off – 7.00 pm
Odds – Home 16/5 Draw N/A Away 7/10
Watch On – LOITV
This weekend's League of Ireland action concludes down in Cork.
Cobh look to pick up their first league win in six outings, as the Munster natives have lost their previous four. Don't write them off just yet, as their home form as of late, hasn't been too bad. In fact, they've only lost twice in their last six, at St. Colman's Park.
They even held Bray to a 1-1 draw upon their last visit down South.
That's a result Bray can't afford as things stand.
The Seagulls are gripping on to that final play-off place, and they must ensure those scabby draws that's cost them a shot at the title this season, aren't prevalent for their culminating matches.
This current two game losing patch must come to an end as well, as they've tasted defeat to both UCD, and Athlone in recent weeks.
Prediction – Tight Bray win.