It's crazy to think the League of Ireland Premier Division was once seen as somewhat of a retirement home for older Irish players.
Thankfully, that stigma about our league has gone away.
The likes of Damien Duff and Damien Delaney came into the league late into their careers in recent years. Both were massive names for the league, but both ultimately struggled.
Of course, older players have succeeded in Ireland, but the league has become a real breeding ground for younger talent.
There is a constant stream of players leaving the League of Ireland for pastures new. Many of them find success in England and Scotland, playing and impressing on a consistent basis.
When a club parts with a young prospect, another seems to spring up in their place.
This leaves most teams with a steady flow of homegrown talent at their disposal. Young players ready to prove themselves in the League of Ireland and potentially put themselves in the shop window.
Fans love to see all of this, especially at League of Ireland level.
When a lad goes across the water and does well or even represents Ireland, we get a nice feeling of satisfaction. Like we knew about this talented individual before the mainstream took notice.
This trend of emerging talent coming from the league seems set to continue.
Each club seemingly has at least one young player fans are extremely excited about.
So, that's what we'll be looking at today.
Going through each club and looking at the teenage talent to keep an eye out for in this season's Premier Division.
Dawson Devoy (Bohemians, 19-years-old)
Bit of a cop out to start proceedings as many of you will know the talent that this lad has.
Devoy really broke into the first team last season for Bohemians. Especially, after the break enforced by the initial Covid-19 outbreak.
He made 12 appearances for the North Dublin side last season in all competitions.
Devoy stood out during these games as one of the best young players in the league. He's quite the creative playmaker, with a fantastic reading of the game for his young age.
While Bohs do have some serious talent in their midfield ranks. Expect Dawson Devoy to be battling for a regular place in the starting team.
Realistically, he'll probably get more game time than a fair chunk of players on this list in the short term.
The Meath man looks set for a major breakout year as Bohemians look to rally another title challenge together this campaign.
Patrick Ferry (Derry City, 18-years-old)
Derry supporters are waiting with bated breath to see how Manchester City loanee Joe Hodge gets on.
However, the Candystripes have another impressive teenager in their senior squad this season.
Striker Patrick Ferry has caught the eye of many people in and around the club.
Ferry only made two cameo appearances off the bench in the Premier Division last season but looks ready to make his mark this time around.
By all accounts, his abilities and physicality are maturing at an outstanding rate.
Derry City manager Declan Devine and Academy Director Paddy McCourt have extremely high hopes for this young man. If we are to take their word for it, so should we.
Killian Phillips (Drogheda United, 19-years-old)
This young man seems to be the consensus answer when you ask Drogheda fans about players they're excited about.
Phillips is another player on our list to graduate from his clubs under 19's setup to the first team.
The versatile midfielder made his senior debut during the 2020 pre-season schedule.
Unfortunately, First Division fans didn't get to see Killian Phillips in action last season. The teenage made the bench six times throughout the 2020 campaign, but never made an appearance.
Drogheda have been blessed with younger talent over the past several years. With many of those players getting ample opportunities in the first team.
Manager Tim Clancy has been very fair when giving young lads their chance in the team. Hopefully for Killian Phillips, he will be next in line for extra game time.
Drogheda have a finely balanced squad in terms of youth and experience. Phillips will learn some vital lessons off the senior pros in the first team this season.
Ryan O'Kane (Dundalk, 17-years-old)
Again, ask the people of Dundalk and they'll hype up this young man until the cows come home.
O'Kane is living the local dream playing for his hometown club. The Dundalk native had a spell in Northern Ireland, but when his time at Cliftonville came to an end, a move back home was on the cards.
This lad has really impressed during Dundalk's pre-season fixtures this season. Standing out as a genuine prospect going forward.
O'Kane is an eye-catching player going forward with an accurate delivery of the ball.
You can't expect him to be starting this season due to the wealth of talent at Dundalk's disposal.
Again, like many on this list, he'll be rubbing shoulders with some of the elite of Irish domestic football. The lessons that Ryan will learn from those experiences will stand to him going forward.
Dundalk is in this boy's blood. His grandfather Tony O'Kane is a former Dundalk chairman. This young man has the potential to keep the O'Kane name running in the club for years to come.
Luke McNicholas (Finn Harps, 21-years-old)
Right, I'm cheating. Luke McNicholas isn't a teenager.
Give me grief if you like but hear me out.
At the time of writing, it's the day before Paddy's Day and Cheltenham has just started. Man, just wants to crack open a few cans of the mother's milk.
Plus, Finn Harps have a somewhat older squad heading into this season.
With that in mind, I've decided to go with a player we haven't seen much of at all in the league.
Goalkeeper Luke McNicholas joined Harps on loan from Sligo Rovers ahead of the 2021 Premier Division season.
Game time at his parent club has been virtually non-existent with Ed McGinty solidifying his place between the Sligo sticks.
However, talking to people involved with Sligo Rovers, they have massive hopes for McNicholas.
The belief is McGinty will get a move abroad sooner rather than later. This would put McNicholas in line to be his natural replacement.
Many out West even feel McNicholas has the potential to be better than McGinty.
So, he's now looking to prove himself with a stable looking Finn Harps team this season.
It won't be easy as Mark Anthony McGinley impressed in goal for Harps last season. If McNicholas is to show his true potential, he must start getting game time in the league.
Aaron McCabe (Longford Town, 19-years-old)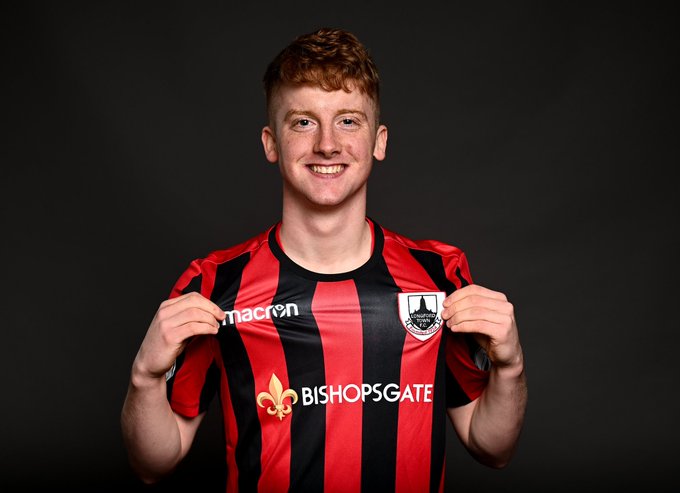 Fans up and down the country are eager to see how Aodh Dervin gets on this season. We might be overlooking another fantastic young stud at Longford this season, Aaron McCabe.
McCabe was a reliable part of Longford's promotion winning squad last season. He made 12 appearances overall, albeit mostly off the bench.
Saying that, he made the most out of his minutes.
He became a real fan favourite and even netted three goals last year. One of them been an absolute peach against Wexford back in August.
Aaron was even named Longford's Young Player of the Year.
Like Dawson Devoy, expect McCabe to be really competing for regular game time.
Whenever Longford are available on WatchLOI, remember to keep your eye on this crafty attacking player.
Max Murphy (Shamrock Rovers, 19-years-old)
Shamrock Rovers are another side this season that's so stacked in terms of strength in depth.
It's going to be very difficult for any young player to force their way into that squad. Especially, with Shamrock Rovers II dropping out of the league for the upcoming season.
However, one lad that could realistically get a handful of run outs is, Max Murphy.
Murphy is another versatile playing that is most comfortable as a full back but is very handy in midfield.
Max arrived at Rovers last season after an almost three-year spell with Stoke City.
As you can imagine, minutes were limited last year as Shamrock Rovers romped home to another Premier Division title victory.
Murphy was granted two league appearances off the bench. He even managed to bag himself a goal on his debut away to Finn Harps back in November.
We might see something similar from Murphy this season. While you never wish ill on anybody, it may take a depleted Shamrock Rovers squad for him to get a consistent run in the team.
Saying that, the talent is evident to see. Max Murphy is certainly a name to keep tabs on going forward.
Johnny Kenny (Sligo Rovers, 17-years-old)
The inclusion of Johnny Kenny as an exciting prospect is very justified. However, if we didn't mention him here, our very own Sligo Rovers correspondent Niamh McGee wouldn't be happy to say the least.
Most Sligo Rovers fans are chomping at the bit to see this lad is action.
Kenny only signed his first professional contract ahead of the upcoming season.
The lad seems to be a natural goal scorer. Something that's becoming increasing hard to come by in the league.
Johnny has bagged himself a handful of goals during Sligo's pre-season games.
It's a squad packed with young talents like Niall Morahan, Ed McGinty, and John Mahon.
The inclusion of Johnny Kenny into that team would give Sligo Rovers a real breath of fresh air heading into the new season.
Ben McCormack (St. Patrick's Athletic, 17-years-old)
St. Pats have promoted several underage players to their senior team ahead of the new Premier Division campaign.
The Inchicore side have invested heavily into their underage system in recent years and they're really beginning to see the fruits of their labour.
Pats have always been a club known for pumping out talented youngsters. Ben McCormack looks set to be another breakout star for the Saints.
McCormack has been unbelievably influential for the club's underage teams during a fruitful spell.
He also made two league appearances for Pats senior side last season.
With the Dublin side opting for quality over quantity in the transfer window, more game time is likely on the cards for the Ireland underage international.
Cian Kavanagh (Waterford, 18-years-old)
Waterford done plenty of late business in terms of bringing players in during the off-season.
The arrival of four lads on loan from well-regarded English clubs caught plenty of attention.
However, the arrival of Cian Kavanagh on a one-year deal is the one Waterford fans should keep an eye on.
He returns home to the Premier Division after a short spell at Scottish League Two side, Cowdenbeath.
The Dublin native previously played with St. Patricks Athletic, but never got going in Inchicore.
You would imagine he will be more involved with Waterford this season. The Munster side have lost the services of forward players like Matty Smith. Giving young lads like Cian Kavanagh the perfect chance to become a regular player up top for the Blues.