This weekend at UFC 257, fight fans around the world will get to witness a highly anticipated fight between two top ranked lightweights, Conor McGregor, and Dustin Poirier.
These two warriors collided for the first time at UFC 178, way back in 2014 at featherweight.
It was the notorious one that walked out with his hand raised on that occasion, getting the TKO victory just 90 seconds into the fight.
The animosity between the two was red hot heading into their first fight. With many fans believing McGregor got under the skin of Poirier, making him far too emotional heading into the bout.
Since Their Last Meeting
Both men have developed and matured in front of our very eyes since then.
McGregor went on to solidify himself as one of the biggest sport stars in the world.
Becoming the first ever fighter to hold simultaneous world championships across multiple divisions in the UFC. Holding both the featherweight and lightweight titles at the same time.
Plus, had one of the biggest boxing bouts of all time against the great Floyd Mayweather back in 2017.
While Poirier understandably didn't quite reach the heights that McGregor did, to downplay his achievements would be criminal.
Dustin would move up to lightweight after his featherweight clash with McGregor.
He would pick up wins against the likes of Anthony Pettis, Justin Gaethje and Eddie Alverez, putting on stellar performances in the process.
This would all cumulate in Poirier squaring off against Max Holloway for the Interim UFC Lightweight Championship.
Dustin would bring home the win and the title in another fantastic display.
While he would lose the unification bout against Khabib Nurmagomedov, Poirier proved during this run he was one of the elite fighters in the world today.
Lead Up To UFC 257
Both Poirier and McGregor find themselves coming off a win, with both men bouncing back from defeats to Khabib before those victories.
Conor made handy work of the legendary Donald Cerrone at the start of 2020 at UFC 246. While Dustin put on a Fight of the Year contender against Dan Hooker back in June.
Speaking of Hooker, he finds himself on the co-main event of UFC 257. He'll be welcoming the debuting Michael Chandler to the organisation in what is another crucial fight in the lightweight division.
Rightly or wrongly, this event is seemingly all about the McGregor and Poirier fight.
Conor has dominated the promotion and marketing surrounding this event as you may expect. Even at the big press conference during the week, all the journalist wanted to do was ask the Irish man a question.
He looked back to his best against Donald Cerrone, but it would take a brave man to bet McGregor can knock out Poirier again in under two minutes.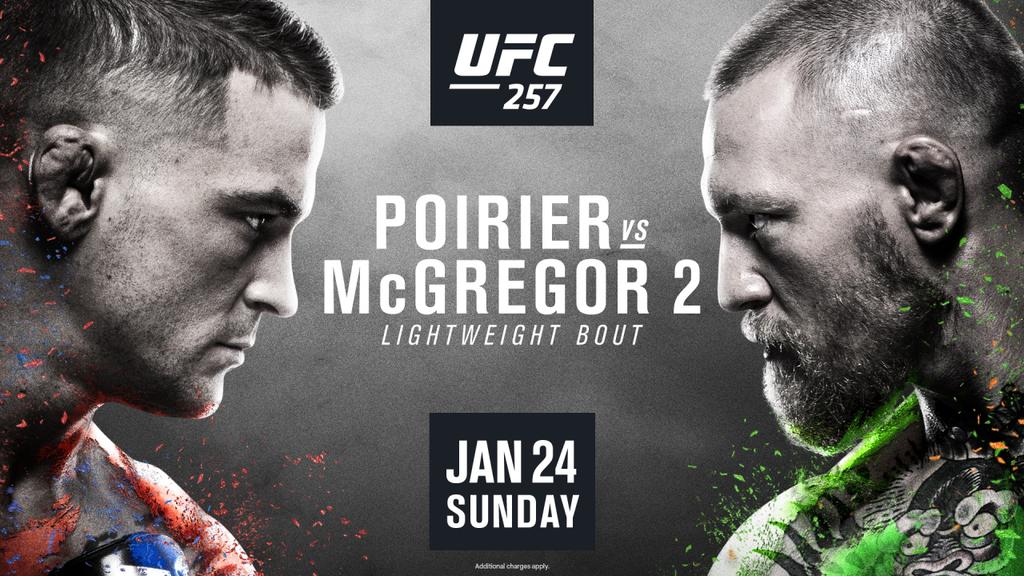 Dustin Poirier
Since making the move up to lightweight, Dustin Poirier has constantly continued to improve his game.
He grows into fights and even seems more comfortable in the later rounds. If you watch back his fights against Dan Hooker and Max Holloway, he really came into his own as the fight progressed.
Poirier has fantastic boxing and a strong takedown element in his arsenal too.
Also, when you listen to people who fought Dustin at lightweight, they all say he is surprisingly strong, which is not what you want to hear if he's trying to take you down.
Once the 155lb weight is made, when Poirier rehydrates, he enters his lightweight fights a more filled out figure. His back and shoulders are much broader.
He even reportedly entered the Hooker fight weighting over 180 lbs.
Keys To Victory
Away from the physical attributes, Dustin's mental preparation would have been key coming into his rematch with Conor.
During every advertisement and highlight package leading into this one, Poirier would have seen his previous defeat replayed non-stop.
Again, listening to fighters during the build up of UFC 257, they all said the knockout Dustin suffered at the hands of Conor will be a factor in this fight.
It'll mean Poirier facing that reality head on once again. He will need to face the fact he got caught against the man he's fighting this weekend and truly remove that from his mind.
Fighters always tell us mere mortals that the mental approach to fighting is just as important to the physical. Dustin Poirier will need to win his inner mental battle to confidential use his great boxing skills to full effect against McGregor.
Many people will automatically assume that the key to beating McGregor is getting him on the ground. But, in this fight that would be wasting the best aspect of Poirier's game and that's his stand-up.
Dustin will need to be disciplined with his striking in the opening round. He will want to land early in the fight to earn that respect off McGregor without getting caught himself.
It certainly will be the slick boxing of Dustin and his limitless cardio that will be the notable keys to victory for the American.
Conor McGregor
Everyone knows what he brings to the table at this stage.
He is one of the best and most diverse strikers in the organisation and has pure dynamite in his left hand. His movement is truly unique and he's a tough puzzle to figure out.
These are aspects of him that were never in question.
However, one thing that is in question and I vigorously disagree with is his apparent lack of condition.
Conor's Conditioning Myth
Conor completely gassed out in his first fight with Nate Diaz. Since then, it has been endlessly pointed out as a major flaw in his game.
It was evident to everybody that he was exhausted early into the fight against Nate Diaz, you must understand why.
Three months before the Diaz fight, McGregor knocked Jose Aldo out in 13 seconds to win the UFC Featherweight Championship, this we know.
After that, he was scheduled to fight Rafael Dos Anjos, the lightweight champion at the time. Before their bout, Dos Anjos pulled out with a foot injury.
Nate Diaz stepped in as a short notice replacement and the fight was to be contested at welterweight instead.
So, in the space of three months McGregor was the featherweight champ preparing for a 155lb lightweight fight. He then jumped up to welterweight which is 170lbs.
That's a massive weight jump in a relatively short amount of time. It was also Conor's debut at welterweight, and he may have not been accustomed to the bigger frame that comes with the weight class.
McGregor has gone ten rounds in boxing with one of the greatest of all time, Floyd Mayweather. Plus, went four rounds with a peak Khabib and managed to stay on his feet for the entire third round and win that round too.
While nobody not even the brash Conor McGregor can claim he has anywhere near the best gas tank in the UFC. To say he has zero cardio is just not true.
He has had 12 fights in the organisation thus far and this myth has come off the back of one of those.
Is Conor Back To His Best?
The other questionable factor surrounding McGregor is his mindset.
Conor himself admitted he wasn't truly dedicated in his preparation for the Khabib fight.
While this could be looked at as an excuse for losing, I think the evidence speaks for itself.
He was drinking at the press conference and on the Conan O'Brien Show leading up to the fight. Plus, he attended a Drake concert the night before the bout, that isn't the actions of a committed fighter.
This time around you can tell Conor is probably the sharpest he's ever been. All reports coming out of the camp seem extremely positive and we really are going to witness the best version of Conor McGregor.
During the press conference and ceremonial weight in, he seemed genuinely excited and looked in fantastic shape.
You can clearly see he has matured and still feels he has a lot to give in this sport.
Dustin Poirier vs Conor McGregor II
It was nice to see the interactions between these two fighters leading up to the event.
They both have matured in and out of the cage and there seems to be a mutual respect now underneath their competitive rivalry.
This is a real test for both men, physically and mentally.
We could look back at their last fight and come up with our own predictions on what could happen, but both men have come a long way since that encounter.
They're both vastly better fighters, who have reached the top of the mountain in this sport. It's a genuinely intriguing fight that will have us all afraid to blink in case something happens.
Ultimately, it's a different weight class from their first fight which of course will play a factor. With a potential lightweight title shot on the line, this is set up to be one of the biggest fights of 2021.
Prediction
Now, it's time to get off the fence and make a prediction.
Personally, I think Conor McGregor will pick up the win here. I won't even begin to guess the method of victory, I just think the fight will be a striking battle and McGregor is outright better in that department.
I don't think it will be as simple as McGregor wins it early or Dustin wins it late.
We have two elite athletes going head-to-head with each other, I just don't think at this level we can simplify it that much.
I will gladly stick out my neck and say it will be a must watch fight, McGregor fights normally are.
Both are better versions of themselves and bring a much better skillset to the table this time around.
We don't have long to wait now and I for one am getting extremely excited for this one.
Even though it does require me to stay up until 6am drinking cans, the sacrifices we make folks.