Bona fide Sligo Rovers legend, Rafael Cretaro recently announced he has hung up his prolific boots after 21 seasons in the League of Ireland.
The Sligo native retires in the knowledge that he is beloved, not only by his home county, but by the entire Irish domestic football fanbase.
A constant professional and one of the nicest guys you are ever to meet. You would be hard pressed to find anyone with a bad word to say about Raff.
Cretaro bows out of the league after two seasons with Finn Harps, where game time was somewhat limited. It can't be downplayed how important his experience and character are to any dressing room he steps foot in.
The 39-year-old announced the news on his official Twitter account with a short but sweet statement.
He said, "Don't cry because it's over smile because it happened, football owes me nothing I owe it everything. A simple Go raibh maith agat."
Raff will be best known for his length time in the Showgrounds over three spells with Sligo Rovers.
The versatile striker finished his career as the second highest scorer in the club's history. Second only to Johnny Armstrong who played for the club from 1952 until 1964.
While it wasn't a career littered with silverware. Raff can be extremely proud of the career he built for himself and does have some nice winners' medals to look back on now in his retirement.
So, let's look at this career that made Cretaro a legend of the League of Ireland.
Early Life and Career
Straight off the bat, you can guess that with a name like Rafael there is some Italian influence in the life of Raff.
In fact, his father was born in Italy and after meeting his wife in Ballina. The young couple eventually settled down in the town of Tubbercurry in Sligo.
The name Cretaro is held in high regard when talking about sports in Sligo.
The lads in the family have all made their mark at the highest level in the county's sporting history.
Raff's father, Rafael senior, played football at a local level for Real Tubber. This would be the same local side his son began his football journey with.
While Raff's younger brother, Fabio played hurling at senior level for Sligo.
GAA was a possible route for Raff too, along with other sports he excelled at during his school days. He even represented Sligo's Gaelic team at minor level.
Thankfully, for the League of Ireland, football was the path Cretaro decided to go down.
Big Break
Like many would be pros, Raff developed his abilities into his teenage years and was really starting to make a name for himself in local circles.
These things don't go unnoticed at League of Ireland sides in and around the area.
Just as he was finishing secondary school, Raff got his first sniff of action with Sligo Rovers.
He was invited to train with the 'Bit o Red' first team in 1999 by then manager Tommy Cassidy.
Raff impressed and would be quickly handed a deal to sign for the then First Division side during the 2000/01 season.
The new millennium brought this new opportunity, but he would have to wait for his chance.
Cretaro spent his first few months on the fringes of the squad. Like many young players he had to bide his time.
That chance finally came one night in Monaghan.
Sligo travelled to face Monaghan United in a league game. The squad was depleted due to injuries and suspensions and Raff found himself on the bench.
The dream debut would come through, he would come on as a sub and make an instant impact.
Five minutes into his senior career, Raff would grab his first goal for Sligo Rovers, levelling the score line at 2-2.
This was the catalyst for Cretaro to start his career as a professional footballer.
Manager Tommy Cassidy began to give the teenager more game time and Raff took it with both hands, developing into a key player all over the pitch for Sligo in the coming years.
Sligo, Back In The Big Time
This would all happen during a five-season spell, where Sligo found themselves continuously stuck in the First Division.
Having the likes of Cretaro coming through the ranks gave the Sligo faithful a bit of hope.
It all came together during the 2005 First Division campaign.
Sligo Rovers would finally find themselves back in the top tier of Irish domestic football. Finishing the season as champions, two points ahead of their closest rivals in the table Dublin City.
The step up to the Premier Division meant the club must step up too.
Sligo Rovers made the decision to go full time. A move at the time that just didn't suit the personal life of Cretaro.
So, this gave Raff the chance to explore other avenues out of his home county.
Galway Guy
He wouldn't have to go that far, as then Galway United manager Stephen Lally wanted to bring Raff to the club to try and get Galway back into the Premier Division.
So, Cretaro joined the 'Tribesmen' for the 2006 First Division season.
It wasn't the smoothest start for Raff at Galway. He missed a couple of months due to a facial injury.
However, he bounced back and even managed to get himself into the First Division Team of the Year at the end of his sole season with Galway United.
Despite that, we all know home is where the heart is and after a quick excursion away it was time for this home bird to return to his nest.
Back Home
Raff quickly settled back into life in Sligo and embraced the push as a now full-time footballer.
His grand return came around the same time a new regime was about to begin under new manager, Paul Cook.
Under Cook, Sligo would spend the next couple of seasons solidifying themselves as a side that consistently battled for European football in the Premier Division.
They would qualify for the inaugural Europa League competition, after finishing fourth in the 2008 Premier Division table. Earning themselves a spot in the first qualification round.
Sligo came up against Albanian side Vllaznia.
The side from South-eastern Europe won the tie 3-2 over two legs.
Raff grabbed his first goal in Europe with a late penalty when the Albanians visited the Showgrounds in the first leg.
The disappointment in cup competitions would carry over to the following season in 2009.
Sligo Rovers found themselves in that years FAI Cup final against Sporting Fingal, managed by current Sligo Rovers boss Liam Buckley.
Fingal would leave Tallaght Stadium with the famous trophy. After beating Sligo 2-1 with a late comeback due to two goals in the last five minutes.
On a personal note, 2009 was a year when Raff really started making a name for himself more than ever.
He was starting to come into the prime of his career and was attracting interest from sides in England and Scotland.
However, he would remain in Ireland, but opt for another step up in class.
Big City Boy
Cretaro signed for Bohemians ahead of the 2010 Premier Division campaign. The Dublin side just won back-to-back titles and even won a domestic double the season before, winning the league and league cup in 2009.
It was another hard decision to leave home during this stage of his career and life. Raff has said in the past the alure of the contract he was offered was just impossible to turn down.
So, he left for his first and only season in Dublin.
It was a barren season for Bohs, who finished up second in the league. Losing their title on goal difference to bitter rivals Shamrock Rovers.
Raff must have had one eye on what was going on back at home as something special was beginning to brew.
While he was up in the capital, back at home Sligo celebrated their FAI Cup and league cup success in 2010.
During his time at Bohs, Cretaro stayed in touch with his former boss Cook and jumped at the chance to return when offered.
It was a wise move, and the perfect storm came together, giving Sligo their most successful period in recent history.
Back Home (Again)
During his first season back at Sligo in 2011, Raff helped his side finish second in the league, just four points behind Shamrock Rovers.
However, they would get the better of another Dublin side in that years FAI Cup final.
Sligo found themselves in their third final in a row, this time against Shelbourne.
Both sides would finish up level at 1-1 after extra time and needing a penalty shoot out to anoint a winner of that year's cup competition.
Shels buckled under the pressure, missing two consecutive spot kicks.
It was Raff who stepped up and slotted away the winning penalty, ensuring Sligo retained their FAI Cup and giving himself a personal highlight to his career.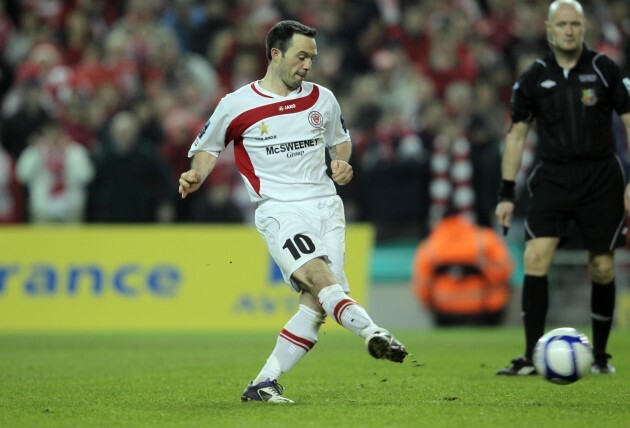 The Good Times
The following season Sligo Rovers would go one better.
New manager Ian Baraclough would build on the groundwork already put in by Paul Cook.
Baraclough would guide his new side to their first Premier Division title in 35 years, last winning it in 1977.
Of course, it was two goals by Raff that clinched the title against St. Patrick's Athletic in front of a packed house in the Showgrounds.
This would be the first and only time Cretaro would win a league title during his career, richly deserved for a man that is Sligo Rovers through and through.
The good times wouldn't slow down the following season either.
While Sligo failed to regain their league title, that honour would go to St. Pats who ironically beat Sligo to clinch the title in Richmond Park.
Sligo would get their hands on another FAI Cup, appearing in their fourth final in five years.
Beating Drogheda United 3-2 in the Aviva Stadium, in what can only be described as the best FAI Cup final the Aviva will ever host, very dramatic stuff.
The highlight of 2014 for Sligo was a famous victory over Norwegian side Rosenburg during the first leg of the second round of qualification in the Europa League.
True Sligo Man
Unfortunately, as tradition in the league, the good times at Sligo were met with a sticky patch that they still somewhat find themselves into this day.
Several managers came through the Showgrounds. Only now, under the guidance of Liam Buckley, consistency and better times seem to be on the horizon for Sligo Rovers.
During this spell, in 2018, a testimonial game in the honour of Rafael Cretaro was played in the Showgrounds to thank 'the Tubbercurry Tornado' for his immense service to his club.
This seemed to be the swansong in the career of Rafael Cretaro. With many believing he was even offered a background role at Sligo Rovers.
But retirement last for a long time and despite been deep into his 30's at the time, Raff believed he still had something to offer in the Premier Division.
Calling It A Day
So, the unthinkable happened, Raff left for pastures new and didn't finish his career in Sligo.
Instead, he went up North to link up with well respected manager Ollie Horgan at Finn Harps in Donegal, to finish his career.
He left Sligo as a legend and is still beloved in his home of the West of Ireland.
Nobody can deny that Cretaro is a once in a generation type of player when talking about Sligo Rovers. He played his best football for the 'Bit o Red' and will forever be loved in that part of the country for his service.
Of course, it would be fitting to see him return home to Sligo Rovers in an off-field capacity.
For now, Raff can look back proudly at a career that would make many envious.
Rafael Cretaro is easily one of the nicest players I've met during my time following our great league and is undoubtably a legend of the League of Ireland.
Raff Cretaro's Honours:
1 Premier Division Title
1x with Sligo Rovers in 2012
1 First Division Title
1x with Sligo Rovers in 2005
2 FAI Cups
2x with Sligo Rovers in 2011 and 2013