UFC President Dana White recently put the entire UFC roster on edge.
White announced the leading organisation in MMA would be making around 60 cuts to its active fighter roster. The reasoning is that White feels the roster is seriously bloated. For lack of a better term, some dead wood needs to be shifted.
It's never a nice time for anyone to lose their job, especially during a global pandemic and so close to Christmas.
Unfortunately, it's the nature of the beast and an aging fighter with a patchy record can be viewed as surplus to requirements.
Already we have seen big names like Anderson Silva and most recently Yoel Romero get released from their UFC contracts. Known names like Rachel Ostovich and Matt Wiman also got the chop, with both fighters on a three-fight losing streak.
This seems to only be the start of the mass clear out from the promotion.
Expect to see plenty of journeymen type fighters get let go, but we will also see plenty of big names departing for pastures new.
The likes of Sam Alvey, Jeremey Stephens, Demian Maia and Ben Rothwell could all find themselves out of the company very soon. As everyone else that has been cut so far is aging or on a losing streak. All four of those guys fall into one or even both of those categories.
Really, we could be looking at bigger names than just fan favourites.
Former champions and undisputed legends of the game could also be on the next UFC release list.
So, who could these possible big-name fighters be?
Mauricio Rua
Sadly, Shogun would be the perfect example for somebody that could easily find himself out of the UFC very soon.
He's pushing 40 years old and is coming off the back of a bad defeat.
Rua doesn't have that bad of a recent record compared to others we will mention shortly.
Before his recent loss, he beat Australian Tyson Pedro and fellow Brazilian legend Antonio Nogueira, with the latter coming only back in July.
However, in his last fight Shogun was outclassed by Paul Craig, as the two rematched from their draw back in 2019.
After the fight, Dana White admitted he would like to see Rua retire after the fight. He went as far as saying the former UFC Light Heavyweight Champion "looked old and looked like a shell of his former self tonight."
Luke Rockhold
Rockhold could be another former UFC champion that finds himself out the door, sooner rather than later.
Rockhold won the UFC Middleweight title at UFC 194 back in December 2015. He lost it six months later in his first defence against Michael Bisping.
Since then, Rockhold has a UFC record of 1-2, that single win was against a game David Branch.
Luke finds himself on a two-fight skid, getting viciously knocked out by Yoel Romero a few months after the Branch fight. That was followed up by another nasty knockout at the hands of Jan Blachowicz. The Blachowicz fight was his light heavyweight debut.
If we're going off the evidence of his last two outings, the chin of Luke Rockhold has deteriorated.
This one wouldn't be the end of the world.
Rockhold does have a successful modelling career. He's the face of Ralph Lauren's aftershave and has even modelled at New York Fashion Week, which I'm told by a reliable source is a massive deal.
So, maybe keeping those modelling looks in tack would be the best option going forward.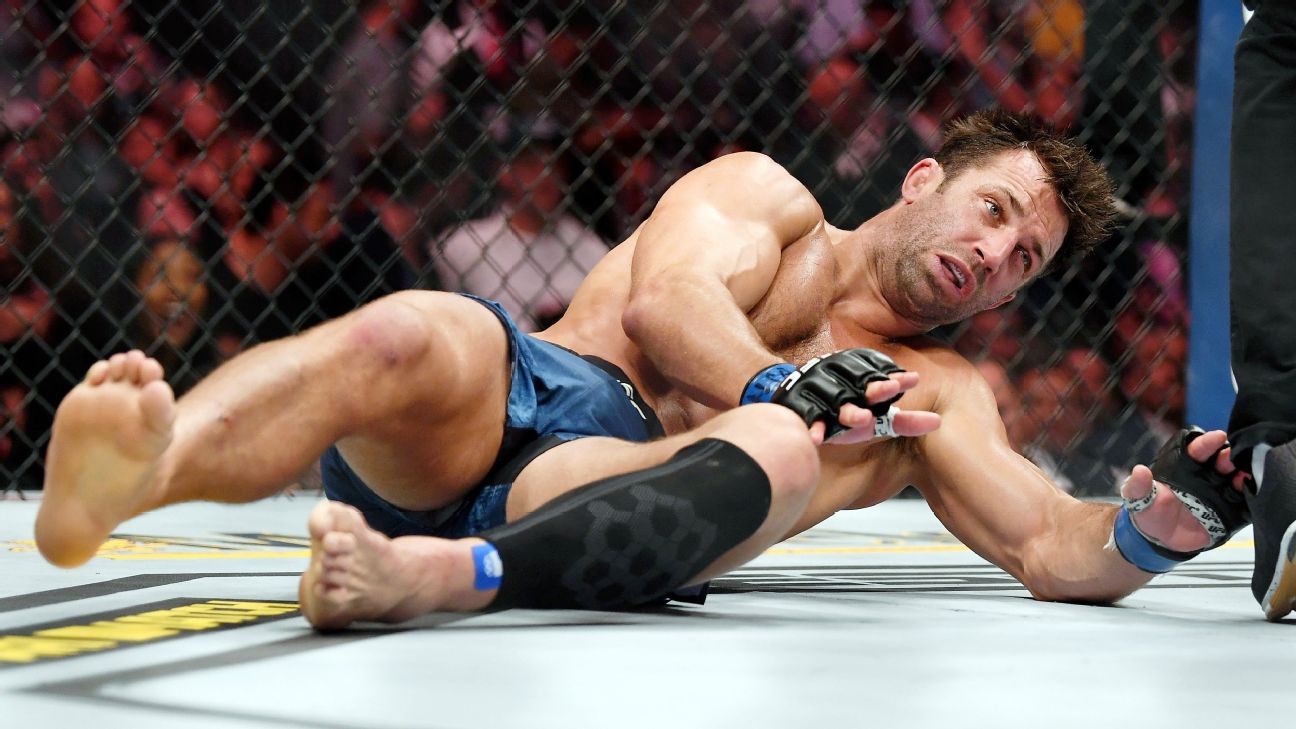 Tyron Woodley
At the end of the day Dana White has the final say when it comes to his roster.
Rightly or wrongly, things like personal preference will come into his thinking when trimming down the roster.
White has never been shy of publicly bashing fighters signed to the UFC. The likes of Roy Nelson, Jon Fitch, and the man we are focusing on now, Tyron Woodley have all felt the wrath of White.
Woodley became UFC Welterweight champion at UFC 201 in 2016, beating Robbie Lawler for the title. Lawler could be another man added to this conversation.
Tyron successful defended his title four titles, with many hailing him as one of the best welterweights of all time during this run.
Others claimed Woodley was just outright boring to watch. One of his biggest critics was Dana White himself.
His wrestling heavy style wasn't everyone's cup of tea and we have seen a crowd boo the performance of Woodley after a fight.
Personally, I don't mind Woodley. He's very explosive and can finish a fight as we've seen in the past.
However, Dana White isn't a fan. Add this to the fact he finds himself on a three-fight losing streak, Woodley's days could be numbered as a competitor in the UFC.
Diego Sanchez
If you are a long-time fan of the sport, some of these fighters are people you grew up watching. We have seen these guys and gals, develop in front of our very eyes.
In a weird way these cuts could be used to save some fighters from themselves.
Every MMA fan loves Diego Sanchez.
He first came into mainstream publicity during his time on Season One of 'The Ultimate Fighter' when he won the middleweight tournament.
Dana White has always said he loves the lads from that season of TUF.
Now seems to be the time to cut the last remaining member from the inaugural TUF season that's active in the UFC.
Sanchez's record has been patchy for the past ten years or so. Really that was the appeal of him in an odd way. He always stepped up to brawl and engage in a fan friendly fight.
Diego has fought in multiple weight classes and you can rely on him to fight two or three times a year.
Honestly, it's getting hard to watch him, especially ever since he linked up with that fraud of a coach Joshua Fabia.
Over the past year Fabia has acted as Sanchez's cornerman and trainer at the School of Self-Awareness.
Since the two have partnered up together, fan concern has increasingly grown for Sanchez.
He looked desperate in his last fight, both physically and stylistically speaking.
Really, now seems the time for him to call it time on his career.
Donald Cerrone
Now, this is the one nobody wants to see, but probably will happen.
Like Sanchez, every fan of the sport worth their salt loves Donald 'Cowboy' Cerrone.
His fight style is extremely fun to watch, he's endlessly likeable and always willing to step up and fight. All traits that the fans and Dana White love in fighters.
After his last fight back in September, I put together a similar article talking about a possible Cerrone retirement.
I detailed the reasoning behind it and gave a good retrospective of the man's career to date. You can check that out over on the Big Kick Off website if interested.
As sad as it would be to see Cerrone leave, it's something Dana White has said he'd like to see after his last fight.
Cerrone is winless in his last five fights. While he hasn't looked terrible, it's just the fact he is taking a lot of damage in these fights and realistically has nothing to aim for.
His career is slowing down, and young fighters have well passed him by now. With his trait for always wanting to stay active, it has potential to end badly for Cerrone.
Nobody wants to see him go, but it really could be for his own good at this rate.
That's just some of the fighters that could be on a UFC released list soon.
As I said, it's never ideal to be talking about people losing their jobs. Hopefully, anyone that is released is either financial stable or finds employment ASAP.
Now, we pass it over to you. Is there anyone you think could depart the UFC because of the major upcoming cuts?
Let us know in the comment section below and keep an eye on the Big Kick Off for a variety of great sports content.