Most editions of this series we looked at the careers of legendary on field figures throughout the great history of the League of Ireland.
Some of them did transition into management with most of them usually succeeding in that role too.
One thing we haven't done yet is looked the career of someone who is simply known for their management duties.
Plenty of great managers past and present either didn't play much at a professional level or didn't have notable careers while playing.
Current Republic of Ireland manager Stephen Kenny falls into that category. While many laughed off Kenny when appointed Ireland manager due to his apparent lack of experience. A claim which is just flat out wrong.
Kenny has been in senior management for over 20 years now. Learning his craft in the League of Ireland for much of that tenure. So, even though Kenny is now only 48 he has been around the block plenty of times in this game.
It's these blocks that I would like to revisit today with you. Stephen has reached the pinnacle of the Irish domestic game. He is highly regarded in all circles in our league and calling him a legend of the League of Ireland isn't a stretch at all.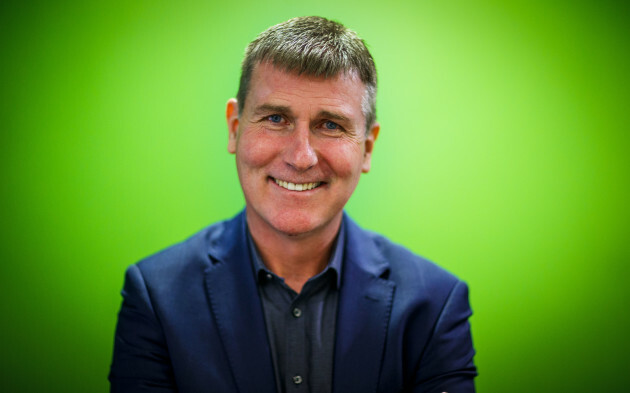 The Early Days
Stephen Kenny was born on the 30th of October 1971. A Tallaght lad born and breed like most young lads growing up in the area Stephen was football mad.
He played his youth football with highly regarded Dublin side Belvedere. Later he would move into the youth system of St. Patricks Athletic in Inchicore.
This youth career would develop into a short-lived career as a League of Ireland footballer.
Kenny failed to break into the senior squad with St. Pats and moved to fellow Dublin side Home Farm. Kenny linked up with the side ahead of the 1994/95 First Division season.
Stephen made his League of Ireland debut in a league game on the 13th of March 1994.
However, this would only be one of his four appearances during his time with Home Farm. They finished 6th that season in the First Division.
As we known the club would fall out of the League of Ireland in 2006. This followed the collapse of an affiliation with Everton and a name change to Dublin City FC.
Kenny made the decision to go down a different path after this one season spell with Home Farm.
Getting Into Coaching
He was only 25 years old, but Stephen fancied himself more as a coach.
That's what he done, and he linked back up with St. Patricks Athletic in 1998.
During the three-year spell away from football before joining the Saints as a coach Kenny set up his own meat production company. Something he would continue to do during the late 90s.
Balancing two roles was a tough task for Kenny but it was what he needed to do, to get where he needed to go.
St. Pats gave him the reigns of their Under 21s squad. He took charge ahead of the 1997/98 Athletic Union League (AUL). Kenny started his coaching career off with a bang and guided his young Pats side to the AUL league title that season.
This didn't go unnoticed back in the League of Ireland and senior management wasn't far away for a young Stephen Kenny.
First Big Break
Longford Town came calling for the young managerial prospect. This was Kenny's first full time senior role in management. The opportunity gave him the chance to solely focus on his new career in football and pack in his meat business.
Stephen was appointed manager of Longford Town ahead of their 1998/99 First Division campaign. This made him the youngest manager in League of Ireland history at the tender age of 26 years old. Stephen still holds this record and probably will for a long time to come.
Overall, it was a successful first season for the rookie manager. Kenny guided his Longford side to a 4th place finish. Just finishing out on the promotion/relegation play off position. Cobh Ramblers beat them to the punch by a small margin of only four points.
Early signs were promising for Kenny and Longford going forward.
They would carry over this momentum to the 1999/00 First Division season.
This would be the season that Kenny earned his first true accolade in his managerial career. Longford finished 2nd that season and gained automatic promotion into the Premier Division.
This was the first time Longford gained promotion to the top tier of Irish football since the restructuring of the Irish domestic leagues in 1985.
Longford came extremely close to winning the league outright. They just missed out by two points and it was Bray Wanderers that picked up another First Division title that season. It was still a massive victory for the Midlands side.
Leading Longford Into The New Millennium
The new millennium arrived, and it brought envigored energy to all involved at Longford Town.
Longford would survive the drop during the 2000/01 Premier Division campaign. They finished 8th overall and it was a comfortable enough survival in the end. Longford avoided the drop zone by five points with Kilkenny City and Finn Harps going down instead. UCD would avoid the drop themselves via the promotion/relegation play off.
However, it also could have been the season Stephen got his hands on his first piece of silverware as a manger.
Longford got themselves to the FAI Cup final in 2001. Unfortunately for them they were beating 1-0 in the final by Bohemians in Tolka Park. This was during a spell Bohs got to three finals on the bounce with this been their only victory from those three games.
Away from the disappointment of the day it was a season to be proud of for Longford and Stephen upon reflection.
Their appearance in the FAI Cup final also secured them a slot in the qualification round for the following season UEFA Cup. Bohemians were crowned league champions in the 2000/01 season, this meant their European slot that comes with winning the FAI Cup fell to the runners up Longford.
They would ultimately lose their qualification tie. Bulgarian side Litex Lovech would win the tie 3-1 on aggregate in August 2001.
Shortly after Stephen would part ways with Longford after three successful seasons at the club.
Bohs Bound
Kenny would make the move to the side that beat him in the FAI Cup final, Bohemians.
It was a step up in class for Stephan taking the hotseat at the reigning Premier Division champions and double winners from the previous season. However, all wasn't rosy at the Dublin outfit.
Bohemians sacked league winning manager Roddy Collins after a turbulent relationship between the two parties. Pete Mahon came in as a replacement for short spell and got off to a good start but struggled in the role.
So, Kenny arrived in December 2001 brining fresh ideas and eyes to the club.
Kenny did steady the ship and guided his Bohs side away from the bottom end of the table. They finished 4th that season. While it wasn't what they had in mind it was a respectable job by Stephen.
They did disappointingly miss out on the top three by a single point behind Dublin rivals St. Patricks Athletic.
The job done by Stephen in the league was somewhat dampened by their FAI Cup final performance.
Bohs got to the final again at the back end of the 2001/02 season.
They faced a Dundalk side who just got relegated before the final.
Surprisingly, Dundalk lifted the famous cup on the day. The Lilywhites won 2-1 in Tolka Park with a brace from Garry Haylock securing the win. This was the second cup final heartache for Stephen on the bounce.
Brining Bohs Back To Their Best
He pressed on and really put his own stamp on the squad before the 2002/03 league season.
It worked wonders and Bohs were back to their best. Showing Kenny has a real eye for selecting what players to add to a squad in need of a kick.
Bohs would become league champions once again at the end of the season. Beating rivals Shelbourne to the title by five points. The first league title for Stephen Kenny.
This not only gave them the title but gave Kenny his first experience of Champions League football.
They got past the first hurdle and beat BATE Borisov 3-1 over two legs in the first qualifying round. But they would be outclassed in the next round. Getting comfortably beaten 5-0 on aggregate by Norwegian powerhouse Rosenberg.
The following season wouldn't be as successful for Kenny or Bohemians.
It was Shelbourne who pipped the title by five points over their Dublin rivals that season. Knocking Bohs back down to UEFA Cup football after their spell in the Champions League.
During their first UEFA Cup qualification tie Kenny took charge of Bohs for the final time.
Bohs came up against Estonian side Levadia Tallinn. They held on to a great 0-0 draw away from home and were expected to progress once they got their Estonian counterparts back to Dalymount Park.
It wasn't to be and Bohs lost the game 3-1 and were dumped out of the competition.
After a slow start to the season it was enough to see Kenny get his marching orders from the club midway through the 2004 season.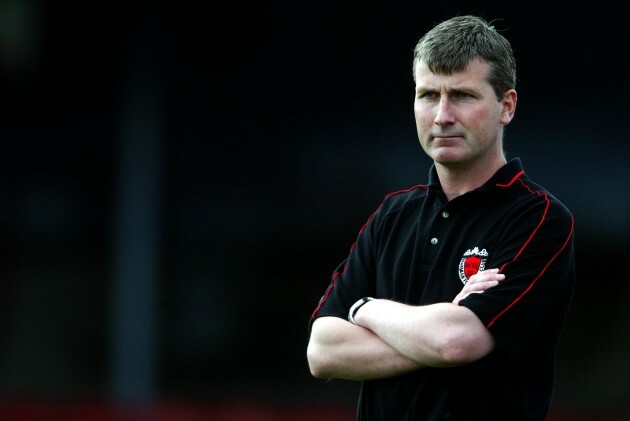 Derry City (Part 1)
Stephen wouldn't have to wait long for his next opportunity.
Three weeks later Derry City came in for the league winning manager following the sacking of Gavin Dykes.
Like when he arrived at Bohemians, Kenny got off to a solid start at Derry. He gave them stability and got them to a 7th place finish in the 2004 season.
His turn around at the club was quick and deadly. In the space of one season Derry went from strugglers to serious title contenders. They finished up as runners up in the 2005 season. Just missing out on the title by two points with Cork City winning the league instead.
They did get their hands on some silverware in 2005. Derry won the league cup beating UCD 2-1 in the final.
More importantly for the club they had European football back in Derry and they went on a serious run during qualification.
Dazzling Derry
They started off by beating Swedish side and two-time UEFA Cup winners IFK Goteborg 2-0 over two legs. This was the first time in 40 years Derry got past the opening round of qualification in any European competition.
Derry got a favourable time in the next round against Scottish side Gretna. They battered the Scots away from home 5-1 in the first leg. This was the largest away winning margin by any League of Ireland side in Europe.
Derry would go on to win the tie 7-2 on aggregate after a 2-2 in the Brandywell.
A tough tie lay ahead in the final round of qualification against French side PSG.
Derry got a fantastic 0-0 draw out of the French side at home in the Brandywell.
Unfortunately, they were just outclassed in the Parc des Princes suffering a respectable 2-0 defeat. Nothing to be ashamed about as PSG would reach the last 16 of the UEFA Cup that season.
However, back at home 2006 would bring more joy to Derry and Stephen.
They did disappointingly finish 2nd again in the league. Losing out to Shelbourne on the final day of the season by goal difference in very dramatic fashion.
They would go on to win the FAI Cup. The first in the career of Stephen Kenny. Beating St. Patricks Athletic 4-3 after extra time in the last FAI Cup final/football match in the old Lansdowne Road.
They also regained their league cup. Beating Shelbourne on penalties in the Brandywell finally get one up over the champions in 2006.
After this fruitful spell Kenny made his only excursion away from Irish football.
Sad Times In Scotland
After this fruitful spell Kenny made his only excursion away from Irish football.
Kenny left Ireland to take up the manager position at SPL side Dunfermline Athletic. Stephen took charge on the 18th of November 2006 as he watched his new side take on Dundee United from the stands.
It was a horrendous start and it took Kenny nine games to pick up a win. Beating Rangers in the third round of the Scottish Cup winning the game 3-2.
The Scottish cup would be the main source of success and frustration for Kenny during his time in Scotland. He guided his team to the final in 2007 but came up short in a 1-0 defeat to Celtic.
Dunfermline would soon be relegated to the Scottish First Division.
During their first season in the First Division things didn't go to plan and they didn't look like getting back up to the top tier. This led to Kenny losing his job in December 2007 after just over a year in charge.
This was the lowest point of his career to date.
Derry City (Part 2)
During this delicate time in his career Stephen returned to the familiar surroundings of Derry.
Stephen returned to take the place of John Robertson ahead of the 2008 Premier Division season.
Again, it was a positive working partnership. Kenny had some good talent to choose from heading into the 2008 season. Despite the Candystripes losing the likes of Killian Brennan to Bohemians.
Stephen guided Derry back into European football during his first season back at the helm.
He also added to the three cups he already won with the club during his first spell.
Derry battered Wexford Youths 6-1 in the league cup final. They couldn't replicate that success in the FAI Cup. Losing 4-2 on penalties to Bohemians after a cracking 2-2 game couldn't be decided.
Stephen had a decent first run in the revamped Europa League. His Derry side beat Latvian side Skonto Riga 2-1 over two legs. But would miss out on the group stages when they came up against a solid CSKA Sofia in the next round. They lost 2-1 on aggregate.
Derry Go Down
The good times weren't to last after a scandal rocked Derry City in 2009.
While Derry City again finished in a European position. They were expelled down to the First Division for the 2010 season. This was due to allegations that the club was making extra payments to players via unofficial secondary contracts. To go along with the punishment of relegation they also had their Europa League position taking away.
In fairness this was a time Stephen showed his true colours. He was a well-respected League of Ireland manager at this point and could have remained in the Premier Division with another side.
However, to his credit he stayed with Derry City during this difficult time.
It was the stability the club needed at the time to avoid a longer stay in the First Division. They got promoted back up on the first attempt. Winning the 2010 First Division title with a three-point gap over closest rivals Waterford United earning their spot back in the top tier of Irish football.
Stephen would remain at Derry for one more season. Guiding his side back into a top three position upon arrival back in the Premier Division in 2011. While they were still banned from European competitions it was back where they needed to be.
Kenny would depart Derry for the final time on Christmas Eve in 2011.
He managed the side for five years and won six trophies over two spells. Leaving the club with a parting gift of another league cup in 2011 beating Cork City 1-0 in the final.
Rocking Up At Rovers
Stephen went straight into the vacant manager position available at Shamrock Rovers after the departure of Michael O'Neil after a successful application process.
Forget Dunfermline this was arguably the lowest point of his career to date. Stephen joined a Rovers side fresh off back to back title wins and a run in the Europa League group stages the previous season.
Stephen didn't even spend a full season at Rovers, and nothing went right.
They crashed out of Europe during the first qualifying round of the Champions League. Losing 2-1 on aggregate to Lithuanian side Ekranas.
Domestically wasn't much better. Rovers finished a poor 4th in the league.
Kenny was sacked with two games left of the 2012 season after a defeat in a Dublin derby to Bohemians. Behind the scenes politicking certainly didn't help his cause.
Stephen Kenny left Tallaght with only a Leinster Senior Cup to show for his efforts.
My goodness didn't Stephen go to prove all the doubters wrong.
Start Of Something Special
He dusted himself off and got back to work.
Kenny was announced as the new Dundalk manager ahead of the 2012 Premier Division season.
This wasn't the Dundalk side we all know today. The season before Stephen joined, they only stayed in the league via the promotion/relegation play off.
During his time Stephen transformed the whole club. This was partly to his knowledge of brining in the right players, coaching and fitness regimes and style of play.
The impact was felt immediately with the new batch of talent Kenny had at his disposal. Brining in the likes of Richie Towell, Pat Hoban, Stephen O'Donnell, Brian Gartland, and later Daryl Horgan and mixing them with like of Chris Shields worked wonders.
In his first season Dundalk jumped from relegation candidates to title candidates finishing as runners up. Just three points behind winners St. Patricks Athletic.
They didn't have to wait to long for that title to come their way.
Dundalk won the 2014 Premier Division title. Kicking off a golden era in the history of the Louth side.
They also won the league cup that season beating Shamrock Rovers 3-2 in the final.
This good fortune spilled over into the following season.
Dundalk retained their title and Richie Towell broke out as a big star finishing as the leagues top scorer netting 25 goals. They done a double again this season winning the FAI Cup too. Beating title rivals Cork City 1-0 in the final.
Europa League Group Stages
Better luck in European competitions followed this.
Dundalk earned a huge victory over BATE Borisov in the first-round qualification of the Champions League. The same Borisov side that dumped them out of the competition the season before.
Despite getting knocked out in the following round by Polish side Legia Warsaw. Dundalk guaranteed themselves a place in the Europa League group stages for the 2016/17 competition.
Dundalk were drawn into Group D with Zenit St. Petersburg, AZ Alkmaar, and Maccabi Tel Aviv. They did finish bottom of the group but showed plenty of qualities along the way.
The earned a point in the opening tie against Dutch side AZ Alkmaar. Becoming the first Irish team to earn a point in the group stages of a European competition. They followed this up shortly after with a huge 1-0 win over Maccabi Tel Aviv at home.
Dundalk finished bottom of the group with four points and plenty of great memories.
Domination By Dundalk
Dundalk continued to dominate back in Ireland under the guidance of Stephen Kenny.
They won the league for the third time in a row in 2016, again beating Cork City to the crown.
A league cup victory in 2017 would follow this after Dundalk beat Shamrock Rovers 3-0 in the final. This came in a season Dundalk finished 2nd and lost in the FAI Cup final on penalties to Cork City.
Then the moment came that no Dundalk fan wanted to see. After the 2018 season Stephen Kenny decided to leave the club for greener pastures.
He left the club in a completely different state then what he found it in. Stephen is still adored by the people of Dundalk and always will be.
During his final season Kenny guided his Dundalk side to one last league title for now. Along with helping his side beat Cork City 2-1 in the FAI Cup final.
The fourth year in a row the two would meet in such an occasion. Brining a fitting end to a great modern rivalry between Dundalk and Cork City.
Ireland International
Stephen left Dundalk with the reputation of being the elite manager in the Irish game.
This got him in with the Republic of Ireland national team. After a good spell with the Ireland Under 21s he took over for Mick McCarthy as agreed on the arrival of Stephen.
Stephen Kenny is now proudly managing the Ireland senior national team. He only has two games under his belt at the time of writing and a big Euro 2020 playoff ahead of him.
Every League of Ireland fan is rooting for him and wishes Stephen nothing but success. He is waving the flag proudly for our league and it would be unbelievable to see him take Ireland to a major European competition.
It's a tough task ahead and you can already see the improvements that Stephen is trying to make.
While we may see him back in the League of Ireland one day. For now, he is off to bigger and better things. At the young age of 48 years old the footballing world is his oyster. Stephen Kenny, a true modern legend of the League of Ireland.
Stephen Kenny's Honours:
5 Premier Division Titles
1x with Bohemians in 2002/03
4x with Dundalk in 2014, 2015, 2016 and 2018
1 First Division Title
1x with Derry City in 2010
3 FAI Cups
1x with Derry City in 2006
2x with Dundalk in 2015 and 2018
7 League Cups
4x with Derry City in 2005, 2006, 2008 and 2011
3x with Dundalk in 2014, 2017 and 2019
2 Leinster Senior Cups
1x with Shamrock Rovers in 2012
1x with Dundalk in 2015
1 Presidents Cup
1x with Dundalk in 2015
4x PFAI Manager of the Year Awards in 2013, 2014, 2015 and 2018
RTE Sports Manager of the Year in 2016
Phillips Sports Manager of the Year in 2016