This weekend marks the return of the Premier League.
While the break wasn't that long you still can't beat the buzz of the opening weekend. Fresh starts for everyone daring to dream of a fruitful season ahead.
Sadly, fans won't be able to pack their stadiums to the rafters this year. Not to worry we'll be all back watching live football soon enough. For now, let's just be excited for the long season ahead.
Personally, speaking one thing I love about the opening weekend is the goals. That might sound a bit obvious but every season it seems the opening weekend throws out an early entry for Goal of the Season.
So, that got the little hamster wheel in my brain moving. It got me thinking, what's the best goal from an opening weekend of the Premier League?
Suppose it all just depends on taste. If you're like me, you love yourself a long-range screamer nestled right in the top bins. Perhaps, you prefer a man on a mission scoring a sensational solo goal. You might even be a connoisseur of an acrobatic effort.
Whatever your taste may be keep your eyes peeled on the box this weekend because you're more than likely going to be in for a goal treat somewhere.
So, let's get down to business before we miss the final day of the season with me rambling on. These are my favourite goals from the opening weekend of any Premier League season.
As always, these five are just my personal shouts. We would love to hear your opinion in the comment section and tell me just how wrong these are.
Look we're going all the way back to 1992 for these selections with mountains of goals to pick from. So here are some honourable mentions but I will keep them limited.
Tugay vs Fulham (2005/06), Denilson vs Everton (2009/10), Andre Schurrle vs Burnley (2014/15), Frank Lampard vs Hull (2013/14) and Morten Gamst Pedersen vs Fulham (2005/06)
5. Brian Deane (Sheffield United) vs Manchester United (1992/93)
I do love a good curveball on these lists. Like to keep you lot on your toes. Gives you something to complain about. We do spoil you.
I went on about cracking long range strikes, solo goals, and acrobatic efforts not that long ago. Then I go and start the list with a measly header from a few yards out.
I done this because as we all know lads you never forget your first.
That's right little did Brian Deane know five minutes into the inaugural Premier League season, at 3.05 on the 15th of August 1992 he scored the first ever Premier League goal. No matter what he was already in the record books.
Defender Carl Bradshaw flung a long throw into the box catching Peter Schmeichel uncharacteristically in no man's land. Leaving Brian Deane, a simple enough header to slot home after getting away from his marker Steve Bruce.
Deane would go on to score a brace that day. Burying a penalty in the second half. Sheffield United would finish the game as 2-1 winners.
Not the most glamorous goal you'll ever see by any stretch of the imagination. But it deserves a place on this list for historically value alone.
Brian Deane will be delight when he reads this.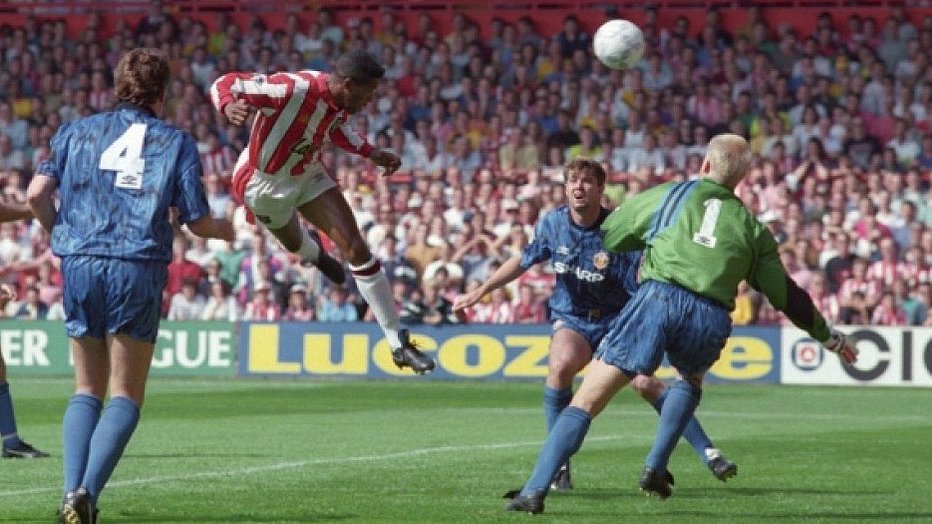 4. Zoltan Gera (West Brom) vs Liverpool (2012)
The Liverpool from 2012 is a completely different proposition from what they are today.
Back then they were a decent side but certainly a shadow of their former self. Or as we call it today Manchester United.
Now Liverpool are champions with a team full of talent. Back in 2012 they had the likes of Stewart Downing, Fabio Borini, Glen Johnson, and Joe Allen in their starting 11 to face West Brom Albion in their opening game of the 2012/13 campaign.
It was an optimistic time as it was Brendan Rogers first game in charge. Good grief it was an absolute disaster.
West Brom battered them in the Hawthorns 3-0. With second half goals from Peter Odemwingie and Romelu Lukaku putting the game to bed.
However, it was the opening goal from Zoltan Gera that really tends to stick out.
West Brom had a corner that was headed out of the box by Liverpool defender Martin Skrtel. It fell to Gera who was lurking outside the box. He controlled it with his chest and caught it on the bounce sending a rocket into the top corner. Giving Pepe Reina no chance between the sticks.
It would be the start of an impressive season for West Brom in a season that seen them finish 8th. Their highest ever finish in the Premier League.
3. David Beckham (Manchester United) vs Wimbledon (1996/97)
Probably the goal that would top the list of many but not here, not today.
In a sad way we're almost numbed by someone scoring from the halfway line. Don't get me wrong it still causes a great reaction, but it has happened so much now that it doesn't stand out as much as it used to.
This was the first time many people would have seen it happen in the mainstream and it has been played repeatedly ever since.
The funny thing is if Jordi Cruyff was better at football it may not have happened.
He tried a similar attempt ten minutes before this iconic goal that went miles wide. If it had caught out Wimbledon goalkeeper Neil Sullivan the shot stopper would have learned his lesson and stayed closer to his line.
Instead, Beckham picked up the ball on the halfway line and let rip to a shot that caught out Sullivan. An instant iconic goal that strapped a rocket to the back of the already rising star.
While the goalkeeper didn't cover himself in glory. It would be harsh on Beckham to blame it on the goalkeeper after such a beautiful strike.
2. Gus Poyet (Chelsea) vs Sunderland (1999/00)
Where are my Autoglass Era Chelsea fans at?
Even though Chelsea found major success from the early noughties and onwards. They still had plenty of cracking players representing the Blues before Roman Abramovich and his bottomless pit of a check book arrived on the scene.
Two of their finest talents linked up for this beauty of a goal.
It came on the opening day of the 1999/00 Premier League season. Chelsea faced Sunderland at Stamford Bridge.
Chelsea were 3-0 up in the second half with goals from Gus Poyet, Gianfranco Zola, and Tore Andre Flo.
They would kill the game off when Zola and Poyet linked up for a sublime goal.
Zola had the ball about 20 yards from goal and chipped in a ball right between the two centre backs. It fell perfectly for Poyet who caught the ball like Daniel LaRusso from Karate Kid and buried it into the Sunderland net. Giving Chelsea the 4-0 victory and leaving the jaws of everyone at the Bridge that day on the floor.
1. Mario Stanic (Chelsea) vs West Ham United (2000/01)
The following season Chelsea would provide us with another start of the season special.
Despite the big money still a couple of years away Chelsea did sign well coming into the 2000/01 season.
Bringing in the likes of Jimmy Floyd Hasselbaink, Eidur Gudjonsson and 'Super' Mario Stanic.
The latter didn't take long to steal the hearts of the Chelsea faithful. This time Chelsea faced London rivals West Ham at Stamford Bridge to begin their season.
It was a game that Chelsea won 4-2 and Stanic scored two goals on his debut. With one of those goals still being talked about today in football circles the world over.
Stanic got the ball from Dennis Wise about 35 yards out. He got the ball up volleyed it, kneed it, volleyed it again and bang. Super Mario lashed the ball into the Hammers goalkeepers near post leaving him helpless to save it.
The control, technique and finish were out of this world. It really is the goal on the list that words don't do it justice.
If you haven't seen it, I'll wait until you watch it and come back to me.
*Writer waits for friend to return*
Welcome back. Cracker isn't it?
The greatest goal to ever be scored on the opening weekend of any Premier League season for my money.