The UFC has recently been killing it with their Fight Island events. The shows for the most part have been star studded and received very well by the fans.
However, the organisation did return to their UFC Apex facility in Las Vegas this past weekend. This was for their most recent UFC: Fight Night event.
While not as packed as some of the Fight Island cards there was still plenty for fans to get their teeth into. It even turned out to be a newsworthy event.
Nathan Maness beat fellow featherweight prospect Johnny Munoz on the prelims. Jennifer Maia got a submission victory possibly putting her next in line for a Women's Flyweight title shot. Along with Vicente Luque continuing to look like somebody ready to take off all made the event one to talk about.
The main event of the card also gave fans plenty to digest. UFC veteran Derek Brunson completely outclassed Edmen Shahbazyan. Brunson dominated the inexperienced rising star and got the TKO victory in the third round.
It was a big step up in competition for the 22-year-old Shahbazyan. He was 11-0 coming into this fight and has only been past the first round once before. He has had a somewhat gradually climb in competition since making his professional MMA debut in 2017. But a top ten fighter like Derek Brunson just seemed a step to far for now.
This is something that happens a lot in MMA. In such a star driven sport its understandable that any organisation will want to build new big names. Sometimes this can be to the detriment of some fighters. With rising prospects often getting put into the deep end far too quickly. This results in hype trains getting derailed.
Fighters can recover from this. Look at GSP he was thrown into a title fight against Matt Hughes after only two fights in the UFC and was submitted in the first round. He recovered amazingly and is now considered one of the best of all time.
This isn't always the case. As some fighters never live up to the dizzying heights that are set out for them.
This happens everywhere. With Bellator pushing the likes of Aaron Pico as a superstar before his MMA pro debut. But today we will be looking at cases from the UFC.
With that in mind lets look at some fighters that the UFC pushed far too soon.
We will be passing on honourable mentions today. Instead we would love to hear who you would have on your list. So, let us know in the comment section wherever you are seeing this post.
Saying that it will be interesting to see if the latest hotshot Khamzat Chimaev will fall into this category down the road.
5. Darren Till
This might be a strange addition for some people, but he was pushed far too quickly. He is first on the list as Darren could still be a huge star. All the ability is there to become a future world champion, but his quick rise didn't do him any favours.
Till was a relatively unknown fighter until his fifth fight in the UFC. He had a breakthrough victory over Donald Cerrone back in 2017. His Muay Thai style and brash personality brought him mainstream attention.
He quickly became and fan favourite and tipped as the next big English superstar. Especially with Michael Bisping retiring from the sport the UFC has happy to give him that mantle.
After the Cerrone fight Till was headlining a card in his hometown of Liverpool. Narrowly defeating Stephen Thompson by decision. All of this propelled the then 25-year-old into a UFC Welterweight Championship fight against Tyron Woodley.
Darren froze under the pressure during this fight under the bright lights of his first fight in America.
It would get worse for him. Darren came up against a returning Jorge Masvidal. Masvidal was reinvigorated after his time off and viciously knocked out Darren in the second round in London.
After this fight UFC President Dana White even admitted they pushed Till a little fast.
Darren has since moved up to Middleweight. He earned a decision victory over top contender Kelvin Gastelum. His most recent fight against Robert Whittaker ended up in a decision loss for Darren.
While he is only 27 Till still has plenty of time on his side. He should continue to be a big name in MMA, but he certainly wasn't helped with his push after beating Cerrone. Maybe a slower development was the better option.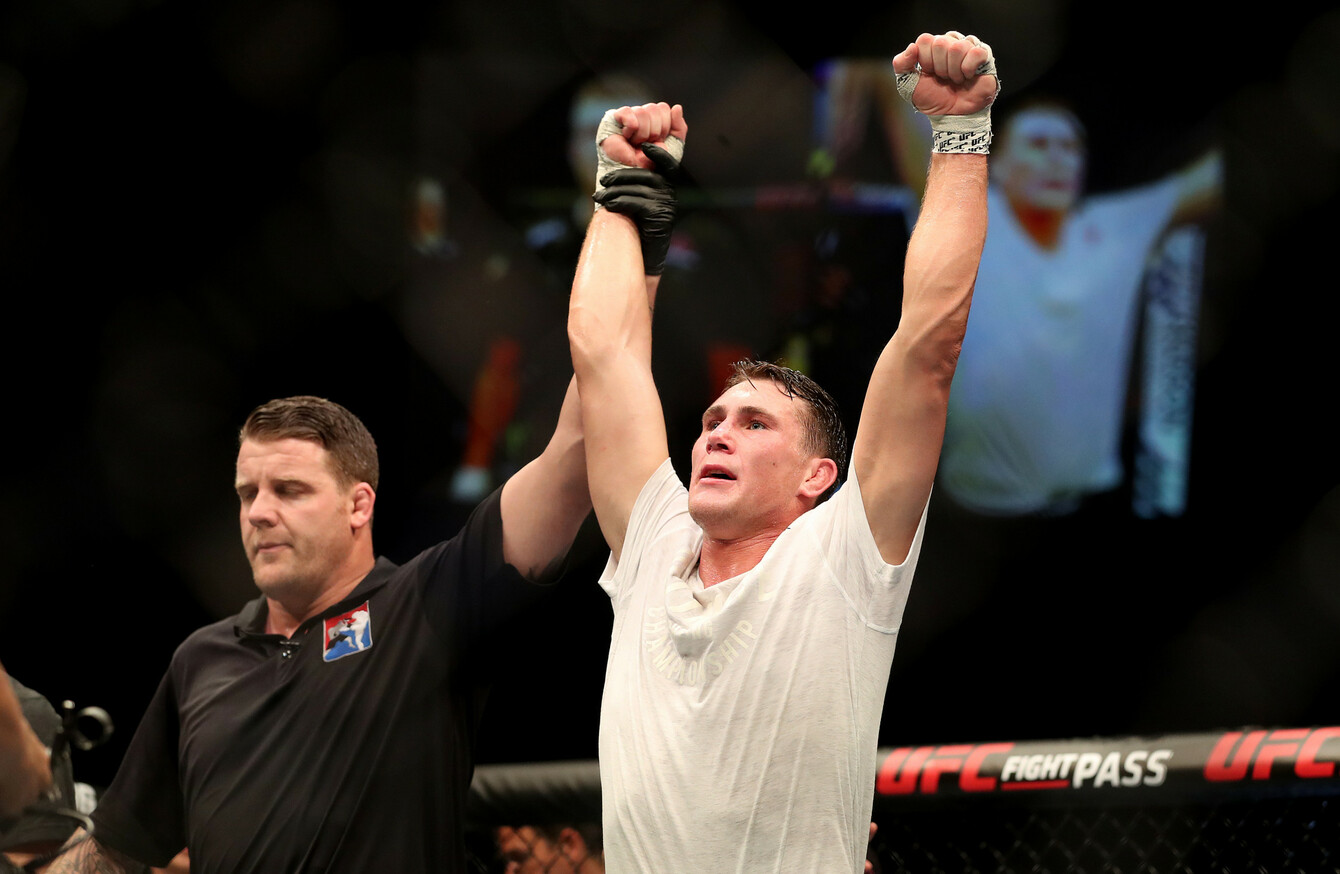 4. Paige VanZant
We only recently talked about Paige and her possible move into the world of bare-knuckle boxing over on the Big Kick Off.
Paige is another fighter giving a huge push before she was ready. She entered the UFC with a pro record of 3-1 and was pushed competitively and promotionally. This was a lot considering she was only 20 when she made her UFC debut.
VanZant was due to go on to the Ultimate Fighter but didn't meet the age requirement. This meant she debuted as the youngest female fighter in UFC history when she defeated Kailin Curran in November 2014. Quickly after this she was only the sixth fighter signed to an exclusive Reebok deal. This put Paige in the company of Jon Jones and Ronda Rousey. Crazy for someone so inexperienced.
Two more wins had Dana White call VanZant the next Ronda Rousey. But as we will learn on this list compliments like that can be the kiss of death.
She went up against then soon to be Strawweight champion Rose Namajunas. Paige was brutally finished by Rose. Two fights later she was submitted again by the experienced Michelle Waterson.
Since the Waterson fight Paige would go 1-2. Only picking up a victory against the also inexperienced Rachael Ostovich.
While Paige showed unbelievable toughness in her defeats it was just too much to soon. She now seems to be out of the UFC with no more fights on her contract. Hopefully, she has success it the free agency market and possibly returns to the UFC with more tools in her arsenal.
3. Uriah Hall
Uriah burst on to the scene on the seventeenth season of the Ultimate Fighter. His devastating hook kick knockout over Adam Cella. Still one of the best knockouts of the show's long history. Along with a brutal knock out of Bubba McDaniel put huge hype and pressure on his shoulders.
Under coach Chael Sonnen he would get to the final of that seasons show. After dominating everyone on the way to the final the praise came from everywhere. Dana White even called him the most dangerous fighter to ever be on the show. Many even believed Uriah could be the man to finally beat Anderson Silva. All before making his official UFC debut.
Hall did lose the Ultimate Fighter final to Kelvin Gastelum. But it was the defeat on his UFC debut that turned many away from him. Hall lost to John Howard on his debut and was very hesitant to throw any strikes.
After this Dana White questioned Hall's mentality as a fighter. White also said he wouldn't be afraid to cut Hall from the roster.
Uriah remains with the UFC today. He has a record of 8-7 with the organisation. While Hall is currently on a two-fight win streak and has had some impressive wins during his UFC career. Ultimately, he seems to come up short against elite competition. Losing to the likes of Robert Whittaker, Gegard Mousasi, Derek Brunson and Paulo Costa.
The immense pressure put on him from the minute he walked into the UFC didn't help Hall. While he's a fun fighter to watch the days of him becoming the next Anderson Silva are long gone.
2. Sage Northcutt
This one really takes the cake. Sage came into the UFC as a teenager and made his debt at the tender age of 19. He was already 5-0 as a professional but he didn't need to be shoved on to the world stage that quickly.
His flashy striking style and incredible look made him a hot commodity in the UFC. Honestly, he looks like someone I would make in a PlayStation game.
Sage won his first two fights in the organisation and that hype train officially left the station.
Again, it can't be stated enough he was still only 19. Like most of us at 19 are rat arsed drunk in nightclubs. While at 19 Sage was fighting on the televised prelims on the historic UFC 200 card.
Once the standard improved for Sage the defeats started to come. He lost twice in the same year by submission in 2016. It looked to the world that Sage just wasn't quite ready. He surprisingly left the UFC in 2018 after a three-fight win streak.
Sage went to One Championship even that organisation did him no favours. He was put up against experienced kick boxer Cosmo Alexander and was horrifically knockout out in the first round. Sage suffered bad facial breaks due to this knockout. He hasn't fought since.
While he's only 24 now time is certainly on his side. He can still bounce back and make a name for himself in the sport. Its just a shame he was handled so poorly during his infancy in the sport.
1. Phillipe Nover
Nover tops our list and its funny that most casual fans won't know who he is. Nover was on the Ultimate Fighter with a record of 5-0-1.
Phillipe is another fighter who entered the show and was expected to hit huge heights due to his performance on the show. He went 3-0 on the show with three highly impressive submission wins.
Nover would get to the final against Efrain Escudero. This is when great things were expected of him.
Before the fight Dana White said he reminds him of GSP. White even said he was the greatest raw talent in Ultimate Fighter history. Even as he made his walkout the commentary team were asking similar questions. Like Uriah Hall this was all before he made his official UFC debut.
As you can guess by now Nover lost the final by decision. He lost his next two fights and that was that. Nover was released by the UFC without a single victory.
He did return to the UFC in 2015 after gaining some experience elsewhere.
Phillipe went 1-3 during this spell. Losing three straight fights before leaving the organisation and retiring from MMA.
Like many his time on the Ultimate Fighter was a double edge sword. While looking great on the show he was nowhere near ready to be called the next GSP. It killed his career. To live up to that hype you must be something unbelievably special unfortunately Nover just wasn't ready for that.