We have spent the past couple of weeks focusing on fantastic players based in Dublin. So, let's move away a bit and head down South. The player we will be looking at today is a beloved Cork man. He spent most of his career in Munster but is adored by the Cork City faithful.
Like a lot of people that we focused on in this series this man was a prolific goal scorer. He currently sits third on the League of Ireland all-time top scorer list with 182 goals.
Of course, I'm talking about Pat Morley. A legend with an 18-year career in the world of football. Highly regarded as one of the most deadly finishers the league has ever seen. A true league of the League of Ireland if there ever was one.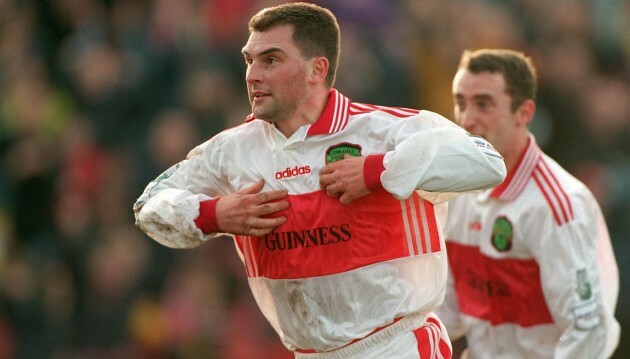 Early Life
Pat was born on the 18th of May 1965 in Cork.
His love for the game can be traced back to his father Jackie Morley. His whole family were very athletic, but it was his father who had previous League of Ireland pedigree. Most notable winning four league titles with Waterford.
This included their famous three in a row run from 1967 until 1970. Jackie was even originally brought to the club by Martin Ferguson. The brother of the legendary Sir Alex Ferguson.
His father greatly impacted Pat's life and love for the game. Sadly, Jackie would pass away on the 25th of November 2013.
Excellent sporting ability and hard work was in Pat's blood. During his childhood he was an excellent hurling and tennis player. Thankfully for League of Ireland fans football was his first love.
Pat played for a few teams around Cork at youth level. Starting out at Norton Celtic funnily enough as a defender. As soon as his coaches found out for his knack of scoring goals that changed very quickly.
Morley would also play for Cork Youths and Wilton United. It was with Wilton where he got spotted by a Celtic scout.
That happened to be a complete coincidence as the scout was just over visiting family in Ireland. He happened to just stumble across Pat doing what he does best while out walking his dog.
The Celts
While his time at Celtic was short it was still a memorable springboard for the career of Pat Morley. He played a few trial games and games at reserve level. Most notable playing reserve games against Rangers. With one been played in front of 25,000 spectators in a 5-0 win against their bitter rivals. Pat scored in this game.
During this time Pat would be trained by some of the famous 'Lisbon Lions' including Jimmy Johnstone. Along with trying to learn off senior players like Irish legend Packie Bonner.
In 1984 Celtic would send Pat out to play for League of Ireland side Waterford to gain more experience. He made his debut away to Finn Harps in Ballybofey on the 25th of November. Pat would impressive everybody scoring a hat trick that day in a 4-1 win for Waterford. Outscoring the great Brendan Bradley on the day.
Days In Blue
On the field Pat was always a man for the big occasion. Even at an early age he was never troubled with pre match nerves.
His excellent start for Waterford continued into 1985. Pat won his first piece of silverware at senior level. Beating Finn Harps 2-1 in the league cup final. It was a young Pat Morley who scored the winning goal. Stepping up to slot away a penalty and win the game for his team. Some serious bottle from a young player. Ice cold.
Morley always had plans to return to Celtic and cement himself into the first team. Unfortunately, that never materialised. Pat himself has said in the past it was due to money issues.
During this time Pat also had a trial with Brighton and Hove Albion. Once again nothing materialised from that.
He would instead stay in Ireland and continue in the League of Ireland. Pat would sign for Limerick ahead on the 1985/86 season. Pat would spend two years at Limerick. Making 37 league appearances and netting 19 league goals.
This wasn't an overly successful period in his career. During both seasons at the club Limerick would finish in the bottom half of the table.
In fairness it was tough for anybody to make a challenge for the league. This was the period of Shamrock Rovers dominance in the 80s winning four league titles in a row.
Pat would return to Waterford for his second spell at the club in 1987 for a single season. Winning for further honours at the club and finishing 6th in the 1987/88 campaign. He would finish that season with 27 league appearances and nine league goals.
This would be his last spell at Waterford a club both Pat and his dad Jackie represented proudly. Overall, Pat made 47 league appearances for Waterford United and scored 19 league goals for the Blues.
Land Down Under
Former League of Ireland players Noel King and Noel Mitten helped Pat sort out a move to Australia. He went to play for Sunshine George Cross. A team in the Australian topflight at the time.
It was a big move for Pat. He went away before with Celtic, but this was his first time truly going away on his own. Especially during a time with no ways to really keep in touch with loved ones like we have now.
Pat moved to Melbourne in 1989. It took a while for him to get going through no fault of his own. It took a few months for Pat to get clearance from the FAI to play for the first team of his new club.
Eventually the clearance got sorted and Pat was rushed up to the first team. He scored a cracking 35-yard screamer on his debut. He became a cult figure during his short time at the club and is still highly regarded until this day. This was a bright spell for the club as the season after Pat left, they won the league.
It was a huge step up in professionalism at the time. Training multiple times, a week compared to one day a week back home.
Pat enjoyed it so much he didn't even want to return home. However, his family pleaded with him to stay home when he temporarily returned to Ireland in late 1989.
Not So Good To Be Back
When he reluctantly decided to stay Pat signed for Cork City ahead of the 1989/90 season.
His first game back was against Athlone Town in the league. It was reality check for Pat who had become use to a high standard while living in Australia.
He was back traveling on old buses, up and down old country roads and playing on bad pitches. Not the best welcome home.
While he was proud to be playing for a side like Cork City it was hard to get back into the swing of things in the League of Ireland. It was another average season with Cork finishing in mid table.
Cork did win the Munster Senior Cup that year. Beating Cork side Tramore Athletic 3-0 in the final in Turner's Cross. Cork would go on to win the cup the following four years. This was also during a time Cork would play in 18 consecutive Munster Senior Cup finals.
During this time Cork would train in a caravan park. This would make Pat miss the professional facilities in Australia.
Getting Going
Considering all of this it is crazy to think Cork would become a top side during Pat's time at the club. While the facilities weren't great at all they did have excellent footballers.
Everything started to click for Cork in the early 90s. They would have a back to back top place finish in 1991 and 1992. They would just come short in the 1992 FAI Cup final. Losing out 1-0 to Bohemians in the final in Lansdowne Road.
It wasn't all bad as in the UEFA Cup in 1991 Cork were drawn against German Giants Bayern Munich. They even dragged Bayern to a famous 1-1 draw in Cork. They would be beaten 3-1 in Germany but certainly didn't embarrass themselves at all.
While the talent was very evident, they didn't have much silverware to show for it. That all changed during the 1992/93 season when Cork City became league champions. Themselves, Shelbourne and Bohemians all finished the season on 40 points with Bohs winning the league of goal difference.
At the time League of Ireland rules stated that a league couldn't be won on goal difference. So, a round robin three way play off was set up between the clubs to decide the winner. Even this would finish up with all three level.
So, a second play off was started with Cork City finally coming out as champions. Clinching the title after a 3-2 win over Shelbourne in the RDS in Dublin. Pat himself scored the opener that day. He would even finish the season as the top scorer with 20 goals to his name.
Not Reaching The Heights
Strangely that was the height of it for this great Cork City side. The following season saw a change in manager with Damien Richardson coming in to replace Noel O'Mahony.
Cork would fail to win any major honours at all that season but would finish second in the league seven points behind Shamrock Rovers.
After a falling out with the higher ups at the club manager Damien Richardson left the club. Noel O'Mahony would once again return to the hotseat but couldn't rekindle his old success.
They would drop down into the lower end of the table in the following two seasons.
Cork did win the league cup in 1995 beating Dundalk 2-1 in the final.
It was a strange time for all at Cork during this spell in the mid-90s. They had some great moments in the European competitions against the likes of Galatasaray and Slavia Prague.
Ultimately for one reason or another that talented Cork City side never reached the heights they seemed destined for.
Pat needed a fresh start. He finished up this seven-year spell with Cork City in 1996. He didn't like where the club was heading and decided to make his first move to Dublin.
Heading To The Capital
Pat signed for Shelbourne ahead of the 1996/97 season.
He would soon develop a lethal partnership with the excellent Stephen Geoghegan. Unfortunately for Morley his time at Shelbourne was badly taken up by injury.
Pat suffered a long-term knee injury leaving him out of action for well over a year.
He did return in time to pick up another FAI Cup winners medal. He made a late appearance off the bench in the 1997 final. Shels beat Derry City that day 2-0 in Dalymount Park.
The 1997/98 season would be a tough one for everyone at Shels. They missed out on the league title coming a point behind St. Patricks Athletic. They also lost the league cup final that season against Sligo Rovers.
They would also agonisingly lose the FAI Cup final in a replay against who else, Cork City. With the original game ending 0-0 and the replay in Dalymount finishing 1-0.
Pat was still struggling from injury and only made a late appearance. Of course, he wanted to win but it was bittersweet looking at his hometown and former club lift the famous cup.
During this time Morley did score one of his most famous goals. It was in the UEFA Cup in 1998 against Rangers. The Scottish side at the time were managed by Dick Advocaat and had players like Giovanni van Bronckhorst and Gennaro Gattuso.
Cork against all the odds went 3-0 up in the first leg with Morley grabbing a lovely goal. Somehow Rangers managed to claw their way back and win 5-3. A disappointing but special memory for Pat.
Pat got a new lease on life after his awful injury. After contemplating retirement at the age of 30 his Shelbourne teammates dragged him out of his funk and eventually got him back to his old self.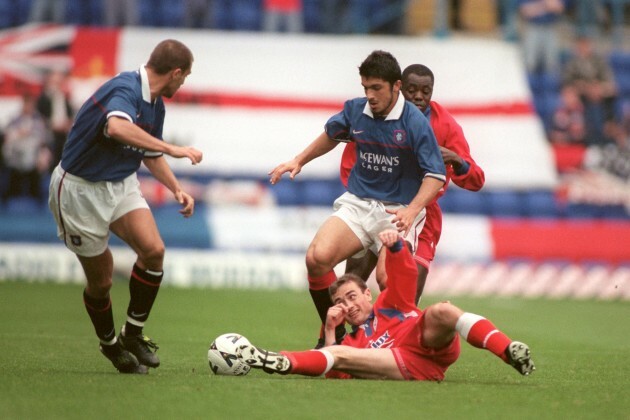 Finishing Up At Home
While there were questions around his fitness Pat was aloud leave Shelbourne.
Pat returned home and played for Cork City who were back to their best under Pat's former teammate Dave Barry. It was a refreshing return for Pat back home. Cork would finish second in the 1998/99 campaign finishing three points behind St. Patricks Athletic.
They did get their hands on the league cup beating Shamrock Rovers 2-1 in the final.
They once again finished 2nd the following season. However, Pat proved he was as good as ever finishing up as the top scorer that season with 20 goals. The first time he has done so since 1993.
Shelbourne even came sniffing around him once again as he proved he still had to magic touch.
Pat opted to stay at his hometown side. Once again, they just missed out on their potential and failed to win the league in either of the following two seasons.
Legacy
That was it for the career of Pat Morley. He decided to hang up his boots in 2002 at the age of 37.
Pat played a total of 311 league games for Cork City over two spells. He also netted 129 goals during this time. With most of his 182 goals coming for Cork City. He is also the clubs joint record goal scorer with fellow Cork legend John Caulfield.
Pat did return to Cork City in 2005 to work behind the scenes as an advisor.
He is now away from the game and owns a menswear showroom in Cork. He is a beloved figure in all circles in the League of Ireland. A gifted striker in a league full of them. Pat truly stood out. His father Jackie was a legend and he is a legend.
Pat Morley's Honours Include:
1 League Title
1x with Cork City in 1992/93
1 FAI Cup
1x with Shelbourne in 1996/97
2 League Cup
1x with Waterford in 1984/85
1x with Cork City in 1994/95
9 Munster Senior Cup
1x with Waterford in 1985/86
8x with Cork City in 1989/90,1990/91,1991/92,1992/93,1993/94, 1999/20, 2000/01 & 2001/02
SWAI Personality of the Year 1993
PFAI Players Player of the Year 1991
Joint Cork City All Time Goal Scorer (129 goals)
Third Highest League of Ireland Goal scorer of All Time (182 goals)