Last week we talked about the career of Jason Byrne. Ever since I knew that Glen Crowe was going to be next up. I always think of the two in the same thought. Two natural goal scorers at League of Ireland level. Banging in goals during the noughties.
Like so many others Glen is a player that returned home from disappointment in England.
He would go on to forge an excellent career for himself back home as we will see.
He is one of the best strikers to ever grace the League of Ireland. His honours, records and goal scoring ability speak for themselves.
Early Life
Glen was born on Christmas Day in 1977 in Dublin. The League of Ireland was in his blood.
His grandad Liam Crowe played League of Ireland football. He played for Shelbourne, St. Patricks Athletic, St. James Gate, Dundalk and Shamrock Rovers. Liam even won the 1944 FAI Cup with Rovers. Beating Shelbourne 3-2 in the final in Dalymount Park.
Football wasn't originally for Glen as he wasn't really into it in his early days. He puts this down to his brother using him as a goalkeeper and whacking balls in his direction. Eventually he came around to the idea of football.
Underage Football
Glen would start looking to join an actual team as a kid. His local team Mountview FC didn't have a team for his age group. He didn't have to look far as he went down the road to join St. Mochta's at the age of 7.
The talents of a young Glen Crowe were evident to everyone at Mochta's. It wasn't long before he stepped up to a bigger team. Quickly joining Stella Maris. A much bigger name in Dublin youth football at the time.
Glen went from a great player in a good team to a great player in a great team. The likes of Stephen Carr, Trevor Molloy and Stuey Byrne all played for Stella Maris at the time at different ages. With Carr getting a big move away to Tottenham to start his Premier League career.
Glen would finally get an opportunity to go away himself. After three successful trials Wolverhampton Wanderers came in for the 17-year-old prospect.
Time In England
Crowe would sign a one-year deal at Wolves. He spent a lot of his first season with the youth team. During this season Glen would make his debut for the first team. It was Wolves final away game of the season in a 3-0 defeat to Reading.
In the next game which was the final game of the season. Glen made his first start for his new club. What a start it was. It was a home game against Charlton to finish the 1995/96 season. The game ended 1-1 with Crowe grabbing the goal for Wolves.
However, the arrival of another young striker from Dublin would bring some serious competition. A young 15-year-old Robbie Keane arrived on the scene.
Unfortunately for Glen he was overshadowed by this younger star. Keane was already seen as a huge future star even at that stage.
While Keane went from strength to strength Glen didn't. After a promising start he would only make eight more appearances for Wolves.
First team football was almost impossible at this stage for Glen. He would go out on loan to lower league clubs. He had two spells at Exeter City and one spell at Cardiff City.
When he returned to Wolves in 1999 there was nothing for him. Glen would sign for Third Division side Plymouth Argyle. After only 11 appearances and a single goal that didn't work out either.
Coming Home
Glen returned home three years after his dream first goal for Wolves.
Sadly, this story is common for young Irish lads going across the water to chase their dream.
Upon returning home a familiar face from Wolves gave Glen a helping hand.
His former youth team manager Rob Kelly was cousins with Roddy Collins. Roddy was the managers of Bohemians at the time. Kelly rang up his cousin asking to give Crowe a chance of some training at least.
Which in fairness Roddy did. He met up with Glen and began to sell the club to him. After a half hour meeting Crowe was happy to sign for the club. Signing just a one-year deal as he hoped to go back over to England.
Fresh Start At Bohs
He was part of a new squad full of younger faces for Bohemians. In a time of transition for the club under Collins.
Glen did make a scoring start. He scored on his debut against rivals Shamrock Rovers on the 19th of September 1999. It was a game they lost 3-1. Glen would even finish up that season as Bohs top scorer with nine goals.
They would also get to that seasons FAI Cup final. Just losing out to Shelbourne in a replay after a 0-0 draw. They would be beating by their Dublin rivals 1-0 in that replay at Dalymount Park.
Despite all this Glen has said in the past he wasn't to happy with his performances. Roddy Collins must have been impressed as he offered Glen a new two-year deal for the 2000/01 season.
Winning Ways
A new millennium brought new opportunities for Glen. He was really starting to settle into the league and the Bohs starting 11.
Former Stella Maris teammate Trevor Molloy would join the club that season. The pair sparked up an excellent partnership straight away.
It turned out to be a highly successful season for Bohemians. Shelbourne had a disaster finish to that season. The champions were struggling to keep one hand on the title and Bohemians were catching up.
It all came down to a dramatic final day. Bohemians had to better Shelbourne's result and the title was theirs. As Bohemians trailed a point behind the heavy favourites.
Bohs won away to Kilkenny City. While Shels lost at home to third place Cork City. Bohemians won the league title. Their first since 1978. The first for Glen Crowe. He would also finish that league season as top scorer with 25 goals. Glen also won the PFAI Players Player of the Year.
A week later Bohemians would win their first double in 75 years since 1928. Winning the FAI Cup in Tolka Park. They beat Longford Town 1-0.
Hitting The Heights
Strangely enough this wasn't enough to save the job of Roddy Collins. He fell out with the higher ups at the club over a new contract. Pete Mahon came in to replace him.
For Crowe this began the high point of his career. He would play in Champions League qualifiers in the 2001/02 season. Once again finished as the league's top scorer with 21 goals.
The following season Bohemians would once again win the league title. Beating Shelbourne to the title by five points. Again, with Glen finishing up as the league's top scorer for the third year running with 18 goals. He also won the PFAI Players Player of the Year.
The following season Crowe would once again be involved in Champions League qualification. Getting well beaten by Norwegian side Rosenberg in the second round.
After all this success at Bohemians Glen was a huge star in the eyes of the fans. He did something that would probably take some shine off him in their eyes.
Shels Spell
In December 2004 he signed for Shelbourne. Understandably it was a financial decision for Glen.
It was also a good decision on the field. As he developed another great on field partnership. This time with Jason Byrne.
The height of his time at Shels came during the 2006 season. Glen earned his third league winners medal. Shelbourne won the league beating Derry City on goal difference.
In a cruel twist of fate Crowe scored the goal to win the league for Shelbourne. Of course, against his former side Bohemians.
This would be the season that Shelbourne were relegated despite becoming champions for finical irregularities.
Glen spent two seasons with Shelbourne. He made 56 league appearances and scored 20 league goals.
Back To Bohs
Crowe would resign for Bohemians ahead of the 2007 season. While this spell didn't see him be as prolific in front of goal. It certainly brought success.
In 2008 Bohemians were back on top of Irish football. They won the league comfortably by 19 points over St. Patricks Athletic. Crowe would be part of another Bohs double winning side.
As that season they won the FAI Cup. Beating Derry City 4-2 on penalties after an exciting 2-2 game at the RDS in Dublin.
It was during the 2008 season when Glen put his name in the Bohemians record books. He scored a goal against Shamrock Rovers which is always nice for a Bohs player. However, this goal was his 122 goal for Bohs. This made him their highest scorer of all time. Beating Turlough O'Connor's record of 121.
They would do another double the following season in 2009. Bohemians once again won the league. Getting their hands on the title again with a four-point margin over their bitter rivals Shamrock Rovers.
This season it wasn't the FAI Cup that they won rather the league cup. Beating Waterford 3-1 in their own backyard the RSC.
Despite all the silverware it was a tough season for Crowe. He was struggling for form and a place in the starting 11. Especially with a young Paddy Madden hitting form.
After that season Glen was released by Bohemians after his contract expired.
He played 273 league games for the club over two spells and bagged himself 113 goals. He is still their all-time leading league scorer with 133 goals. Plus, their all-time leading FAI Cup scorer with 22 goals.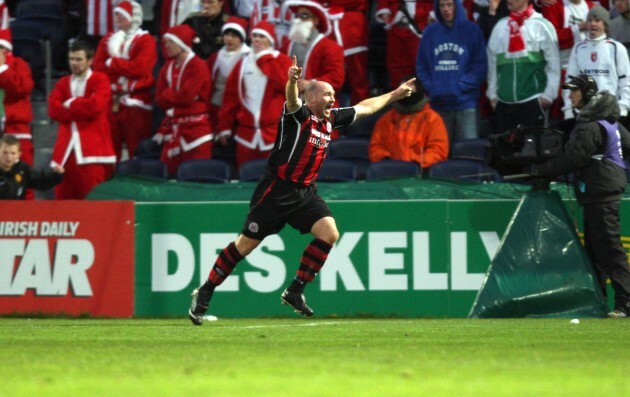 Sporting Fingal Days
He would sign for Sporting Fingal ahead of their first season in the Premier Division in 2010. Fingal already had European football secured before their first season in the topflight as they won the FAI Cup in 2009.
They impressed everyone in their first season finishing fourth place.
During this season Glen scored in their Europe League qualification tie. It came against Portuguese side Maritimo. This was his eleventh goal in a European competition. This is the record for any Irish domestic player.
Unfortunately, the life of Sporting Fingal was short. They would drop out of the League of Ireland ahead of the 2011 season. This was down to money difficulties.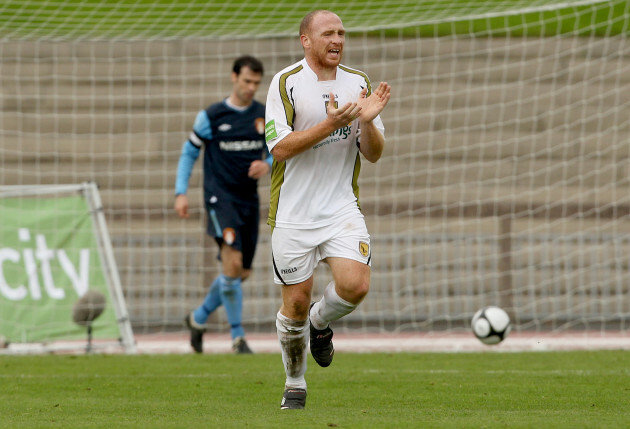 Post LOI Career
This wouldn't only be the end of Sporting Fingal in the League of Ireland. This was also the last season Glen Crowe played in the league.
He would step down to the Leinster Senior league. He had a two-season spell at Malahide United first. Before returning to where the journey started St. Mochta's.
He would help his boyhood club gain promotion three times in a row. Finishing off his career by helping them get to the top tier of Leinster Senior football.
A fitting way to end a historic career as Glen Crowe announced his retirement from the game in June 2015.
International Games
During his career Glen did have spells at international level for Ireland. He played at major tournaments at Under 19 level. Along with having a single cap at Under 21 level.
His senior debut finally came in 2002 when Glen was a Bohemians player. He became the first League of Ireland player to be capped in 16 years.
Republic of Ireland caretaker manager Don Givens selected him for a friendly game against Greece.
The following year he would come on as a late sub in a friendly against Norway at Lansdowne Road. Earning two caps during his career.
Life After Football
Glen is still involved in football at coaching level. He has said he has no real desire to become a manager. So, don't expect to see him in the hotseat at a League of Ireland club anytime soon.
His legacy in the league is already set in stone. His natural goal scorer ability has him seventh in the leagues all time top scorer list with 159 goals.
Making him a true legend of the League of Ireland.
Glen Crowe's Honours Include:
5 League Titles
4x with Bohemians in 2000/01, 2002/03, 2008 and 2009
1x with Shelbourne in 2006
2 FAI Cups
2x with Bohemians in 2001 and 2008
1 League Cup
1x with Bohemians in 2009
League Player of the Year in 2000/01 and 2001/02
PFAI Players Player of the Year 2000/01 and 2002/03
SWAI Personailty of the Year 2000/01 and 2002/03
League Top Scorer 2000/01, 2001/02 and 2002/03