A lot of the recent editions of the legends of the League of Ireland series have focused on heroes from the peak of the league. We can't forget our modern legends either. One modern legend that arguably trumps them all is Jason Byrne.
The best natural goal scorer of his generation with the stats to prove it. He is second on the list of the league's leading goal scorers of all time. Just 13 goals off the record of legendary striker Brendan Bradley.
A record that Byrne himself said in the past that kept him going in his later career.
Gifted goalscoring ability must run in the family. As Byrne is cousins with Irelands top goal scorer of all time Robbie Keane. While Jason may have never reached the heights of the Premier League and World Cups like his cousin. He still had a career to make most people who step on to a pitch green with envy.
Early Life and Career
Born on the 23rd of February 1978 in Dublin. Like many young lads raised in Tallaght Jason was football mad from an early age. Also like many others it was his dad that really introduced him to the game. It was on the streets as a kid where he picked up a lot of his early development.
Having a football mad family helped with these endless days of street football. With Jason and Robbie ruling the streets of Tallaght with their brother's day after day.
Jason would eventually leave the street and start playing on a pitch. Spending his youth days playing with Crumlin United during a disappointing spell which seen him getting constantly overlooked and later St. Colmcille's. While playing with the latter he got spotted and began his legendary League of Ireland career.
While playing a local game in Walkinstown for St. Colmcille's in 1998. Byrne and his team went in at half time comfortably winning the game. With Jason after bagging himself a hat-trick.
The Bray Wanderers manager at the time Pat Devlin sent out his scout Martin Nugent to look at Jason. The three goals certainly must have impressed as a few weeks later Jason was approached by Bray. Jason would officially sign for Bray Wanderers in the summer of 1998. It was a huge move for Jason and one he took very seriously.
Bray Days
He was a part of the Bray team going into the 1998/99 League of Ireland Premier Division campaign.
He would make an instant impact becoming a regular starter with his new side. His impact was so quick he ever scored during his first competitive game with Bray. This was during a league cup game in August of 1998. Coming off the bench to net his first goal.
Jason soon made his league debut. He started for Bray on the opening day of their 1998/99 league season. With his first league goal quickly following. That first goal came against Shamrock Rovers on the 4th of September 1998. He topped off his flying start by even picking up the league's Player of the Month award for September.
Unfortunately, his brilliant start would come to a halt.
Two months into this League of Ireland career Jason found himself in the Bray team as usual. It was a league game away to Sligo Rovers. He would break his ankle during that game. Leaving him with a lengthy spell on the treatment table.
The injury was a real eye opener for Jason on the trials and tribulations of a footballer.
1999 Cup Final Glory
His comeback couldn't have been timed better. He bounced back into the squad just in time for that years FAI Cup final. Bray Wanderers were scheduled to face Finn Harps in the 1999 final. This was during a time when the final wasn't settled on the day. If it were a stalemate it would require a replay. This final certainly did.
The first game finished 0-0 with Byrne missing the game. He was able to make a substitute appearance in the replay.
On that day on the 17th of May 1999 the cup seemed Donegal bound. Finn Harps led 2-1 deep into extra time. With only about 30 seconds left Harps gave away a penalty. Bray would miss the penalty but follow up on the rebound. As a penalty shootout wasn't scheduled the two sides would have to meet again in a second replay.
The FAI would even announce that a shootout would be played if needed. It wasn't as Bray Wanderers won the game 2-1. With our man Jason Byrne been the hero that day scoring a double. On the third trip to Dublin in quick succession for both these teams the cup was heading back to Wicklow. On the 21st of May 1999 in Tolka Park Bray would lift famous trophy after a gruelling final series. Giving the Seagulls only their second FAI Cup title in the club's history.
Bray would unfortunately go on to get relegated that season too. Talk about a rollercoaster first year for Jason Byrne. He would score seven goals in 15 appearances during his first season.
Byrne would keep trucking with Bray. He would spend four more seasons with the club. Helping them get promoted back to the Premier Division. While enhancing his reputation as a striker in the league.
It was time for Jason to move on to bigger things. He would bring an end to his first spell at Bray Wanderers after five years. He made 128 league appearances for the club scoring 49 times.
Big Move to Shels
In January 2003 Jason would sign for Shelbourne. The deal was reportedly worth €75,000. A great move for Jason as Shels were the biggest team in the country at the time. Brining regular full-time football along with it.
It would arguably be the place where Byrne played his best football. Jason would have been 25 when he got into the swing of things at Shelbourne. Living a dream of playing full time football. Just focusing on training and matches
He would once again make a great start to life at his new club. Jason would score a double on his league debut against Waterford in April of 2003.
That season would see Shelbourne go on to win the league. Beating the previous year's winners and rivals Bohemians to the title by five points. It was also a huge year on a personal level for Byrne. He finished his first season at Shelbourne as the league's top scorer with 21 goals. Along with picking up the PFAI Player of the Year award.
Of course, Shelbourne fans know they would repeat their glory the following season.
Once again winning the league in 2004 and Jason finishing up as the league's top scorer. This time with 25 league goals
European Adventures
Down to their league win the previous season Shelbourne found themselves in a lengthy qualification run for the Champions League. They would beat Iceland side KR Reykjavik on the away goal rule in the first round. Before beating Croatian side Hajduk Split 4-3 on aggregate in a great tie.
They would just miss out on the group stages been drawn in a huge tie in the third qualifying round. They would face La Liga side Deportivo. Despite holding them to a huge 0-0 at Lansdowne Road in front of a packed house. They would get beaten 3-0 in the away tie.
They would always have another try the following season since they won the 2004 title. That qualifying run wasn't as successful. Despite beating Northern Ireland side Glentoran 6-2 on aggregate in the first round. They would be beating 4-1 by Romania side Steaua Bucharest in the following round. Byrne would score five goals throughout these games.
Club in Turmoil
Shelbourne wouldn't win their third title in a row in 2005. Once again Jason did finish up as that season's top scorer with 22 goals.
Shelbourne would get back to winning ways winning the 2006 league title. You guessed it Jason once again topped the goal scorer charts with 15 goals.
Unfortunately, the good times weren't to last. Despite winning the league Shelbourne were relegated to the First Division for financial irregularities.
Despite all the success of the 2006 season the club was in financial turmoil behind the scene. Players weren't paid in 12 weeks during the season. It's a great testament to the players that they could continue dominating despite all of this.
During this time Jason was getting plenty of attention from abroad. With then Swedish champions Djurgårdens IF been heavily linked with him. It's believed they even offered €400,000. A record fee for any League of Ireland player. Shelbourne turn it down as reportedly Byrnes former side Bray would get about 50% of it per a stipulation in his contract.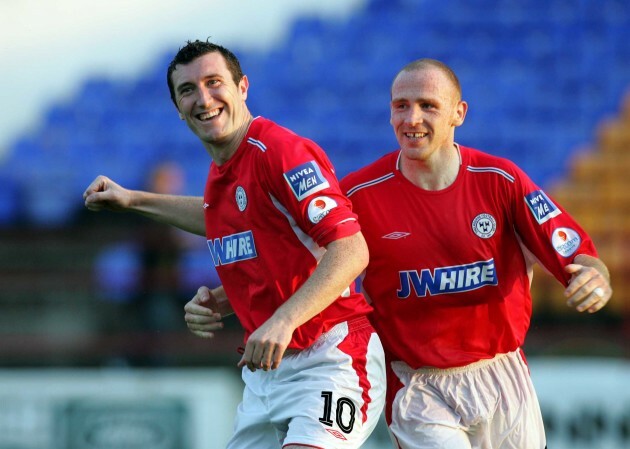 Move to Cardiff
He would eventually move to Championship side Cardiff City. For a fee of £75,000. With Shels needing to offload their main men due to tax infringements.
Byrne would make the move to Wales in January 2007. Again, a great start followed as he scored on his debut against Wolves.
This was as good as it got for Jason outside of Ireland. He would only make nine more appearances in the Championship without scoring a single goal. It was a mix of a lot of different factors. Such as nagging injuries, homesickness and bigger players ahead of him.
In fairness he was fighting for a place with players like Robbie Fowler, Michael Chopra and Jimmy Floyd Hasselbaink. With a young family back home. A return to the League of Ireland was on the cards after a year away.
Returning Home
Jason linked back up with his old Shelbourne manager Pat Fenlon. Fenlon was the manager of Bohemians at the time. He joined the club on a free transfer ahead of the 2008 league season on a three-year deal.
Despite his previous pedigree in the league Byrne struggled to get a place in the starting 11 at first. With the likes of Glen Crowe and Neal Fenn ahead of him on the team sheet. It would take Byrne a lot of that season to find his feet once again.
He scored his first goal that season against Finn Harps on the 28th of March. A week after making his debut against St. Patricks Athletic.
He did grab the goal that Bohemians needed to win the league against Drogheda in October of that season. Bohemians comfortably won the 2008 season by 19 points.
Bohs would also win that seasons FAI Cup. Beating Derry City on penalties to lift the cup.
The following 2009 season seen Byrne get back to his best. He scored a double against bitter rivals Shamrock Rovers on his first start of the season and never looked back. He would even score four on the same day against Dundalk in May of that season.
Bohemians would win two leagues in a row winning the 2009 Premier Division. With Jason netting 22 league goals that season. They would also win the league cup that season. Beating Waterford in the RSC 3-1 in a somewhat comfortable game.
Back to Bray and Bohs
For Jason, the injury bug bit again during the 2010 season. He would struggle for form and fitness. It would be a frustrating season for everyone at Bohemians. As they missed out on winning three league titles in a row to bitter rivals Shamrock Rovers. To make it worse they missed out on goal difference.
Byrne found himself once again at a big Dublin club going through financial issues. He was subsequently released from Bohemians when his contract expired at the end of the 2010 season.
Silverware would dry up from here on out, but Byrne would still bang in the goals.
He would spend the 2011 season at Dundalk. Scoring six goals in 28 league games. In an average season for the club that would see them finish 7th.
After that uneventful season Jason would return to his original club Bray Wanderers. He joined back on a one-year deal nine years after leaving for Shelbourne.
During this time on the 13th of April 2012 is when he jumped into second place in the leagues all-time top scorer chart. Surpassing Pat Morley's record of 182 goals.
After surviving relegation Jason would stay for the 2013 season. He scored four goals away to UCD on the 8th of June. This made him only the second ever player to score 200 League of Ireland goals. This is when he really began to rub shoulders with the great Brendan Bradley and eye up his record.
During this season he would also become Bray Wanderers all-time leading scorer in the league. Scoring 77 league goals for the Seagulls over two spells.
In his mid-30s Jason would make another return to an old club. This time Bohemians. This was during a down period for Bohs. As they would only manage a 7th place finish in 2014. Along with a 5th place finish in 2015. With Byrne not been in the top scorer rankings for either seasons due to limited game time.
This would be Jason's last spell at Bohemians. Over both spells he would play 127 league games. While netting himself 51 league goals for Bohemians.
Life in the First Division
This would also be his last spell in the Premier Division. Jason would drop down to play in the First Division with UCD for the 2016 season. Just missing out on the promotion play offs by two points.
He would move to League of Ireland newcomers Cabinteely for their first season in the First Division in 2017. With the goal of breaking the record of Brendan Bradley in mind. Playing under the manager that gave him his first shot in the League of Ireland with Bray Pat Devlin.
Unfortunately, Jason would never break the record scoring only a single goal with Cabinteely.
That would be the last League of Ireland season in the career in Jason Byrne. He would finish up with an outstanding 222 League of Ireland goals. He sits comfortable in second place in the all-time leader board. A spot he will be holding for a long time to come.
Jason would move to Leinster Senior side Bluebell United. Now looks to progress into the world of coaching.
So, keep an eye out we could see him back in the League of Ireland in a different capacity very soon.
International Pedigree
It also can't be forgotten Jason Byrne was one of the very few League of Ireland players capped for Ireland in the noughties.
Jason was capped twice in 2004 and 2006. He played his first game in a friendly against Poland in April back in 2004. He made a cameo appearance in the dying moments of the game. Being brought on by former League of Ireland manager Brian Kerr.
He was once again called up in 2006. This time by Steve Staunton. He got more game time this time around playing in the last twenty minutes. It was a game that Ireland lost 1-0 against Chile. Staunton would call him up once again in 2006 for a friendly against the Netherlands. A call up Byrne couldn't accept due to injury.
A true striker's striker and admired by many in the league for his goalscoring ability. He firmly sits in the record books for his 222 goals. In our book there is no denying Jason Byrne is a legend of the League of Ireland.
Jason Byrne honours include:
5 League Titles
3x with Shelbourne in 2003,2004 and 2006
2x with Bohemians in 2008 and 2009
2 FAI Cups
1x with Bray Wanderers in 1999
1x with Bohemians in 2008
1 League Cup
With Bohemians in 2009
1 Setanta Sports Cup
With Bohemians in 2009/10
PFAI Player of the Year in 2003 and 2004
League Top Goal Scorer in 2003, 2004, 2005 & 2006
Second Highest League of Ireland Goal Scorer of all Time (222 Goals)