Robbie Keane is a national treasure to the people of Ireland. The Tallaght native is one of the best to wear our famous green jersey. He has been capped for Ireland 146 times. Making him Irelands most capped player. During that spell he has scored 68 goals. Making him our highest scoring player of all time too. These 68 goals make him the joint 5th highest European international goal scorer of all time too.
Of course, he would proudly captain Ireland from 2006 until 2016.
He has represented Ireland at U16, U18 and U20 level. Of course, famously winning the U18s European championship back in 1998.
He has also had a very successful club career. Keane has had the opportunity to play for plenty of his so-called dream clubs. Wolves, Inter Milan, Liverpool, Celtic, LA Galaxy, ATK and everything in between all dream moves for Robbie.
Keane didn't win an awful lot of silverware during his career but had plenty of personal accolades. With many of his most important moments and goals coming in a green shirt.
So as Robbie celebrates his 40th birthday today. Let's look back at his most important Ireland goals.
Little side note before we begin. You may notice his late equalising goal away to Italy during the World Cup 2010 qualifiers isn't here. I really wanted to add it in. However, after watching it back a few times I've convinced myself it was Noel Hunt that scored that one.
As always this is only one man's opinion. So please let us know your top five and any we have missed out. Would love to hear them.
No honourable mentions this time either we would be here all day.
5. Cyprus (World Cup 2010 Qualifier)
Not the most glamorous start to proceedings I know.
This was during the height of the Trapattoni era when the Ireland team were horrendous to watch. They grinded out results but the style of play was horrific.
This game was in the middle of our qualifying campaign for the 2010 World Cup. Ireland were seven games in and unbeaten but with a couple of frustrating draws. Still in good shape to challenge for automatic qualification.
Ireland came up against a struggling Cyprus on their turf. That embarrassing 5-2 defeat from three years previous still fresh in the mind.
Kevin Doyle settled the nerves early, but Cyprus pulled one back on the half hour mark. It was looking like another frustrating draw was on the cards.
Keane leaped up for a good header beating the goalkeeper in no mans land in the 83rd minute. The three points were huge at the time for our qualification push. Especially with a game against Italy next.
4. France (World Cup 2010 Play Off)
This one still hurts to talk about.
Ireland couldn't manage automatic qualification so had to settle with a play off. Ireland arguably got the worst team to get been draw against France. With the first leg been in Dublin and the second in Paris.
France won the first leg 1-0 but Ireland still had a chance in Paris.
Just after the 30-minute mark Duff pulled a ball across the box and our boy Robbie slotted it home. All even on aggregate and tie well and truly on.
Ireland would even go on to completely out play the French in their own backyard. Easily the best performance from a qualification campaign full of dull ones. This goal got us all caring again. On that night, our passion for our national team was threw the roof.
We all know it ended with a heart-breaking robbery but let's not focus on the French. Let's focus on a Robbie Keane once again brining back belief even for a short while.
Still f**k Thierry Henry. He made Schillaci seem sound that night.
3. Iran (World Cup 2002 Play Off)
On paper it might not seem too high to some, but we really think it deserves its spot.
Ireland had a nightmare group during qualification. Everyone believed Portugal and the Netherlands would be the ones to progress with very little issue.
No Ireland had a great campaign going unbeaten. We picked up some huge results drawing to the Dutch in our opening game. Along with drawing twice to Portugal. Even better Ireland would beat Holland towards the end of the campaign 1-0.
This was enough to put us into the play offs where we faced Iran. The hard work seemed over but credit where its due Iran gave us a fight.
The first leg was going well with Ian Harte giving Ireland the lead in Dublin. Robbie would then put away a lovely volley making it 2-0 and give us some breathing room in the tie.
We would go on to lose 1-0 away in front of a hostile Iranian crowd.
So, in theory if Keane didn't score that goal things would of went to extra time. Anything could have happened at that stage away from home. Especially with Ireland missing Roy Keane.
Thankfully, Ireland went to the 2002 World Cup. We even made it all the way to the last 16.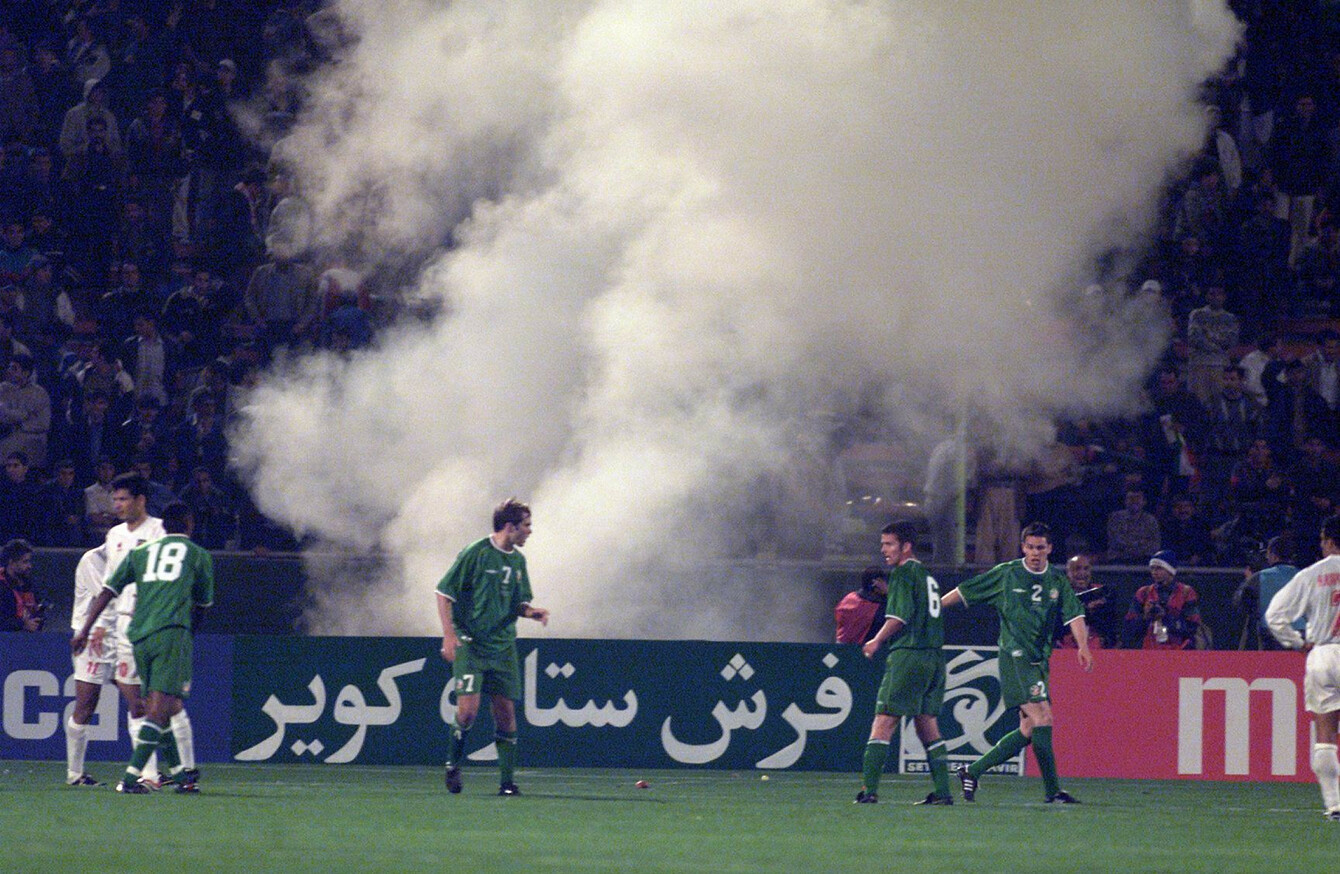 2. Spain (World Cup 2002 Last 16)
Speaking of that last 16 game.
Ireland came second in Group E to advance to the Last 16. They would get Group B winners Spain.
Spain took an early lead with a Fernando Morientes goal.
It would be another huge Ireland performance as we would batter Spain for most of the game. Ian Harte would even miss a penalty on the hour mark.
It just seemed like it wouldn't be our day at all. Then just as the game was ending Ireland were awarded another penalty. After Fernando Hierro was seemly swapping shirts with Niall Quinn to prematurely by the looks of it.
Robbie Keane stepped up ice cold as ever and slotted it away. Giving us a 90th minute equaliser and sending Ireland fans wild once again.
It was another disappointing evening as Ireland would lose on penalties.
Nobody could knock our performance that night. It was an end to a great tournament for the Irish.
For Robbie Keane you don't score a late equaliser on such a big occasion that often.
1. Germany (World Cup 2002 Group E)
This was always going to top the list. I knew it and you knew it. I can guarantee it was the first goal that came to mind for most of us. Sometimes the obvious answer is the right one.
We stay at the 2002 World Cup. Ireland opened their tournament with a 1-1 draw against Cameroon. Then had to face Germany next.
Ireland were 1-0 down in added time and a group stage exit was becoming a possibility. All the hard work of the tough group stage and play offs we mentioned earlier would only result in an early exit.
Then a ball up to Niall Quinn who flicked it on for Keane who himself had made a brilliant run. Keane would smash the ball past Oliver Kahn and into the German net.
Nobody could believe it every Irish man, woman and child went crazy. It turned the focus off Roy Keane and onto Robbie Keane.
For us, it's his most famous and important goal by Keane in an Irish shirt. Especially when you take the circumstances and reactions into consideration.
Its up there with David O'Leary's penalty in Italia 90, Ray Houghton sticking the ball in the English net in 88 and that Robbie Brady header against Italy at Euro 2016 for famous moments in Irish football history that made every Irish person stand tall.