We have said it a lot but its great having the Premier League back. The face of David Luiz summed it up perfectly. He came on 24 minutes into Arsenals first game back against Manchester City. As he was waiting to go on, he gave this cheeky grin of excitement. If only poor David knew he was about to have a complete mare.
See we all have our off days in any line of work. If I have a off performance on the podcast, I'm annoyed at myself but ill get over it. I don't have thousands of people listening in hurling abuse at me. Then when I log into Twitter, I don't have thousands of more people telling me they wished my family were dead.
You see when footballers have a bad day they have nowhere to hide. Its such a public profession we see these athletes at their best and worse on any given day. We must understand these are people too and spilling your vile venom to these people on social media doesn't make you a bigger person.
Now lets completely contradict that nice statement and look at the worse individual performances by a footballer.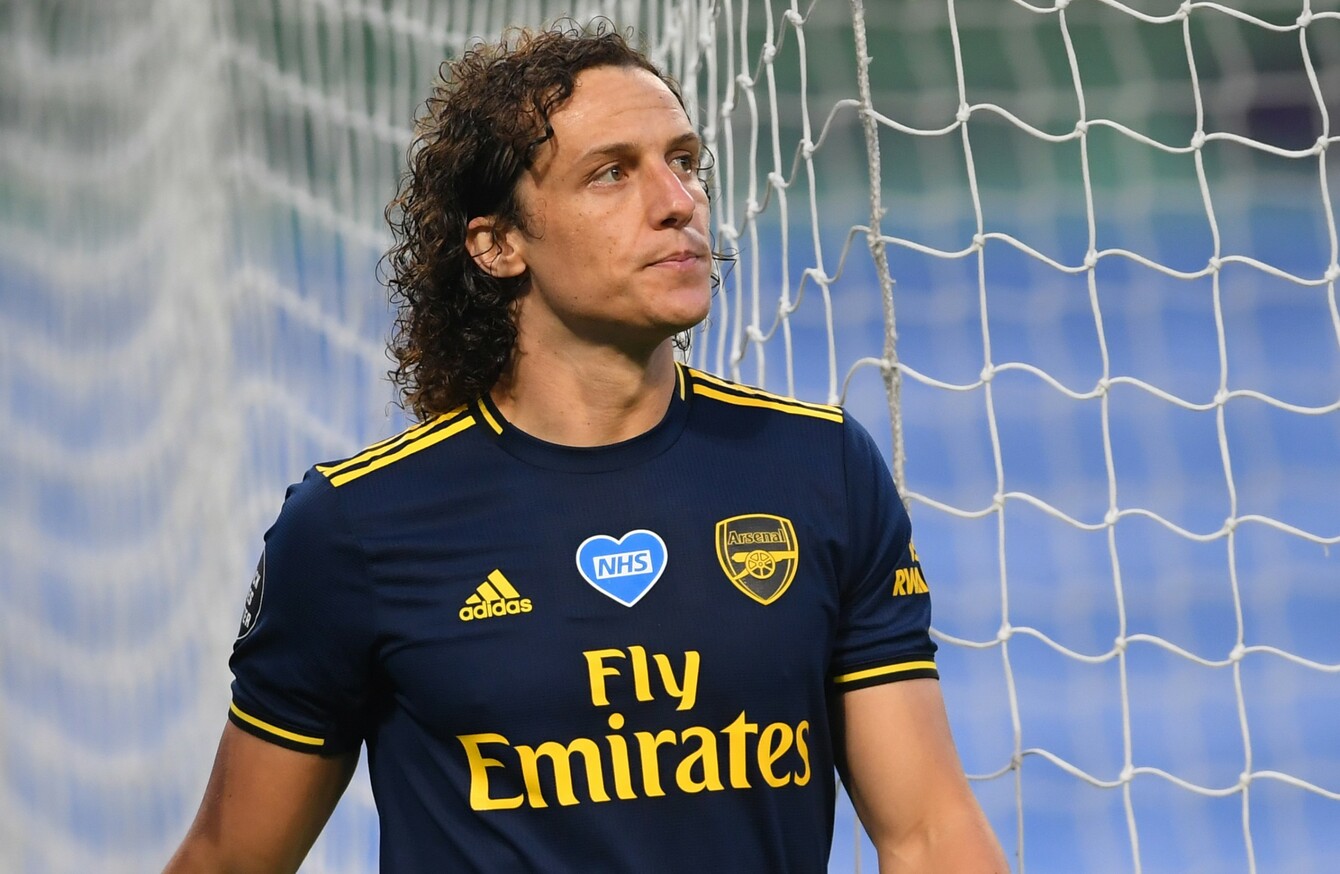 To start off I was very close to putting Andres Escobar on here. For those that don't know Escobar represented Colombia at the 1994 World Cup. In their second group game against host America he scored an own goal by mistake. Colombia would go on to lose the game 2-1 and subsequently not get out of their group.
When Escobar returned home, he was out drinking with some friends in a nightclub in Medellin. In the nightclub car park while sitting in his car Escobar was shot six times. A known bodyguard for the Colombian drug cartel was charged and sentenced to 43 years after admitting to the murder. The same bodyguard was a driver for the drug king pin Santiago Gallon. Gallon reportedly lost heavily in a bet in that game. So, the murder of Escobar was always linked to the Colombian cartel.
That has always been speculation and I don't like to deal with speculation in these lists. Plus, this is just a light article so we will keep it that way. Anyway, with that quick history lesson done let's get on with that list.
Honourable Mentions: Tim Clancy vs St. Patricks Athletic 2017, Steven Gerrard vs Manchester United 2015, Nemanja Vidic vs Liverpool 2009, Oliver Baumann vs Hamburg 2013, Alberto Moreno vs Sevilla 2016, Massimo Taibi vs Chelsea 1999, Ali Dia vs Leeds United 1996 and Damien Delaney vs Bohemians 2018
5. David Luiz vs Manchester City (2020)
Let's start our list with the man who inspired it in the first place. His performances against Germany in the 2014 World Cup also could have took this spot. Probably due to recency bias this performance gets the shout.
Luiz came on as a sub for Pablo Mari 24 minutes into their first game back against Manchester City. Arsenal suffered two nasty injuries up until that point, but the worst was to come. Right before half time his error cost Arsenal a goal and put City 1-0 up. Mistakes happen to the best of us. However, things would get worse for Luiz after the break.
Five minutes into the second half Luiz gave away a penalty. He blatantly took down Riyad Mahrez and got a red card for his troubles. Kevin De Bruyne slotted away the penalty making it a disaster night for Luiz. So bad he came out to apologise after.
You can't even blame this on Luiz being rusty due to lockdown. He is known for his extremely dodgy performances. That has been the case big time this season with his new club. He has conceded the most penalties, has the most red cards and committed the most errors leading to goals this season.
Quiet the bad day at the office that may see David Luiz days in North London numbered.
4. Emmanuel Eboue vs Wigan Athletic (2008)
This one was just hard to watch. Poor Emmanuel Eboue never was a fan favourite at Arsenal.
The game in question was a league game at home to Wigan in 2008. Eboue came on as a sub in the first half. He stepped on to the pitch that day and completely forgot how to play football. Every pass he hit was wayward, he constantly gave the ball away and he couldn't control the ball at all.
He wasn't even putting any effort in which infuriated the home fans. There were times when striker Robin Van Persie was tracking back deeper. The worst moment came when Eboue bizarrely tackled his own teammate Kolo Touré.
All of this resulted in the substitute being substituted. In the dying minutes he was replaced with Mikael Silvestre. This was met with boos from the home fans aimed at their own player.
It was a hugely humiliating experience for Eboue. It also greatly damaged the confidence of the player who was just returning from a six week lay off with a knee injury. He tried to play it off saying everyone had a bad game but that was a cop out.
He did stay with Arsenal for a further two seasons. This was not only his darkest day with the Gunners but in his career all together.
3. Johnathan Walters vs Chelsea (2013)
Jon Walters is an ever-reliable work horse of a player but Jesus he had a nightmare here.
Stoke met Chelsea at home in the league. It was set to be a tough game for Chelsea as Stoke were on a 17-game unbeaten run at home.
Just before half time Walters headed in an Azpilicueta cross into his own goal. Then in the second half he done the same from a corner. A bad day to say the least.
However, he had a moment for some redemption. Stoke were awarded a penalty and Walters stepped up to take it. Of course, it wasn't meant to be, and he blasted it over the bar. This capped off a horrendous day for Walters.
This one you do feel bad about. This wasn't a regular occurrence for Walters. He was always praised by many for his consistency for club and country.
It was simply a bad day for the Irish international.
2. Loris Karius vs Real Madrid (2018)
If you felt bad for Walters, your heart had to go out to Karius on this day. Having a bad league game is rotten but having a bad cup final performance must be horrific. Oh boy this cup final performance was as bad as they come.
It was the Champions League final 2018 Liverpool vs Real Madrid in Kiev, Ukraine. Karius was the first-choice keeper for Liverpool for the entire season. He made a few questionable mistakes throughout the season but Jurgen Klopp decided to stick with his man. This trust seemed to be paying off as Karius was slowly improving. German fans were even hailing him as a possible successor to Manuel Neuer.
Liverpool lost the game 3-1 with Karius been at fault for two of the goals. The first one was to give Madrid a 1-0 lead. He threw the ball into Karim Benzema which deflected into the goal. The second mistake was to give Madrid a 3-1 lead and certainly hand them the win. Gareth Bale had a shot from 40 yards out. Karius completely mishandled it and almost pushed it into his own net.
After the game he was inconsolable. He was tearfully apologising to the Liverpool fans and even admitted he lost them the final. Your heart really went out to the lad who was only 25 at the time. It killed his Liverpool career as a first-choice keeper. The club signed goalkeeper Alisson making Karius a backup. He was even shipped out on loan to Turkish side Besiktas for two years.
He even received death threats from so called Liverpool fans. Things got so bad the Merseyside Police even had to get involved. You never walk alone is it lads?
1. Jonathan Woodgate vs Athletic Bilbao (2005)
This is easily the worst debut of all time. Jonathan Woodgate was always a very solid centre back. Many in the footballing world were stunned when Real Madrid came knocking for the Englishman.
They signed him for £13.4 million in 2004 from Newcastle United. It was very surprising due to the fact Woodgate was injured at the time of his signing.
Many English fans were hopeful it would be a great move for the defender. He didn't make a single La Liga appearance in his first season. He kept Real Madrid fans waiting over a year to see him play. Was their patience worth it? No.
He made his debut against Athletic Bilbao in September 2005. Obviously first game nerves will be a factor especially playing in the famous Bernabeu Stadium.
He must of went to bed dreaming of scoring a cracking header on his debut. That did happen but unfortunately for Woodgate it was in his own goal. Yes 25 minutes into his Real Madrid career he scored an own goal.
Look as Yazz once sang the only way is up. Woodgate picked up a yellow card, but these things come with the territory. In the 65th minute Raul scored a neat goal giving Madrid a 2-1 lead. Once Woodgate could keep his cool Madrid would get all three points and all will be forgotten.
Unfortunately, disaster struck. Bilbao player Joseba Etxeberria knocked the ball past Woodgate at the halfway line. Woodgate should have just let him go as he was well covered. Instead he decided to body check him and knock Etxeberria off the ball.
This was another bookable offence and Jonathan Woodgate got shown a red card. After over a year of waiting his debut only lasted 66 minutes.
It was a complete disaster of a day. Woodgate would go on to only make 9 league appearances for Madrid. He would be sent out on loan to his hometown club Middlesbrough with a permanent move to follow.
He would become a Premier League regular, but he had to say adios to his Spanish football days.
If there are any awful individual performances, you feel are worth a mention let us know. We would love to hear them over on any of our social media pages.