The Aviva Stadium in Dublin recently celebrated its ten-year anniversary since its official opening on the 14th of May 2010. While sections of Irish sports fans miss the days of old Lansdowne Road and the charm and rice history of that stadium it must be stated that the Aviva Stadium does have its merit. If we can take off our rose-tinted glasses for a minute Lansdowne Road was falling apart in front of our eyes and unfortunately all good things must come to an end.
Yes, the design of the Aviva Stadium may be strange at first glance, but it can't be denied that it's an impressive and professional looking structure worthy of holding any major sporting event. It may lack the gritty old school charm of its predecessor, but it has helped bring the image of Irish sport into the modern day and its by far the best football stadium in the country.
Lansdowne Road is so fondly remembered because of the memories made within those confines but new memories have been and will be made in the Aviva. This once soulless bowl of a ground has seen its fair share of magical moments in Irish sport since it opened its doors for the first rugby game in August 2010. So that's the topic of todays list we will run through five of the best sporting moments to take place in the Aviva Stadium.
Not much ground rules to cover with this one but we will be sticking to sporting moments only so as much as AC/DC rocked the house in 2015 unfortunately you won't find them or other concerts here. The tennis ball protest in 2019 against the FAI also won't be here as we will be sticking to more sporting moments as much as I agreed with the principles of the protest.
Of course, some honourable mentions to start us off: Denying England of a Grand Slam twice in 2011 & 2017, Euro 2016 Playoff win over Bosnia, Sean Maguire last second goal in the 2016 FAI Cup final, Hosting the 2013 Heineken Cup final, Hosting the 2011 Europa League final, Closing stages of the 2013 Fai Cup final between Sligo Rovers and Drogheda, Jacob Stockdale's last minute try against Wales in 2018 & Big boys coming to town like Barcelona, Manchester United and Liverpool throughout the years.
5. St. Patricks Athletic end their famine
Right hand on heart this is an extremely bias selection. I hate being bias and getting to personal in these but honestly, I simply couldn't pass this up it was simply the best day of my 15+ love affair with the Saints. I slipped it in first just to get it done it was always going to be on my list.
It really is a great story though St. Pats hadn't won the FAI Cup in 53 years and had lost in seven finals since their last cup final victory against Drumcondra in Dalymount Park back in 1961. I myself have seen them lose in three of those seven finals.
Pats seemed cursed to never lift the trophy and once against found themselves in a final against Derry City who at that point have beaten Pats twice in a row in a final one of them coming two years previous in the Aviva. The Saints once again dared to dream and when Christy Fagan pounced on a Derry City mistake at the back and took the ball around Derry keeper Ger Doherty and slotted it home to make it 2-0 in the 94th minute the dream became a reality.
Brian Kerr was in tears on commentary we were all in tears in the stand behind the goal the curse was lifted, and it was the best day of my little footballing life.
4. Ciaran Kelly saves the day
Calm down I know its another FAI Cup final entry, but I promise it's the last one but again what a story.
The first FAI Cup final in the Aviva Stadium era took place on the 14th of November 2010 between Sligo Rovers and Shamrock Rovers. It was in front of the biggest cup final crowd since 1968 and all eyes were on both teams as they headed into a penalty shoot out after a hard fought 0-0 game.
Sligo didn't want to face another final heartache as the year before they were beaten 2-1 in the final against Sporting Fingal in Tallaght Stadium. Sligo goalkeeper Ciaran Kelly gave away a penalty in that final in the 85th minute to allow Sporting Fingal back into the game at 1-1 which was the beginning of the end for them in that one.
So, after Sligo striker Eoin Doyle slotted home the first penalty up stepped Shamrock Rovers main man Gary Twigg and Kelly saved it. Then Pat Flynn and Kelly saved it again Chris Turner tried his hand and once again Ciaran Kelly saved it. Lastly Paddy Kavanagh put the ball on the spot to keep Shamrock Rovers in the final, but Ciaran Kelly saved his fourth penalty in a row and won the cup for Sligo in one of the best individual goalkeeping performances you are likely to find. Redemption in a cup final for Ciaran Kelly and the start of Sligo's impressive cup run where they won three FAI Cups in four years.
3. Leinster do the double
This isn't one moment rather an accumulation of big moments that led to Leinster getting their grip back on European rugby back in 2018.
The Pro 14 final was all set to take place between Leinster and Welsh side Scarlets on the 26th of May 2018. It was due to be an even game as both teams qualified from the same table on 70 points.
However, two weeks before this game Leinster were crowned Champions Cup winners beating French side Racing 92 15-12 during the final in Bilbao. This Champions Cup run already seen two huge wins in the knockout round of the tournament in the Aviva Stadium against European giants Saracens in the quarter finals and then Scarlets in the semi-finals. This semi final win possibly even gave Leinster a mental advantage heading into the Pro 14 final.
Leinster would go on to beat Scarlets in the Pro 14 final in front of an electric home crowd in Dublin winning the game 40 – 32 winning the double and brining Leinster rugby back to its former glory.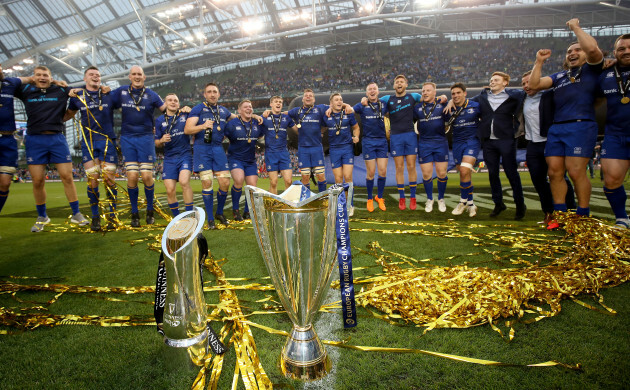 2. Ireland beat The All Blacks
This is the big one for all Ireland rugby fans and honestly easily could of took the top spot and I'll explain why it didn't in the next entry.
Anyway, Ireland beating New Zealand for a long time seemed like something that would never happen for many Ireland fans. It seemed like it was happening in the Aviva Stadium in 2013 with time almost up Ireland found themselves five points ahead. It wasn't meant to be that day sadly as Ireland would give away a silly penalty with 30 seconds to go which led to New Zealand advancing up the pitch and scoring a try. It seemed like that win just wasn't going to happen.
Finally, the 111-year wait was over, and Ireland beat the mighty New Zealand at Solider Field in Chicago 40 – 29 in 2016. As great as that was it was at a neutral venue it was now time for the Irish to get them on home soil.
2018 seemed like the most likely time as Ireland were Grand Slam winners at the time. On November of that year the All Blacks came to town in a Guinness Series International match in the Aviva. Ireland put on a clinic that day denying New Zealand a single try and went on to win 16 – 9 beating the All Blacks at home for the first time in 16 attempts.
Ever Irish person stood tall that day and you will be doing well to find a game of rugby with a better atmosphere than that one especially when the moment finally came, and the ref blew the final whistle.
1. That Shane Long goal
Topping our list is Shane Longs excellent goal against then world champions Germany during a Euro 2016 qualification game in the Aviva. Nobody in the stadium that night expected Ireland to even get a draw that night. Up to that point it was a poor middle stage to the qualification campaign in a tough and it looked like qualification was beyond Ireland with a tough run in.
The early signs weren't good with Germany having most of the chances and Shay Given looking uncharacteristically shaky between the sticks carrying a knock that would eventually see him be replaced in the first half for Darren Randolph who was struggling for game time with West Ham at the time.
He really made Ireland look more solid at the back, but little did everyone know that he would assist such a huge moment. Randolph knocked the ball up to Shane Long who controlled well and advanced into the box with a lot still to do and an ever-tightening angle. He kept his cool and sent a rocker into the German net giving Ireland a 1-0 lead with 20 minutes left on the clock.
The goal sent shockwaves through the Aviva that night and Ireland managed to hold on and beat the world champions 1-0 with an ungodly amount of noise drowning out the nerves the whole time. It was the shot in the arm Ireland needed and they went on to qualify for Euro 2016 via the play offs.
The reason why this tops all other moments is the atmosphere. The rugby has always generated a great crowd and noise in the Aviva compared to the football. When that goal went in a roar went around the stadium unlike anything the Aviva has ever heard, and football finally had the big moment it was waiting on in the Aviva. Not only does it top our list for the biggest moment of the decade in the Aviva, but it would come close to topping any list of Irish footballing moments in general.
Not bad at all for the first decade if you ask us. Hopefully, many more memories to be made for us all in the Aviva Stadium over the decades to follow to put the stadium in our hearts the same way old Lansdowne Road is.
Of course, like all our list this is just one person's opinion and we would love to hear what changes you would make to the list over on any of The Big Kick Offs social media accounts.