The League of Ireland has produced countless home-grown talent throughout the years. Players that have gone on to represent their country, be successful at a higher level and become local heroes within their communities.
On the flip side the league isn't the most adaptable place to play in for players not born on the island of Ireland. Many either struggle with the physicality of the league, don't really want to be here and just use it as a steppingstone for their career. Some even struggle to settle to life in Ireland especially in more rural parts of the country.
Of course, you have your exceptions with many clubs having cult heroes that have played at their clubs. The most notable exception certainly must be Joey N'Do. He came into the league and settled very quickly and end up spending most of his career in the League of Ireland. He is hailed by plenty as one of the best players to ever grace the league. His success in the league certainly can't be denied.
Joseph N'Do was born in Yaoundé, Cameroon on the 28th of April 1976. Like many of his childhood friends he was an active football fan spending most of his childhood playing the sport. Like many in his home of Cameroon in 1990 a teenage N'Do would have seen it was possible for a Cameroon native to be successful in the world of football. The Cameroon national football team got to the quarter finals of the 1990 World Cup in Italy the highest finish for any team from the nation still till this day. They have been very successful in the past in the African Cup of Nations, but this was on a much more global scale.
It was in Cameroon where Joey got the ball rolling on his football career. The attacking midfielder made his debut for his hometown side Canon Yaoundé in 1995 in the Elite One league. The then reigning Cameroon Cup champions couldn't reclaim glory that season, but Joey did have personal success getting plenty of time to shine with 51 appearances in all competitions scoring four goals.
He made a move to fellow Cameroonian side Cotonsport Garoua who certainly were a bigger team in the Elite One league. Joey was a part of the side that really kick off their dominance been a member of the 1998 Elite One winning league squad. Meaning he left African football as a champion.
After his first title win, he would venture to Europe to sign for Switzerland team Neuchâtel Xamax FCS in the Swiss Super League. He only spent one season in Switzerland before making the short move to France. N'Do signed for Ligue 1 side Strasbourg. He spent the 1998/99 and 2000/01 seasons with the French team. The last of which was a mixed bag that seen Joey and his team win the Coupe de France but also be relegated down to Ligue 2 not the best start to the new millennium.
N'Do then went to play in his third continent as his next move was to the Asian country of Saudi Arabia to spend a season with Khaleej FC. Then moving on to China to play for Chengdu Tiancheng F.C. also for just a single season.
Finally, Joey made is first move into Irish football when he signed for St. Patrick's Athletic in 2003. He made his St. Pats and League of Ireland debut against Cork City in Turners Cross in a 2-0 win on the 29th of August 2003. It was a brief spell but got him accustomed to the League of Ireland. He made 17 appearances in all competitions scoring three goals.
Much more success was to follow as he made a move to another Dublin club Shelbourne. He signed in 2004 were he was a part of the 2004 league winning squad. However, it was in 2006 when N'Do had his first real standout year in the League of Ireland. Once again, he was a part of a Shelbourne league winning squad their third in four seasons. He was also voted that years PFAI Players Player of the Year for his outstanding performances throughout the season. That season he also appeared and scored in the now scrapped UEFA Intertoto Cup against Danish side Odense Boldklub.
When his contract ended, he returned to St. Patrick's Athletic for the 2007 season. While having his moments it was ultimately a disappoint spell in his career. He made his desire to leave the club openly known.
This got him a loan move to Dublin rivals Shamrock Rovers for the short term. Again, it was a disappointing spell for N'Do only playing a handful of times and netting the single goal.
The good times would return for N'Do when he got his permanent move away from St. Pats. He moved to fellow Dublin team Bohemians. This put him in a category of players to play for the four so called big clubs in Dublin like then Bohs manager Pat Fenlon.
He was signed up just in time for the start of the 2009 season. Joey scored on his debut away to Dundalk in a 1-0 win. He continued to hit the ground running winning Player of the Month for March 2009. That summer seen Joey add to his goal tally in Europe. He scored a vital goal in the teams Champions League qualifying game against Red Bull Salzburg in Austria to get a 1-1 draw and away goal for Bohs but they would ultimately lose the tie.
It wasn't the end of the world by a long shot as this was another season when Joey won medals. Bohs beat Waterford in September 2009 to win the league cup in the RSC in Waterford with a 3-1 win. More importantly Bohs won their second league title in a row. Just beating their bitter rivals Shamrock Rovers to the title by four points.
He played a big part towards the back end of the season scoring vital goals against Drogheda United and Sligo Rovers in Dalymount. He played his final game for the club against Bray Wanderers in Bray where Bohs lifted the league trophy.
Then Joey N'Do moved to the team where he became beloved the most and still is to this very day Sligo Rovers. He was a free agent after leaving Bohs in 2009 so Sligo were very happy to pick him up in March 2010. It was perfect timing for both parties. Sligo were about to embark on a successful patch in the club's history. His first season went very well with Joey making 29 league appearances and scoring three goals. He was really gaining the applause from the Sligo faithful with his consistent run of performances.
More cup winners' medals came for N'Do as once again in September he found himself on the winning side of a league cup final when Sligo beat Monaghan United 1-0 in the Showgrounds. Soon after he got a new medal for his collection when Sligo won that seasons FAI Cup.
They beat Shamrock Rovers in a clash of the Rovers final where they beat their rivals in a dramatic penalty shoot out to claim the cup. While he didn't take a penalty N'Do was named Man of the Match. It was a medal he would pick up again with Sligo the following season. This was the third FAI Cup final in a row for Sligo. This time they faced Shelbourne once again in the Aviva Stadium in Dublin. Once again it would go to penalties with Sligo lifting the 2011 FAI Cup above their heads afterwards.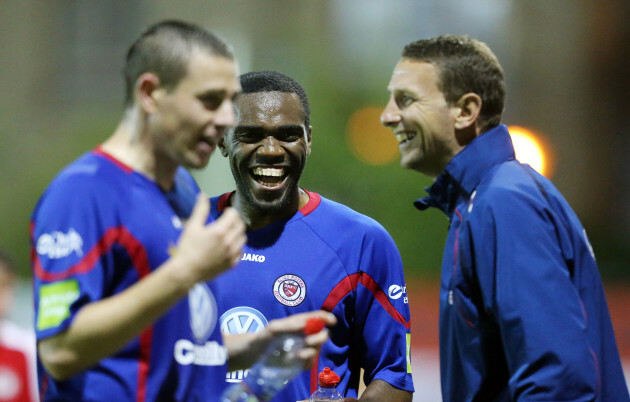 The following season the Bit O Red would turn that cup success into league success. They narrowly missed out the season before but wouldn't be undone in the 2012 season. They edged their closest rivals Drogheda United out by four points to be crowned that seasons champions. This was the fourth Premier Division title win for Joey N'Do. He was a vital clog in the team playing 24 times in the league with just a single goal. Yet again it was his performances that had the Sligo fans singing his praises week in week out.
At the end of the following season in 2013 N'Do and Sligo found themselves in a familiar situation at the Aviva Stadium in a FAI Cup final against Drogheda United. It turned out to be probably the best final in the Aviva Stadium era of finals.
Sligo find themselves 1-0 down with just over ten minutes to go but pull it back 1-1. Then in the 85th minute N'Do sets up teammate Danny North to score and surly win the cup for Sligo. No, the celebration was cut short as Drogheda score in the 92nd minute making things 2-2 and destined for extra time. In one last twist in the game Sligo score in the 94th minute in virtually the last kick of the game to bring the FAI Cup back to Sligo.
N'Do stuck around for the 2014 season but went to Limerick on loan for a short spell that season in July until the end of the season. He went as a player/coach as N'Do like many players winding down their careers wanted to transition into coaching. In January 2015 Sligo allowed him to go to Arrow Harps who were playing in the second tier of the Sligo Leitrim League. Again, he went in as a player/coach while he did only play three games, he scored two goals. Which at least gave him his best goals to game ratio of his career.
He re-joined Sligo in February 2015 but never played that season. Instead he left to take up a part time coaching role with Mayo team Achill Rovers who play in the Mayo Association Football League. He joined the club to gain more coaching experience as he worked with the club's underage boy and girl teams. Along with the junior men's team.
This was the same year Achill Rovers won the Aviva Club of the Year award for their efforts in the community. Despite the falling population they managed to grow the club's members numbers and make it an inclusive and engaging club to all in the community.
He made his final return to Sligo Rovers after the club sacked their manager Owen Heary in April 2015. N'Do came in as a short-term caretaker manager along with former Sligo player Gavin Dykes for six games. He left this post after new manager Micky Adams was appointed in August 2015.
Joey returned to his post with Achill Rovers where he registered to become a player. He didn't have the required coaching badges to stay with Sligo. N'Do made his first appearance for the club on field in March 2016 a month shy of his 40th birthday. He played alongside fellow African and League of Ireland player Cyril Guedje. He retired soon after and is still living out in the west of Ireland away from football at the moment.
Other notable career highlights include his time with the Cameroon national team. Joey made his debut for his country just before the 1998 World Cup where he played in all three group games. He was also involved in the 2002 World Cup where he played three times during the qualification phases. Joey made the squad but never appeared in the actual tournament. He was also a part of the Cameroon squads that won the African Cup of Nations in 2000 and 2002. That was his last involvement with the national squad. He earned 21 caps and scored two goals for his country.
Joey would also represent the League of Ireland XI when they played against Manchester United in a 7-1 defeat at the Aviva Stadium in 2010.
He is fondly looked back on by many for his exceptional talent and happy go lucky personality.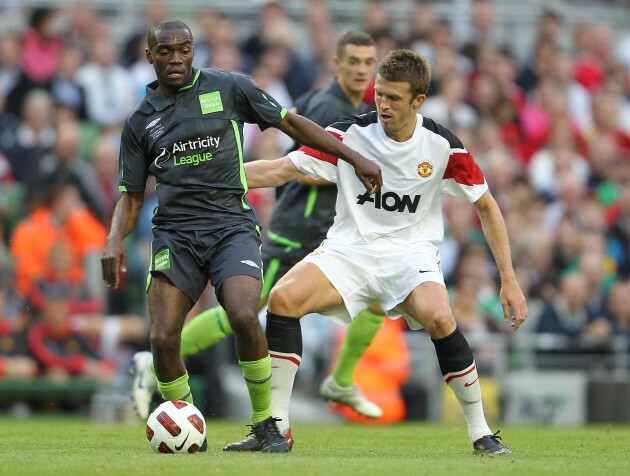 Joey N'Do's honours include:
4 League Titles
2x with Shelbourne in 2004 and 2006
1x with Bohemians in 2009
1x with Sligo Rovers on 2012
3 FAI Cups
3x with Sligo Rovers in 2010, 2011 and 2013
2 League Cups
1x with Bohemians in 2009
1x with Sligo Rovers in 2010
PFAI Players Player of the Year in 2006