Even though the story of Ryan McBride ultimately ends in sadness it should not be what defines the man or his legacy. His legacy should be that of someone who embodies the League of Ireland and what it stands for. A man that represented his hometown and boyhood team with pride and passion week in week out. A player that despite his career been cut tragically short has left an impact on all not just in Derry but all of Ireland. He did this by showing drive, commitment and hard work that was stunning to watch and a template for all aspiring young players to follow. By all accounts a quiet and reserved figure off field but a fierce competitor and leader on the field that lived for the game of football. If only the league had more Ryan McBride's it would be a better league for it.
Born in Derry in 1989 Ryan McBride like many young men from the island of Ireland was a football fanatic. He came from a family of Derry City fans and joined in on the family love affair from an early age. He grew up 100 yards from the home of Derry City the Brandywell Stadium. He played grass roots football with different underage teams in the Derry and District League. Never the most gifted or talented player as a child it was his enjoyment of learning and application for the game that made Ryan stand out at a young age. At one point he was struggling for game time that much he was a part of a team put together for players in the area struggling to get a game at their clubs just to make sure they got a kick about on the weekend. The team was called Brandywell Celtic and it was managed by Ryan's father Lexie.
His drive would lead to better chances during his teenage years. Ryan would start to get involved at Longtower Youth Club situated beside the Brandywell Stadium. He would take part in mini football games on the weekend coached by another now huge figure at Derry City Declan Devine who at the time would have been making his transition into coaching. Devine has even said in interviews if you told him that this 12-year-old Ryan McBride would go on to captain Derry City he would have found that very hard to believe. However, like many others Devine could notice the commitment he had and ability to deal with setbacks even at that age.
McBride would improve with the mix of good coaching and game time at Brandywell Celtic and was able to make a step-up in competition. He went on to play for Brandywell Harps who also played in the Derry and District League but were a much bigger team in the league than any previous teams McBride would have played for. During this time, he also had a stint with Northern Ireland team Institute. After a cup final game with Brandywell Harps a teenage Ryan and his father Lexie were approached with a dream proposition.
Then Derry City scout John Quigg asked Lexie about his son and enquired to see would Ryan be interested in attending some training sessions with Derry City to see how he gets on. Ryan told Quigg he would attend but oddly never did. Quigg kept in touch with Ryan over a short period of time and gave him the offer of training with Derry another two or three times again Ryan accepted the offers but never went. Eventually Ryan took Quigg up on his offer after a conversation with his father Lexie and realised he just could not turn down a chance to even train with his boyhood club. It was always the wish of Ryan's mother who at this point recently passed away that he plays for their beloved Derry City further fuel for him to fulfil her dream.
His ability shone through and McBride signed for First Division Derry City ahead of the 2010 season on a two-year deal. Derry had a successful season gaining automatic promotion back up to the Premier Division. However, Ryan would have to wait to make his debut with the senior squad as he did not break into the team until 2011.
He made his debut in a 3-0 win away to Drogheda United in the league helping to keep a clean sheet and winning Man of the Match. The following week came the moment he was waiting on making his debut at the Brandywell Stadium. They had an impressive win defeating champions Shamrock Rovers 1-0 and McBride helped keep a clean sheet once again against the likes of free scoring Gary Twigg. Stephen Kenny who was the Derry City manager at the time gave McBride 14 appearances in all competitions that season. Derry City finished third that season a fantastic achievement upon their arrival back to the topflight of Irish football. They even won the League Cup beating Cork City 1-0 in the final in Cork were Ryan McBride played the full 90 minutes.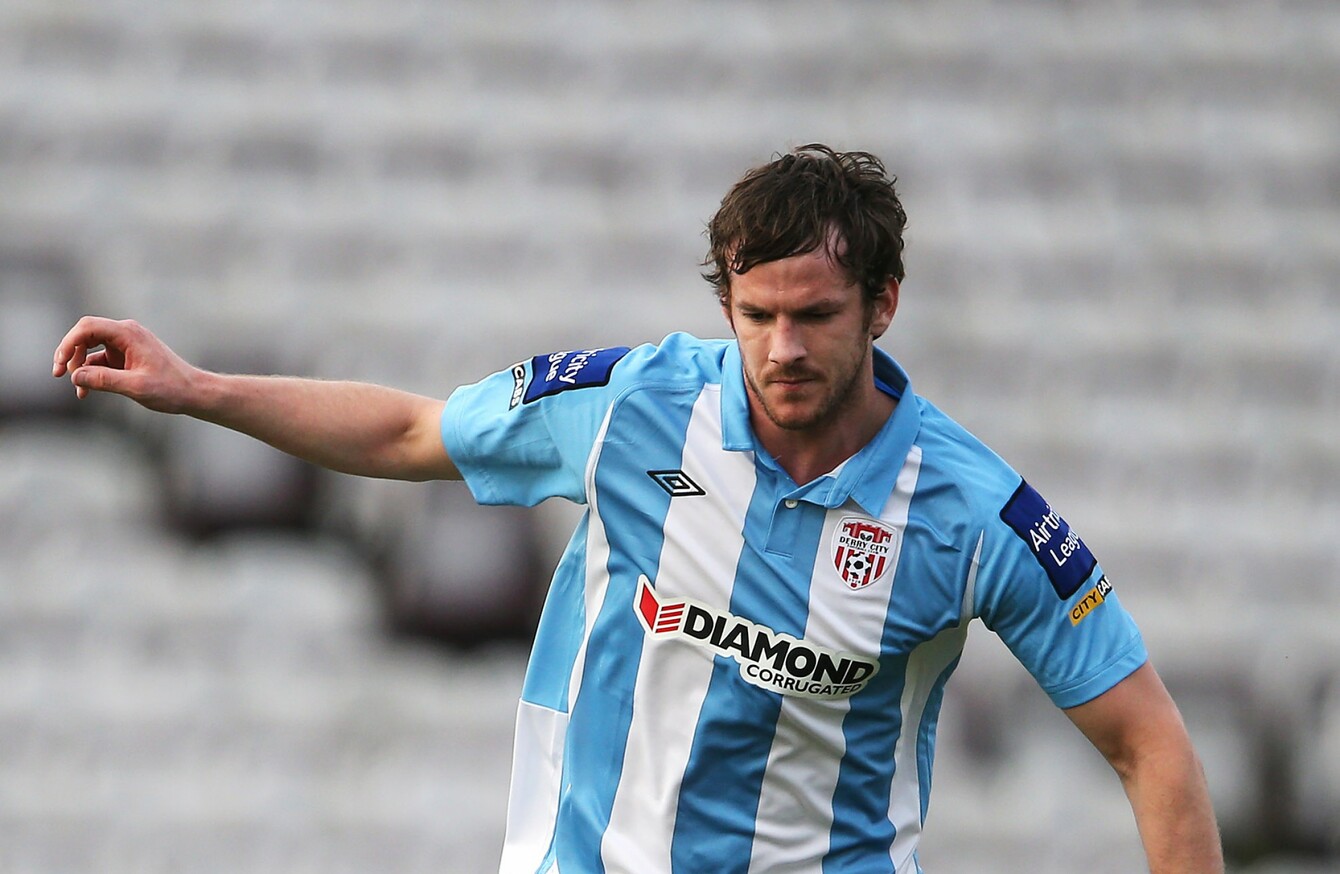 This impressive finish seen manager Stephen Kenny get picked up by that season's champions Shamrock Rovers for the following campaign. That did not put a stop McBride impressing with regular playing time coming under new manager and familiar face Declan Devine. He even netted his first goal that season for the club as he really marked himself as a Derry City regular. In the 2012 season McBride won his second cup winners medal with Derry. That season they beat St. Patricks Athletic in a dramatic 3-2 FAI Cup Final win with Ryan making a cameo appearance in extra time. Devine left the club in 2013 and Roddy Collins arrived as his replacement soon after.
That was a turbulent time for the club as the usual top half finishers struggled under Collins. McBride still impressed however being gifted a contract extension by Roddy Collins when his initial two-year deal was up. Committed to the club McBride began to rack up appearances and chip in with the odd goal. Offers from across the water began to come in but McBride always quickly turned them down adamant he was where he needs to be representing his hometown and their team.
His next big milestone came during the 2015 season when then captain Barry Molloy decided to leave the club after over a decade of service. It was decided that because of his leadership and overall attitude that Ryan McBride was the man to step up and become the new club captain. This is a role he proudly took in his stride becoming a shining example on how a captain and player conducts themselves. Managers like Derry legend Peter Hutton and Paul Hegarty came and went all having nothing but good words to say about Ryan. Kenny Shields took over as boss in November 2015 and McBride was the first player to be resigned for that upcoming season set to start the following February. That season came and went with a return to a European slot for Derry who finished third under new boss Kenny Shields and skipper Ryan McBride.
Moving forward to Paddy's Day weekend 2017 which seen Ryan with a busy schedule ahead of him. The 17th of March Paddy's Day Ryan worked a double shift at his second job pulling pints in the Gweedore Bar in Derry. The following day Derry made the short trip to Maginn Park in Buncrana, Donegal. This is where they were playing home games for the whole 2017 season due to renovation work taken place at the Brandywell. Derry City beat Drogheda 4-0 to continue their unbeaten start to the campaign. McBride even scored two goals in the opening four league games. Sadly, little did everyone know this would be Ryan McBride's last ever time to step on to a pitch as a Derry City player and strangely against Drogheda the same club he made his debut against.
The following day Ryan returned home from a warm down session and went for a nap after his hectic weekend. When his sister went up to wake him as he had plans to meet with his partner, he was tragically lying dead in his bed at his Derry home just down the street from the Brandywell. He was only 27 and his death left a gaping hole in the hearts of many.
A true one club man he said himself he would not of went anywhere else even if Manchester United or Celtic came knocking. He loved his city of Derry and they loved him back which was extremely evident by the out pour of emotion when the announcement of his death was made. With tributes poring in all over Derry and outside the Brandywell.
The games scheduled for the 21st of March were all postponed as a mark of respect for Ryan. His Derry team would go winless in their next six games. Many Derry supporters said you could feel his presences was gone that it was a team that had a massive void in it in more ways than one way which is completely understandable.
Now over three years on the sadness of such a tragic passing will never be forgotten but the memory of Ryan McBride lives on. When Derry City moved back into their renovated home of the Brandywell the club decided to call it the Ryan McBride Brandywell Stadium. As another fantastic gesture Derry since have officially retired the number five jersey that Ryan proudly wore during most of his career in honour of him.
The Ryan McBride Foundation was set up a few weeks after his death which will also keep his name alive in the community for years to come. The foundation was set up to help young people in the community realise their full potential and live out their dream the same way Ryan did. Its also in place to bridge gaps between communities in Northern Ireland. It is the sort of legacy Ryan would like to leave in Derry according to his family as he was involved at Longtower Youth Club helping the youth in the community up until his death. A mural of him can be found on the side of the youth club to remember him and his involvement within it.
Ryan McBride made 131 senior appearances for Derry City 57 of them as club captain. He scored nine goals during his time and won the FAI Cup in 2012 and League Cup in 2011. Mostly he won the hearts of everyone in Derry and the League of Ireland. To many he will always be remembered as a fantastic player, exceptional leader, and a proud ambassador for the league. To the people of Derry, he will always be remembered as their captain and hero that will never be replaced or forgotten.