These truly are unprecedented times that we find ourselves in. The effect of Covid – 19 is being felt in the daily lives of everyone across the world. In Ireland people are worried about the health of their friends and family, finances and dealing with their mental health during isolation. In comparison to these issues sports and particularly football should take a back seat.
However, in times like these we all need something to look forward to and a form of escapism and for many people in Ireland that's what football provides. From the months of February to October thousands of people around the country flock to their local League of Ireland ground on a weekly basis. To these fans the league is a source of entertainment, socialising and escape. But the league these fans know, and love is once again facing worrying times.
Round six of this seasons League of Ireland campaign was due to take place over the weekend of Friday the 13th of March. However, these games were the first to be suspended due to new social distancing and social gathering rules put in place by the government. Almost a month on and Irish football is still yet to return as this virus has taken off much more than anyone taught it would.
The latest update given by the FAI was announced following a tele conference that took place between themselves and representatives from all 19 League of Ireland clubs. They all had to decide together on how and when they will get domestic football back up and running within the guidelines UEFA have set up on the return of football across Europe.
The latest plan is for the Primer Division and First Division to resume on the 19th of June 2020 with the season set to finish on the 11th of December 2020 with the promotion/relegation play off. To try make this happen the Premier Division has been cut down to 27 games this season which would mean a whole round of fixtures have been cut. The First Division will go ahead with their full set of fixtures as of now. In terms of cup football, the FAI Cup will still go ahead with the final to take place on the 1st of November in the Aviva Stadium. The EA Sports Cup will not go ahead this season in order to accommodate teams league and national cup commitments. Cutting out the usual mid-season break is also an option to fit in the busy schedule of games when league action returns.
Of course, like everything else nobody knows what this virus will bring, and these are only proposed plans, and nothing is set in stone. Other plans that have been talked about is to resume matches in August or September with a winter league to fall back in line with the calendar of other European leagues. Another idea is to fully commit to the date of the 19th of June. Even if social distancing a social gathering measures are still in place by then but play the games behind close doors. This would require fans to pay for access to a stream the same way they would pay for a match ticket to enter the ground with season ticket holders being able to watch for free.
These aren't ideal with a winter league in Ireland surly leading to games getting postponed and poor pitch conditions. While streaming will help the loss of match day gate receipts it could see sponsors and other commercial deals for clubs fall to the wayside as not all advertisements will be visible on camera. You could then isolate fans that don't have access to devices to watch these streams and lose the sense of community that comes with following your local team. For now, the FAI will go ahead with their latest decision after that its just a waiting game to see will the football return in June.
Unfortunately, it's this waiting game that is putting serious pressure on clubs. With no deadline set in stone it's hard for any clubs to make a contingency plan with income being scarce. Money is always the biggest issue when it comes to running a League of Ireland budget. Trying to balance tight budgets every season is hard enough without situations like this unexpecting coming along and putting a stop to clubs major income. Its especially tough for clubs without European money or even a wealthy chairman helping them out financially if needs be.
Many clubs have even decided to take the step to temporarily stop paying wages and laying off players and coaches until they are able to start making revenue again and to able to pay them. Clubs like Galway United, Drogheda and Bray Wanderers all who play in the First Division recently publicly announced this. These decisions have even been made by Premier Division sides with Sligo Rovers becoming the first full time side to do so. This is to allow players and coaches to be entitled to receive the government Covid – 19 payment to support themselves and their families. With the break in the league going on longer then first expected all 19 clubs will be under financial pressure at some level.
Then this also comes with its own problems. With players on 42-week part time contracts clubs can say that these payment issues are only temporary, and payment will resume once gate receipts and other sources income starts to flow again. Then you have players on 52-week full time contracts who would have expected to be paid during this pandemic as they were guaranteed a yearly wage when they signed their contract. Clubs are saying that without their big weekly income made on a match day it's just not sustainable. It seems to be a case of these temporary lay offs are to secure permanent employment opportunities.
Many clubs have also let foreign players return home during this pandemic due to the ongoing travel restrictions. Some clubs pay for the rent of their foreign players when they make the move over to Ireland. Again, with the lack of income this is going to be out of the budget of clubs now. With this and travel restrictions allowing players to go home to be with their families during this pandemic it was the best course of action for both parties. Then you must look when this is all over. There is growing concern about these players when life begins to get back to normal and league football resumes. It wont just be a case of the flood gates opening. Normal life and normal travel will be slowly introduced again. The concern is then how quickly will these players be able to make it back to Ireland. Its unknown if airlines will be back up and running straight away or will there be more isolation periods when these lads arrive back to their clubs. Another case of an unknown quantity in this pandemic which will have to be taken as it comes.
As worrying as this all sounds financial help has been made available. The FAI who are normally the pantomime villains of the Irish football scene have decided to scrap the affiliation fee that clubs must pay every season. Premier Division clubs pay the FAI €17,000 to play in the league while First Division sides pay €8,000 large amounts of money especially if clubs are extremely short of income. This will see the FAI take a hit of €250,000 due to the scrapping of these payments. Some fans argue that they could and should do more while that is up for discussion at least it's one less financial worry for the clubs.
However, it's the kindness of former League of Ireland stars paying money from their own pocket that should really be highlighted. Over €30,000 has been raised as part of an emergency fund to help struggling League of Ireland players in what must be a very stressful situation for many of them. Big contributions have been made by the likes of Seamus Coleman, James McClean, Kevin Long and Enda Stevens who all got their careers started in the league. The fund will be used by the Chair of the National League Executive Committee (NLEC) and Shamrock Rovers official Noel Byrne in conjunction with Stephen McGuinness and Ollie Cahill of the PFAI to aid any players in need. A fantastic gesture by players who went on to be successful yet never forgot where they started.
All this help is massive for the clubs and players of the league and even us the fans can do our bit. Now would be the ideal time to buy some merchandise or future match tickets from your chosen club's online store. Get involved with any fundraisers being ran like lotteries or raffles. If you are thinking of signing up to be a member of your club now would be a great time as your club could really do with that membership fee. Some clubs are even setting up Patron accounts so you can pay a fee to watch classic matches or listen to club podcasts so it will keep you entertained and help the club. Of course, this is if you can do so it's not just financially tough times for clubs but for the common fan too. If you can do your little bit your club could really do with it now to see itself through this unfortunately no club is safe. You can find ways to chip in if you can on your club's website and a little goes a long way in our league.
It all comes back to the community aspect of the league. Even throughout these hard times the clubs continue to give back to their community anyway they can. There is plenty of photos doing the rounds of clubs dropping off PPE or food from the club shops to those who need it most. They are also doing what they can to keep fans entertained while they are stuck in. Many of them have workbooks or competitions available for younger fans and full classic matches are being shown for free on their social media accounts for everyone else.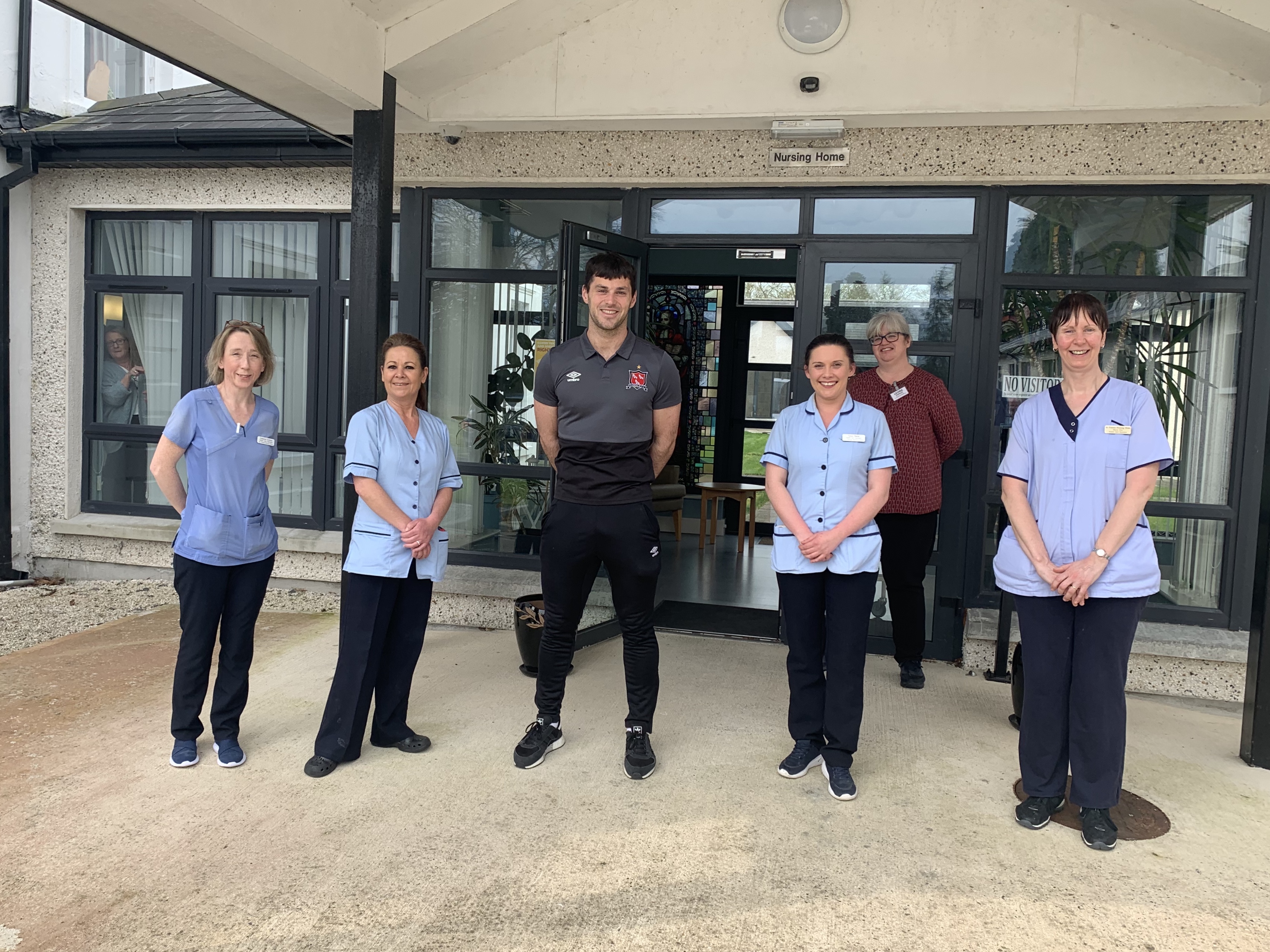 All we can do is hope our football community can weather this uncertain storm without any clubs becoming a casualty. It would be great to be back in the stands by June 19th but with that date subject to change like everything else in the world it must be taken day by day. The league must go ahead be that as a summer or winter league. With the current league only five games in it simply can't be made null and void. With most of a season's worth of gate receipts, sponsorship and other commercial deals going too it would certainly be the end of some League of Ireland clubs.