These are worrying times for all League of Ireland fans with everything that is going on in the world. Wondering how many of our beloved clubs will survive with no match day money coming in. Praying that this break wont last that long and will have no lasting damage.
However, lets try have a good mind set and look at some positives from each club that we have seen already this season. With this break from league action it would be a good time to take stock on what has happened in the early stages of the season. Looking at certain surprise packages from each club that their fans can get excited about.
Now I don't mean Pat Hoban for Dundalk, Jack Byrne for Rovers or Chris Forrester for Pats. I mean some players that went into this season under the radar or simply just with no hype around them at all that have impressed so far.
Bohemians – Kris Twardek
Twardek made the move to Dublin to join Bohs from Sligo in the off season. He began to show his worth at Sligo last season cementing his place in their front three. His speed and strength for a big lad was very impressive obviously catching the eye of Bohs manager Keith Long.
He arrived probably expecting to struggle at first to really stake his claim to a spot in the starting 11. With the likes of Mandroiu, Grant, Wright, Wade – Slater and the arriving Glen McAuley all fighting for a place in the team he really did have his work cut out. Somewhat surprisingly he got the nod in the opening game against rivals Shamrock Rovers. He has been impressing ever since with his performances which has been rewarded with a place in every starting 11 Bohs have put out this season. He even popped up with a late winner against his former side Sligo in the end of February
Cork City – Alec Byrne
Cork have come into this season with a very young and in experienced side. They've recruited several players from academies and lower league teams in England hoping for a spark. One of their bright sparks so far this season has come from their own youth system in the form of Alec Byrne.
Byrne began to break his way into the team at the back end of last season and has continued to do so this season under new manager Neale Fenn. Starting every game bar, the opener in a losing effort at home to Shelbourne. He kicked on from this and has settled into the Cork midfield and looked impressive so far.
Results have been poor for the rebels and the likes of Byrne will need to add goals quickly as he is the top goal scorer netting the clubs only goal this season. Fenn will need to settle on his starting 11 sooner rather than later to get some much-needed consistency. With the way he has been performing Alec Byrne will be hard to keep out in the season to come.
Derry City – Stephen Mallon
Derry started this season as one of the big wheeler dealers in the off season. Brining in experienced talent like Conor McCormack, Walter Figueira and Conor Clifford to boost their squad. With all this going on you can see how getting in Mallon on loan from Sheffield United U23's may have gone under the radar of many.
This is the 21-year old second loan spell and one that began with two cameo appearances off the bench in Derry's opening two games. Since them two games Mallon has forced his way into the starting selection. He showed manager Declan Devine he was right to trust him as he scored two goals in his two starts becoming the early top scorer in the club.
He will be raging about this break now as he only seemed to be getting going and was surly full of confidence. The Derry faithful will be hoping he can carry this on when the ball gets back rolling.
Dundalk – Jordan Flores
This one may seem like a bit of a cop out but hear me out. Yes, he scored that global hit of a goal against Shamrock Rovers hell he even scored a beauty the week before against Cork. But this was a big season for Jordan Flores to break into the Dundalk team. He arrived last season from Wigan for an undisclosed fee. A lot of transfers in the league are usually players out of contract moving to different clubs. So, when you move for money you really must show your worth and that brings added pressure on your shoulders.
It didn't help that Flores struggled with injuries last year and was involved with a talent rich squad so coming back and taking a place would be hard for anyone. But this season brings a fresh start for him to show he was worth the money.
He got a good preseason behind him and started most Dundalk's games in the midfield. Again, a part of a talented and deep squad he will need to stay injury free to have a big season. Scoring crackers like he has been will certainly help his case. Striking up partnerships in midfield with the likes of Chris Shields and fellow new arrival Greg Sloggett will be important also. All signs are looking good for him to have a big season when Vinny Perth decides who to regularly go with in his midfield.
Finn Harps – Kosovar Sadike
Finn Harps came into another season expected to struggle. They signed well enough with the likes of Barry McNamee and Ryan Connolly who will be looking to add goals. Their biggest aim this season will be to tighten up the defence compared to last season which seen them finish with the second most goals conceded in the league. They lost key figures back there in Keith Cowan and Dan O'Reilly but replaced them well with Dave Webster and Shane McEleney. They also hung onto young Sam Todd despite interest from elsewhere. Its loanee Kosovar Sadike who has quietly impressed.
Sadike arrived from Hibernians reserves in the off season to sure up the Harps defence. His big frame and no-nonsense attitude towards the game made the transition into the league easy enough. He has played every minute so far in the league.
Nothing too fancy but for a young player coming in from abroad into a lower league team he has made a good account of himself so far.
If he develops an understanding over time with fellow centre backs Webster and Todd it would make for a solid trio and might help them keep their heads above water.
Shamrock Rovers – Liam Scales
Last season Rovers cherry picked the best talent at UCD recruiting Neil Farrugia, Gary O'Neill and Liam Scales. All three are a part of a Rovers squad that is arguably the best assembly squad in the league this season. It would make you worry a bit for a lad like Scales who may get lost in the shuffle. It would be the last thing the 21-year-old would need as he finds his feet in Tallaght.
Scales is by nature a centre back and has some tough competition with the likes of Roberto Lopez and Lee Grace back there. But manager Stephen Bradley is looking to make room for Scales in his team.
He seems to be giving him a chance by starting him in two games so far this season. Which isn't much but with a squad this deep he will have to take what he can for now. He has also been impressing coming off the bench not putting a foot wrong. A lovely assist against Waterford will help his case as he looks to become a regular in the Rovers team.
Sligo Rovers – Niall Morahan
With a pretty underwhelming off season transfer wise it is a Sligo youngster who has stepped up so far this season. Morahan broke into the team last year and has made himself a regular so far this season. Playing every minute of every game sometimes out of position he has been a credit to his club so far.
Usually a midfielder he can often be seen at right back to help patch up an injury riddled defence. A bright spark in what has been a horrid season so far for Sligo which sees them sitting rock bottom currently. He even popped up with a lovely goal against Shamrock Rovers in the clash of the Rovers tie at the start of March.
Sligo will be looking for others to take a page out of the young lad's book if they want to keep their premier division status next season.
St. Patricks Athletic – Billy King
If you look at the track record of British players coming into the league in recent years many of them tend to leave a lasting impression. Weather they come in from an academy and can't cope with the physical nature of the league or its just another team to bounce to for a wage. On paper Billy King seemed to fall into the latter category. At 25 he has played for Hearts, Rangers, Inverness, Dundee United, Gillingham and Morton. He arrived with fellow Brits Dan Ward and Martin Rennie who all got overshadowed by the excitement of incoming Robbie Benson.
This would be a wrong assumption to make as Billy King isn't just a surprise package, he's been one of Pats best players so far this season. An exciting winger not afraid to take on full backs he has already got saints fans up and excited.
Stephen O'Donnell must be really pleased with his signing as he has played every minute in the league so far. To top it all off scored a lovely goal against Cork in the saints last outing. Richmond could have a new cult hero on its hands if he continues.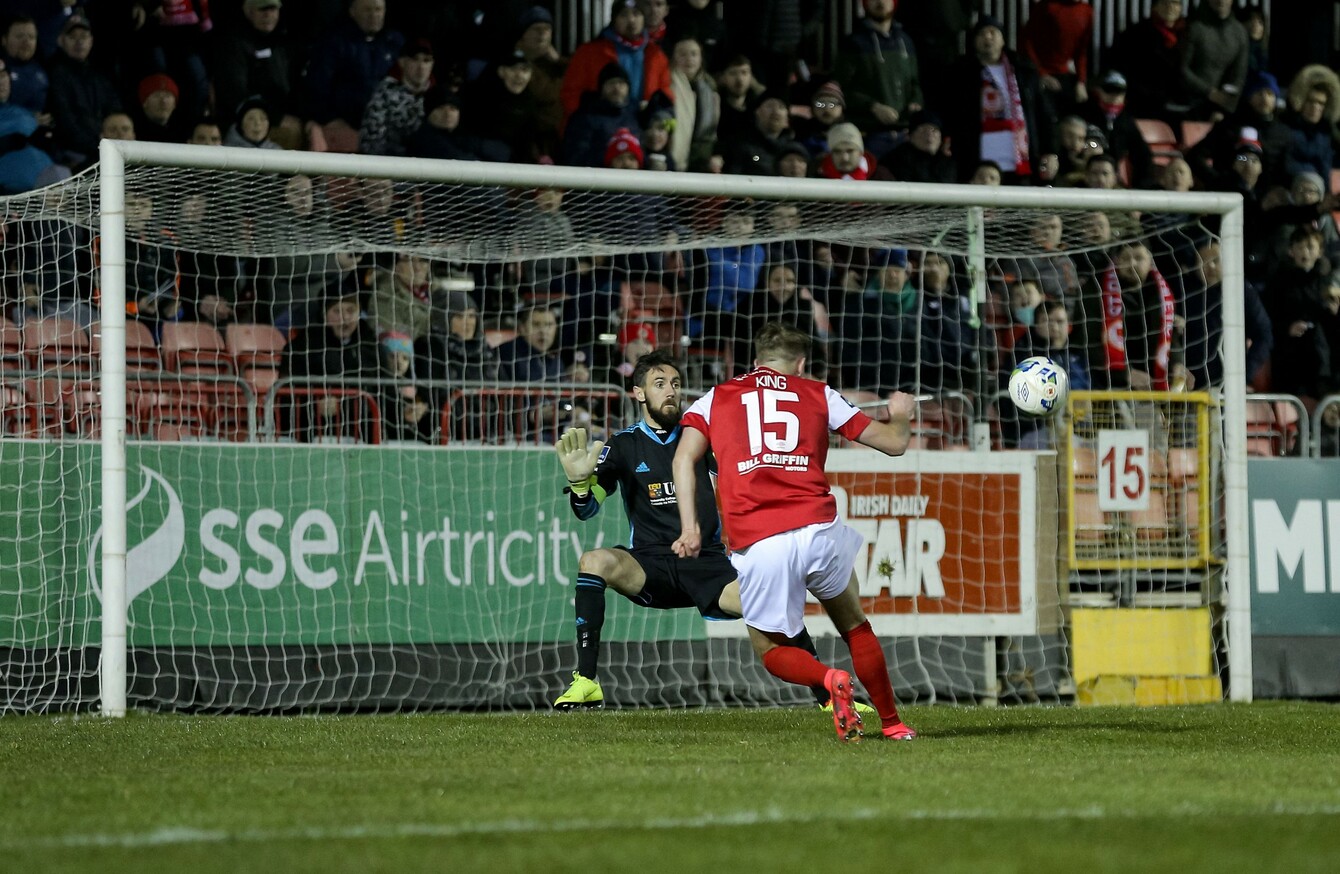 Shelbourne – Jack Brady
Shelbourne are another team that recruited well coming into the new season. The incoming Jack Brady who spent last year with Limerick was probably expected to be second choice keeper. One would assume Shels would go with last years number one Colin McCabe or bring in a more experienced premier division keeper.
But since his return to Shels its Brady who has been first choice keeper as McCabe looks on from the bench. Plenty of healthy competition as both 23-year olds look to make the position their own.
He has kept a clean sheet in half of his league appearances so far this season. Shels have conceded four goals this season but none you could really blame on a goal keeping error. He has proved himself to be a good shot stopper and has a nice commanding presence for a young keeper. The league is lucky with young goalkeepers with the likes of Ed McGinty and James Talbot impressing elsewhere. With his performances so far this season we can add Jack Brady to that list.
Waterford – Brian Murphy
Now on to a much more experience man between the sticks. Brian Murphy arriving to his home club Waterford was a big move for the Munster men. The blues signed Tadgh Ryan from Cork City who looked to be the number one choice going forward before the late arrival of Murphy. Ryan is still young enough and can learn off Murphy due to his previous pedigree in the league with Bohs back in 2008 and 2009.
Now 36 the big question mark was over Murphy's inactivity. He hasn't been apart of a matchday squad since been on the bench for Cardiff back in September 2018 in the Premier League clash against Arsenal. Even more telling he hasn't started a game since January 2018 in a losing effort to QPR in the Championship.
To his credit he hasn't missed a beat. He made his debut away against St. Pats in the opening game and had a stellar performance keeping Waterford in the game. He has continued with these impressive performances despite only keeping the one clean sheet. He could come out the back of this season whenever that may be as one of if not the best keeper in the league.